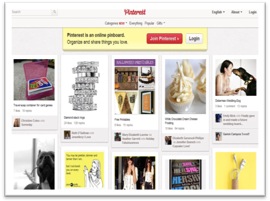 If you've been into social media marketing before, the business value of Pinterest may be obvious to you. However, other online marketers need some convincing why they should share the same enthusiasm as yours.
Great for Finding Inspiration
Pinterest is considered as an online pinboard. Thus, this new social media is great for finding inspiration. This could even lead to a new way on how people purchase items.
For instance, when a user wants to buy custom-painted shoes, he can log on to Pinterest, browse a relevant category, and then land on a product. The good thing about this is that a user can find a link that will redirect him straight to the retailer's website instead of going to online retail platform like Amazon.
Attracts Visual Segment of Your Crowd
As an online Pinboard, Pinterest is so visual and it can attract another segment of your target audience. Typically, marketers attract audience using the power of texts, video or audio podcasts. With Pinterest, you can attract an entirely different crowd who may have an appeal for an image.
This lets you open the doors to a new segment of buyers who may be interested with your product but may not know about it. This is possible by creating a community around the images that you pin or post on your network. This could also lead to referrals.
Shows Your Expertise
One component of Pinterest is Boards. This is basically a category of the images that you pin. If you want to promote your business, you can use this feature to show your expertise.
Treat your Pinterest account as a portfolio of what you can do, the clients that you were able serve, and the products and services that you provide. Other than showing what your brand can do, it is also a great way of organizing your content, which could also inspire other users.
Requires Minimal Interaction
Unlike other social networking sites, Pinterest requires minimal interaction between you and your audience. This means that you won't typically need a new staff to manage it. Other than pinning, categorizing and tagging images, the online pinboard doesn't require much managing on the comments or monitoring what other people say or do about your content.
Amplifies Your Content
If you post a visually good content, users can re-pin it to their followers, who could also re-pin it to the rest of their network. It works the same as Twitter's retweet. Simply put, your content is shared to a lot of users, which could expand your brand's reach.