There might be an assumption that a beautiful link profile means instant rankings and huge organic traffic, but there is a truth that plagues many large organizations that prevents them from leveraging the asset of a high domain authority website.
That is, leadership that doesn't see the value in spending tens (or hundreds) of thousands of dollars to transform their website in order to effectively leverage their domain authority.
This case study aims to give digital marketers and SEOs ammunition to take to their clients or senior leaders and show how this investment can fundamentally change an organization's success. This is not rocket science. It is simply doing the right thing with the right people and the right research. I am not promising identical results, but I can promise that the return will be worth it.
The Results
Watching website traffic explode as a digital marketer is kind of like a pitcher getting home run during a baseball game. You hope for that result, but if you have reasonable expectations, you don't expect that level of success and when it happens, shock ensues. I have been part of many website overhauls and have seen wonderful results, but it never gets old and it never ceases to amaze me. These are the metrics (year over year for the month of January 2017 as compared to 2016):
Leads/Inquires increase: 40%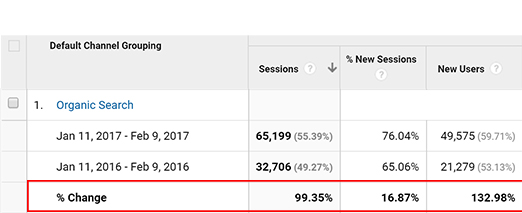 Organic traffic increase: 99% (126% in Google)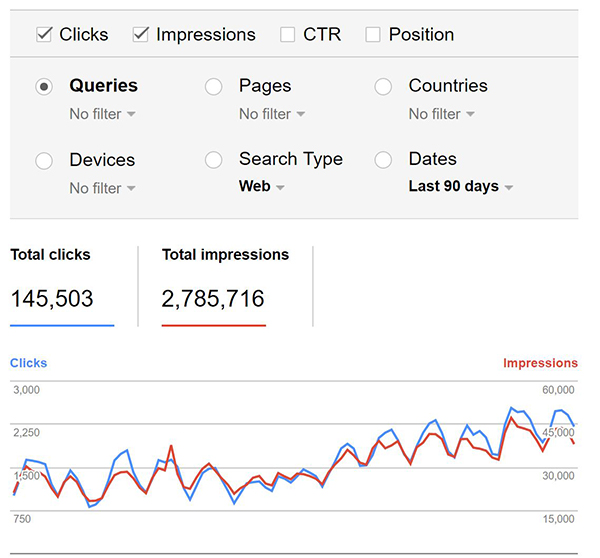 Organic traffic and impressions continue to increase month over month.
How Did We Do It?
I will begin this section by saying that there is no way to fully explain the amount of work and attention to detail that this project entailed. Every one of these tactics required hundreds of hours to accomplish and a core group of men and women who devoted a substantial amount of time to the effort.
In a sense, a "whatever it takes" mentality is the first tactic that is necessary for this kind of project. If the entire organization is not on board and if you don't have internal buy-in from start to finish, the project will either fail or the results will not be nearly as impressive as they could have been.
Kill the One Agency Model
It is easier and cheaper to go to a single agency for a website project, but the problem with this model is that no one agency is capable of doing everything well, no matter what a business development professional might tell you. We broke down the project into five buckets:
Branding: The voice and the look/feel of the site.
Web Strategy: On-page (keyword research, etc.) and technical SEO (redirect strategy, etc.), user journey research, page type requirements, and development oversight.
Design: Applied the web strategy research and developed page templates. Development oversight.
Development.
Content: We handled this in-house. Our content team practically killed themselves to get this launched on time.
Natural Language and Keyword Research
It is interesting how ingrained internal jargon is in most organizations. I have noticed many times that the more user-friendly a website is to internal clients, the more annoying it is to external visitors. At the beginning of a website project, the whole organization must commit to creating a website that makes sense to people who have no idea about the inner workings of your company. This is where keyword research is key.
One must write content and build your menu and site architecture in a way that makes sense to someone who has never heard of your company. Otherwise, you will see massive bounce rates in your organic traffic.
This also translated into massive rank increases for our top-level keywords. The keyword "church planting," for example, was consistently on page 4 of the SERPs. Today it is now consistently in the top five positions. This is almost universal across the entire organization and explains the triple digit increases in organic traffic.
Content Marketing and Merging Microsites
The biggest push-back that I had going into this project was a hesitancy among our internal units to kill their micro-sites. We had seven websites across various platforms that had varying degrees of traffic, but a universal lack of decent organic traffic.
The problem that I faced was that they were also developing the best content across the company. Education on domain authority and their desire to play ball made the task manageable, but I will have to admit that I never expected the results I saw. One external blog, in particular, saw a 142% increase in organic traffic and the other sites have seen comparable results.
The best part about this exercise is that it kicked off our content marketing strategy and unified our content production. This has allowed us to be more efficient and to maintain brand voice and message across our entire organization. Saying that this has been a game changer would be an understatement.
Redirect Strategy
Everyone has at least one horror story of coming into an organization that didn't think that it was important to do one-to-one 301 redirects. These redirects are not only essential for maintaining your link profile, it is also an amazing opportunity to kill irrelevant content. We killed content that met all of the following criteria:
Older than three years
No external links
Less than 100 page views in the last three months.
Obviously, your organization's strategy will be different based on a variety of factors.
Considering that our current site has nearly 12,000 pages, we were able to find a company who was able to automate the process, saving us thousands of dollars and a ton of headaches. The redirect strategy was the one thing that kept me up at night but ended up being one of the most pleasant experiences of the project (pleasant is relative).
User-Centric Design
Finding a great design partner that can drive visitors to action is essential. Good design is supposed to virtually hold the hand of your visitor through the buyer journey in a way that is pleasant and intuitive. There are few designers who do this well. Looking good does not always translate into a well-designed website. Design is not a place to skimp. It takes professionals (not your friend's nephew) who know what they are doing.
In Conclusion
Though many of these tactics might seem intuitive to those of us who work day in and day out in SEO and content marketing, in many large organizations, senior leadership see their website as little more than a digital brochure. Even when those leaders understand the value of a good website, many of those same leaders have no problem skimping on design and web strategy.
I hope this case study helps you demonstrate how a well-thought out website is an important investment. Tens of thousands of dollars might seem excessive, even to an enterprise organization, but it is an investment that returns in spades.
Image Credits
Featured Image: Wikimedia Commons
In-post Images: Author-supplied