I have always been a huge fan of RSS. More specifically, I have been a fan of XML. Quite a few of the projects I have worked on past and present have utilized XML to standardize data.
RSS really is just a specific type of standardized XML. The purpose of RSS, or Really Simple Syndication, is, as you may have guessed, to syndicate content. The most common use of RSS is to quickly and easily follow your favorite blogs from either a desktop RSS reader, or possibly a browser based reader.
Personally, I utilize the built in RSS reader for Firefox for my custom RSS feeds I mashed together using Yahoo Pipes, and then I use iGoogle for my daily feeds, TechCrunch, SEJ, Kayak, etc.
What is Yahoo Pipes?
Yahoo Pipes is many things, but the one important to this article is its ability to allow you to create a mashup of RSS feeds with filters and restrictions. The beauty of Yahoo Pipes is that it was developed to allow the average business user to create rich applications without any programming experience. I have spent countless hours on Yahoo Pipes developing "pipes". It truly is an amazing tool.
I have created a Pipe that anyone who reads this article can use. Simply sign into Yahoo Pipes, clone, or copy the pipe to your account, modify the pipe for your specific desires, save, and then grab the RSS link. More information is available at the end of this article.
You may be asking yourself, what is the significance of Yahoo Pipes, RSS, and Twitter? Well, let me explain.
Twitterfeed.com is a great tool for Twitter because it allows you to take an RSS feed and post the content of the feed at a certain frequency right to Twitter, 1 post an hour, 3 posts a day, etc. For a full description of the service, see the SEJ article on Twitterfeed by @lorenbaker.
Now that we have a tool that allows us to take an RSS feed and post it with precision to Twitter, all we need now is to create a valuable RSS feed that provides targeted content. This is where Yahoo Pipes comes into play.
What kind of feed should I setup?
The value of your mashup feed should be your main focus when setting up a feed. By using the Pipe that I am including in this article, you can enter multiple RSS feeds into the Pipe and filter the articles by a keyword. For example, if I had a Twitter account that was interested in financial aid information for students, I would find RSS feeds from reputable sources such as the Department of Education, Fafsa, scholarship sites, loan companies, grants & awards, etc. By coupling that with a keyword filter, I can filter out all of the articles that do not have "college" in the title of the article. I can also run a keyword against the description of the article.
By doing this, I create an RSS feed that is appropriate for my Twitter account by mashing up articles from dozens of sources that have "college" in the title. People who follow my financial aid focused Twitter account will appreciate the articles that I post because they are relevant.
So with two simple tools and a little research, I can provide extreme value to my Twitter account in addition to my regular tweets.
Are there any other benefits this provides?
As you can imagine, with a little innovation, there are a few things you can do for a little self promotion or to generate revenue with this idea.
* Note: I do not condone either of these two methods of revenue generation, but not mentioning them could prevent an innovative idea from a reader based off of this information. So in that light, I will share.
Instead of linking straight to the article, you can use a URL shortener that will frame the article, and place ads at the top.
Another method is to send them to your own website, with a link to the actual article. This brings the visitor to your site, and then to the article if they click the link. This also provides advertising opportunities, the ability to win the user over with content from your website, and inflating your website statistics.
What would be more valuable is to use a shortener that has social media features such as digg or stumbleupon. With the toolbars these URL shorteners provide, it will engage the user and add to the value, rather than annoy them.
Yahoo Pipes Explanation
My RSS Mashup from Yahoo Pipes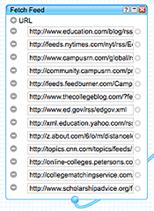 This window allows you to add feeds that Yahoo Pipes will go out and retrieve. You can add and remove them with the plus and minus signs.

Here is the bread and butter. This window allows you to filter the RSS feeds by a keyword. As you can see in this example, the filter is set on the title and description for the keyword "college". You can change the keyword, remove the filter for the description or title, etc.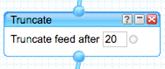 This one is pretty straightforward. This will limit the length of your mashup to 20 items.
Joshua Odmark is a technology consultant at Simply Ideas LLC and also blogs for Performance Marketing Blog. Follow him on Twitter or connect with him on LinkedIn.