Nowadays it is a norm to run more than one blogs as well as Tweet to more than one Twitter accounts. By doing this we are able to separate personal life from our business and professional updates, as we manage various projects on absolutely different topics.
For example, would my SEJ readers be interested in what I am doing tonight? My close friends would probably be but my SEO contacts – I personally doubt they will. So why would I bother them with that information. Therefore if you look at my @seosmarty account, you will seldom see any personal updates because I don't like to trash my followers' dashboards. If I need to say something personal, I will do that using my other personal account.
So I am sure many people would be willing to know how to Tweet to multiple accounts:
A web-based tool that makes it easy to update to multiple Twitter accounts:
Register at the site;
Set up your Twitter accounts: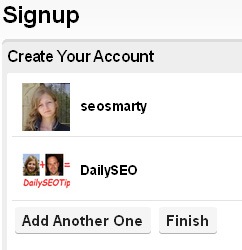 Confirm your account by clicking the verification link in the email message;
Start Tweeting:
At the dashboard you will be able to see your whole Twitter stream (each profile in a separate tab):
Home feed;
Mentions / replies;
Direct messages;
Pending Tweets.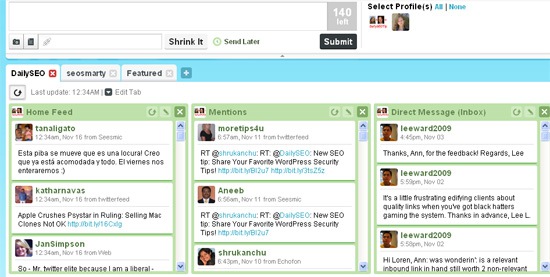 To send a tweet, you can either update it from the website, or use a bookmarklet:
When on a page you want to Tweet, click the bookmarklet;
A pop-up will appear with retrieved page title and shortened URL;
Select the profiles to send a Tweet to;
Or click Send Later to set a future time to send your tweet.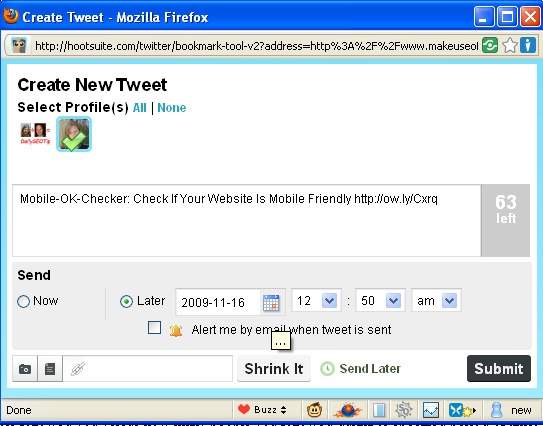 Additional features:
Account Stats: View all the activity of each of your Twitter accounts during the set period of time.;
Personalized Layout: Customize the layout just the way you want it with tabs and columns.
Create Groups: Create customizable columns for your friends, groups or interests.
Quick Search: Search terms to find out what people are saying about them right now.
Auto Refresh: Keep on top of new tweets with the auto refresh and optional notification.
Tweet3 is another Twitter web-based app that has a couple of nifty features. The process is quick and smooth:
Start by creating your profile – immediately after that you will be offered to add your Twitter account, watch your brand mentions and integrate with Facebook: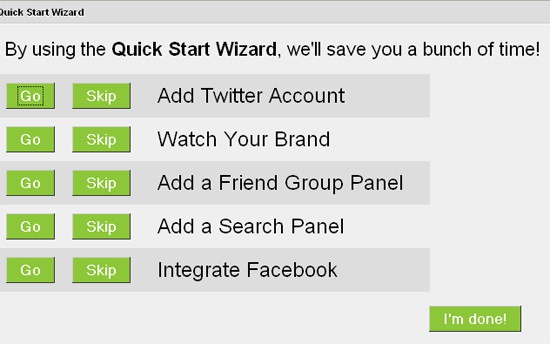 After you are done setting up your Twitter accounts, go to your Tweet3 dashboard which looks pretty neat:
Switch between twitter accounts;
Add / remove panels from the dashboard (you can add search panels for example);
Send an update to any of your accounts: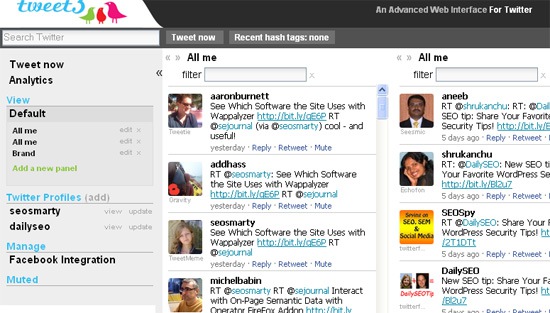 Additional features:
Watch your brand mentions;
Use analytics tool that analyzes your Followers vs. Following statistics.
Seesmic is a desktop Twitter app I personally use most of all. It runs on Adobe Air and offers a few advanced options to manage multiple Twitter accounts.
Start by installing the tool and adding all your Twitter accounts:. For each Twitter account added you will be able to set:
Retweet format;
Notifications (these are tiny pop-ups notifying you of new updates);
Twitter API usage share (depends on how actively you are going to update the selected account);
Auto-refreshing priorities.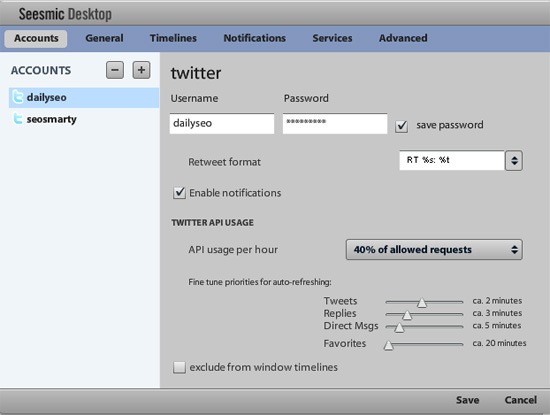 The dashboard consists of numerous panels (you can add / delete any of them) combining all your Twitter accounts. For posting select one or more Twitter accounts to send an update to: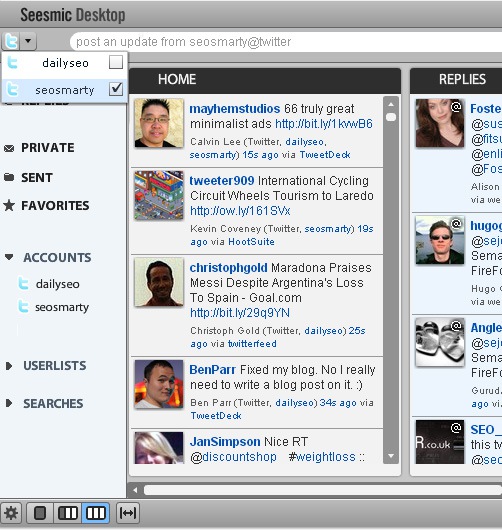 Additional features:
Set Twitter search notifications (perfect for tracking brand mentions);
Create userlists (for more effective following).
An alternative one: twhirl
Digsby (Windows only)
I had already looked at this awesome tool in my post on making the most of Google Talk. It allows to set up as many Twitter accounts as you want and they will all be managed from one window.
You won't be able to see the whole Twitter streamline of each but you will be able:
To receive update notifications;
Send update to one or more Twitter accounts.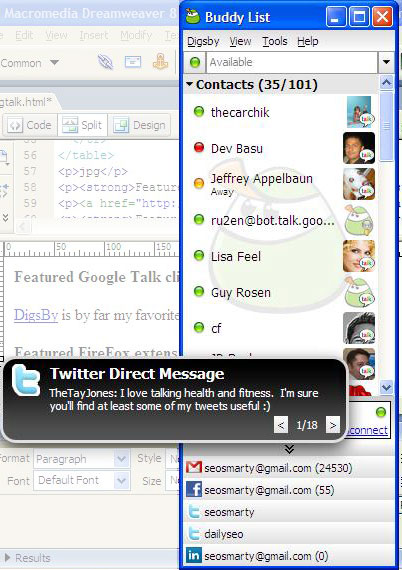 Additional features:
Aggregate all your social activity: unite all your IMs (GTalk, AIM, Yahoo! Messenger, Facebook chat), Email notifications (Gmail, Yahoo, Hotmail, AOL mail), Social networks (Twitter, Facebook, LinkedIn, MySpace).
For each social network add as many accounts as you want;
Manage multiple conversations with tabbed conversation windows;
Set your Facebook and LinkedIn status right from Digsby;
Synchronize your settings and accounts between computers.