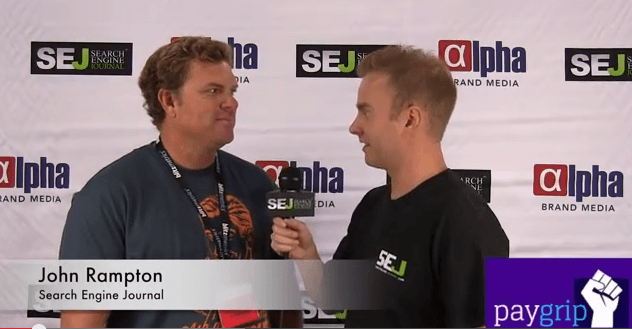 A big thanks to our Pubcon 2013 SEJ Lounge sponsor, Paygrip: "the most powerful payment processing platform in the world."
In an interview conducted at Pubcon 2013 in Las Vegas, Todd Bryson of Local Site Submit leads a discussion about local SEO.
I began the interview by asking Todd what he has specifically been seeing businesses do that's hurting them in the search rankings. Hear Todd's response in the video below:
Here are some key takeaways from the video:
Todd says it's not so much about what businesses are doing, it's what they're not doing, and the majority of local businesses aren't doing anything at all as far as SEO goes.
The first step for local businesses is for them to claim their Google Places listing and then focus on similar sites like Bing, Yahoo, Yelp, Merchant Circle and so on. Make sure data is consistent across all local directories.
Before submitting your local business to any directories start with a bit of keyword planning. Todd recommends to sum up what you do in five keywords and go from there.
Todd says from a competitive standpoint every business needs to do this. Submitting your local business to directories is the foundation to success online. Once that is done then you could look into more advanced SEO and/or PPC advertising.
If you have any questions after watching the video, for either myself or Todd, ask them in the comments section and we will do our best to respond to everyone! Please visit SEJ's YouTube page for more video interviews from Pubcon 2013.