It really doesn't matter if you consider yourself a sinner or a saint for you to benefit from some lessons I have had to learn the hard way. You see, in my daily work I live in this universe where Google is the "Supreme Being". There are Google commandments and I have to make the choice to either do some shortcut-marketing, or play by their rules.
In my "teenage internet marketing years" when I was first playing around with local listings, I experimented with many things that might not exactly be 100% down the whitehat trail of happiness. Now, I am much older, much wiser, much worse looking, and I have been able to determine a few practices that might be tempting for some, but to me they are 7 deadly sins that will ultimately lead down a path of destruction for your local listing.
1. Stuffing Your Business Title With Keywords
This is by far the most common type of sin found on Google Places listings. A company with the business name of "company x" will claim their listing and then put the business name as "company x + location and category".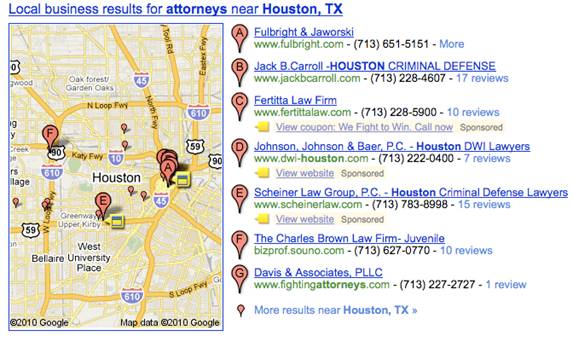 I understand that for the short term, locations and keywords can actually help rankings. For some reason the "Supreme Being" of local listings feels that keywords in your business name should have an effect on overall map rankings and coming from a company named Google instead of Search Engine I do find that ironic. Still, they state in their Places Pages Guidelines,.. "Do not attempt to manipulate search results by adding extraneous keywords or a description of your business into the business name." So, you are left with a conflicting option. Some would say "Hey, if it helps, then I will stuff that title like a turkey on Thanksgiving." But here is a look at how Google is moving to penalize listings that do this…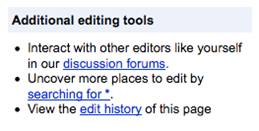 If you were to visit a non-claimed places page and click on the edit this listing link, you would be taken to a page where you can make a few changes to the listing. On the right hand side you would see the box pictured above. As Professor Maps pointed out recently if you click on the edit history link then you can see the changes made by users, and most importantly what Google "thinks" about these changes.
On looking through a few I found a very interesting note that can be flagged on a listing. In dealing with business names you will see the phrase "Name is longer than average". So, if a group of businesses stuff keywords, then most likely they will be tagged with the same comment, and it would become a very easy task to penalize companies with long titles that are location and category focused.
2. Putting Location Keywords in your Categories
On a places page, you are given 5 categories for your local business. To maximize the targeting of these categories, people would put the city location that they were targeting. For instance, if you were a plumber in Chicago, your category would be "Chicago Plumber" instead of just "plumber".

This used to be the jewel of how to get higher rankings, authoritative one boxes, market dominance, and sneaky satisfaction of knowing that you outwitted the competition. But, one sad day as I was checking rankings of a few listings I noticed a substantial drop. Upon investigation I found that locations in categories was the culprit. Upon removing location keywords my rankings were back to normal within a day.
This was something discussed by Carter Maslan from Google in a very informative discussion on categories a few moons ago.
3. Using a P.O. Box For Your Business Address
Many companies might not want to use their physical location in Google maps for a number of various reasons. They might run from a house, or their operations might not be in the area that they actually serve. So, for years companies have used P.O. Boxes for a local presence. The problem with using a box is that Google ranks businesses based on an ability to prove your geo-location and area of service. A P.O. Box is not a geo-location. It is not something that appears as a pin-point on a map. It is at a post office which might or might not be recognizable by the mapping system.
The Google guidelines are quite clear on the issue…"Do not create listings at locations where the business does not physically exist. PO Boxes do not count as physical locations."
4. Using a call tracking number
This is quite possibly the most annoying issue in local search currently. As pointed out through the rest of this post, Google is very strict in regards to a company's business name, address, and also the phone number. These are the 3 things that the local bots search the web for to gather business data. So, if you have discrepancies around the web regarding your name, address and phone number, then you end up shooting yourself in the foot for rankings. This is why call tracking numbers don't work. It is a separate number which will confuse the system and will lead to listing issues. Call tracking is an area that I see needs improvements in local search in order to improve the ability to track conversions, and even though many local search companies offer call tracking options…they should not be used on a Google local listing.
5. Faking Reviews
Reviews help rankings. This is an undisputable thought amongst the local search crowd. And if anything affects rankings, then people will game it. So, how can Google crack down on reviews?
Account age and history– not only does Google flag listings with long titles, but they also mark individual Google accounts with phrases like… "User has entered risky data in the past." Or "User has made few edits".
User Report– The people that are most likely to read your reviews are yourself, and your competition. If your competition even has the smallest idea that you have put fake reviews in your name, staff member names, or fake names, then they will turn you in like a winning lotto ticket. This can be done right on your places page under "Flag as inappropriate".
Star Ratings– Google can also see that if one listing has all 5 star reviews and the accounts that are leaving reviews don't have any history, then it is most like fake reviews. If you receive a large sum of reviews in short period of time, that might flag your listing as well.
The key with reviews is to make them real, Google has not yet came down on review spamming with full force, but when they come…sinners beware.
6. Hiding Your Address
Recently, places pages came out with the ability to show service locations, and also hide your address for home based businesses or businesses where customers don't come to your shop. I do think this will be a good feature in the future, but at launch time I ran some tests that resulted in an immediate drop in local rankings.

It has been reported by some that they didn't see any significant drops. I tested it on 3 different type of businesses in different areas and saw drops in every listing. So, be careful and try it both ways. The drop was immediate and upon disabling the "Do not show my address" option my listings returned instantly.
7. Stuffing your description with duplicate information
This is the newest area of concern to add to the list. I used to write business descriptions with very focused keywords that I was trying to rank for with some good results. I always included categories, and location information as it described the business quite well. The last update to the Google Places Guidelines has this to say…
"Use the description and custom attribute fields to include additional information about your listing. This type of content should never appear in your business's title, address or category fields."
I have not seen dramatic drop in rankings from this, but Google is fairly good about keeping to their guidelines and penalizing things that they find that are not in line. So, this is an area to watch and play it safe. It should be used to explain your long tail keyword information that could be of benefit, or explain a wider area of service then your categories.
Conclusion
People look at sin in different ways. Some say there is no such thing and we should party like it's 1999, some live their life trying not to break the commands of their belief system. Well, in this case…Google is God whether you want them to be or not, and short term sinning against them might bring joy and good rankings, but long term it will only bring banishment and having to re list with annoying phone verifications.
My advice is to play it safe. You can still outrank anyone who doesn't (with a good understanding of local search ranking factors) and most importantly, the ranking lasts for the long term. Ultimately, the choice is yours in how you deal with the 7 deadly's.