By now just about everyone has heard of the Skyscraper technique.
Popularized by Brian Dean, all you have to do is to create content better than your competitors, and you'll get tons of links, shares, rankings, and traffic, right?
That's what we thought, too.
Sadly, we were wrong.
While the Skyscraper technique is awesome in theory, for us it was a failure.
And we learned some powerful lessons from it.
Here's our story.
The Content Marketing Dilemma
When we started working on our new product, we already understood the importance of content marketing.
There are so many important choices to make when putting together a content marketing strategy, starting with:
The type of content (text, video, podcast, infographics, SlideShare).
Publishing frequency (once a day/week/month).
Distribution channel (social networks, communities, SEO, ads).
One question has been bugging our marketing brain:
Which option do we choose to get real results for our business?
We believed the hype about the Skyscraper technique and decided to give it a try.
Skyscraper Technique in a Nutshell
Rewind to around 2015. Brian Dean introduced the Skyscraper Technique. (Though, if we're being honest, all Dean did was rebrand this old SEO technique with a shiny new name.)
Put simply, it's about following the steps:
Choose the keyword you want to target.
Take a look at Google top results for this keyword.
Analyze their content.
Create an outstanding piece of your own content on this topic. It should be better on all levels – more educating, more engaging, more detailed, etc.
Jump to Ahrefs and check for websites backlinking to those Google top results you've analyzed.
Research the websites' contact details.
Reach out to them and present your amazing piece of content suggesting to link back to your website.
Rinse, repeat, and enjoy the deluge of backlinks.
That step-by-step process sounded brilliant.
It also caused a lot of buzz in a marketing world.
While some swear it is a fail-safe method for content marketing success, others describe it as another overhyped SEO craze.
This approach seemed quite simple to us. So we put the advice into action.
Skyscraper Technique in Action
"Improve team communication" was the keyword we placed our bet on because it was important for our team chat product. We thought that if we were able to attract visitors searching around that topic, then we could convert browsers into buyers.
Next, we looked at the top Google search results for [improve team communication]. It turned out that the top ranking pages were mainly blog articles: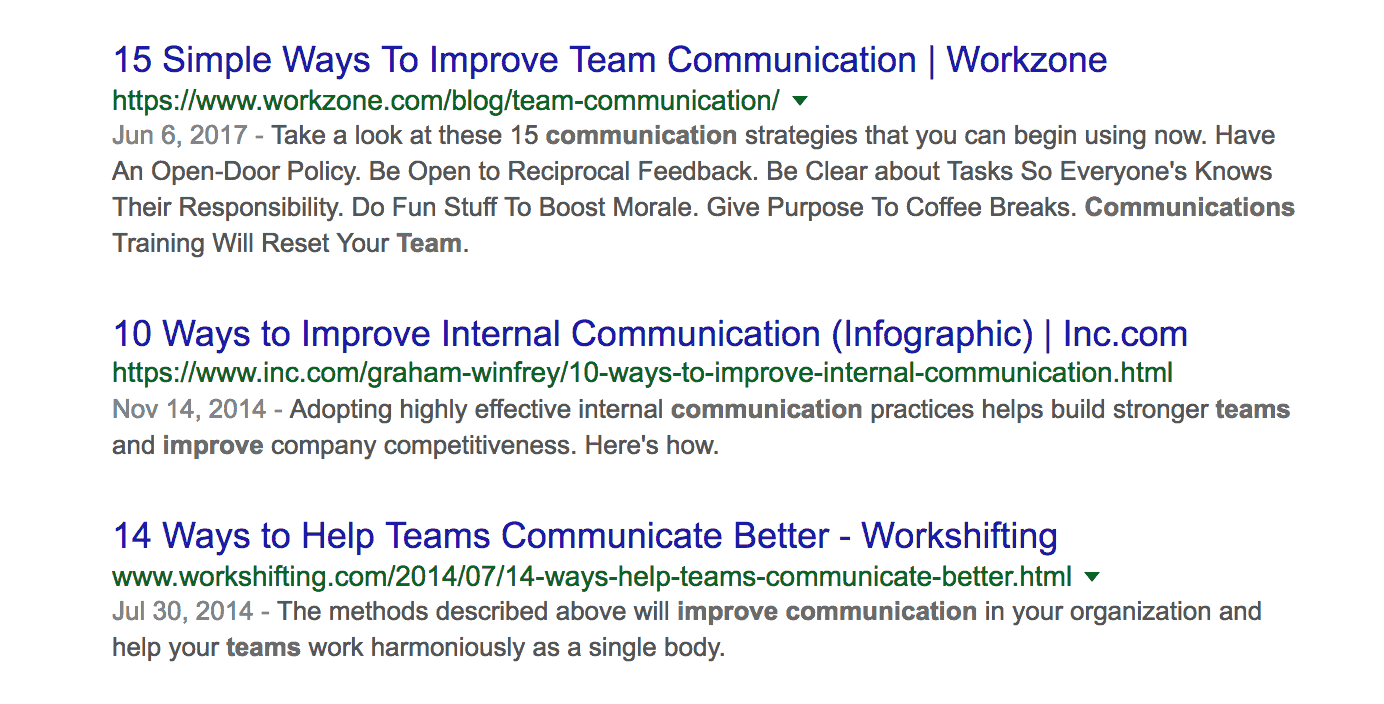 We noticed that the top-ranked posts in Google mostly were listicles – a number of ways to improve team communication.
Ahrefs analysis brought us to a list of 230 competitors' backlinks. As we rubbed our hands in anticipation, expecting those links to migrate soon to our domain, it was right about time to create a high-quality content piece.
"Onwards and upwards," we thought, and came up with an article titled 50 Ways to Improve Team Communication at Work in 2017.
Here's what we did to make our article more outstanding than the competition:
Increased the number of ways to impressive 50 and included the year 2017 to make it timely.
Added a comprehensive video which includes the major article takeaways.
Wrote a blog post with over 4,000 words (our competitors averaged at around 2,000 words).
Added funny memes and images along with a super attractive featured illustration.
Used short paragraphs, simple wording, subheadings, bulleted and numbered lists, and included tweetable messages and quotes to make the article as scannable as possible.
Needless to say, we handpicked each and every out of the 50 ways to deliver the best value to our readers.
We went every extra mile to become head and shoulders above our competitors in content quality.
OK, creating the content was half the battle. The other part – finding contact details and outreaching website owners – was a time-consuming and fiddly task.
Nevertheless, we hadn't lost our enthusiasm there and experimented with a few email templates.
Here's one example: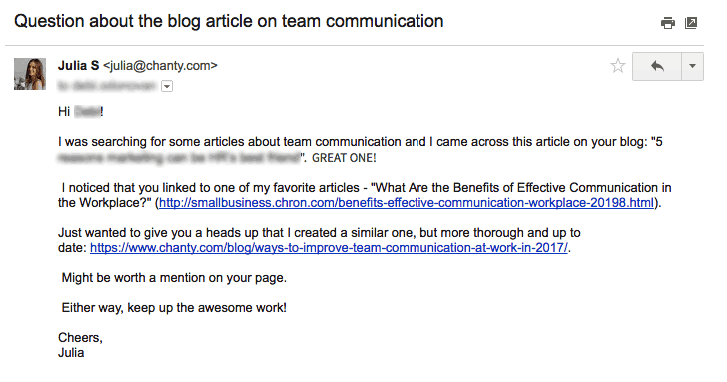 Having sent 230 emails, we've expected to see the same 11 percent success rate as it was claimed initially in the Skyscraper technique.
To tell you the truth, we would have been pretty happy with 5 percent. It would still be a positive result for our team.
The time spent to create an article, research contacts, and conduct outreach would have been well worth it.
But here are the exact results of our 40-hours effort:
The total number of answers: 24 (more than 200 emails sent).
A promise to backlink to our article: 3 (they weren't kept, however).
An offer to buy an opportunity to be cited: 15 (amount of money varied from $45 to $200).
Unexpected bonus: 5 signups to a beta test of our messenger.
Backlinks: 0. Zero. None. Nada.
Why It Didn't Work (or: How Not to Fail)
We had done everything the Skyscraper guide suggested:
We had made a thorough competitor analysis and came up with a great piece of in-depth content that obviously provided more value to a reader.
We had worked with a list of backlinking sources and chosen the platforms worth outreaching.
We had outreached website owners in a personal manner, experimenting with a few different templates.
Nevertheless, we failed.
Analyzing what went wrong, we had several reasons or hypothesis in mind:
The Keyword was Wrong
While many teams at work are in desperate need of communication improvements, I realized our topic is not that attractive in terms of linking back to Backlinko's "200 Google Ranking Factors". The value you get out of Dean's article is more obvious and tangible because ranking on Google top is a pain for many marketers.
If we've tried another keyword, we might've received other results.
However, we'd have to spend another 40 hours to find this out.
We didn't.
Instead, we've focused on more surefire ways to attract backlinks.
My advice: if you're going to use the Skyscraper technique, choose a topic that is a real pain for your audience.
Apparently, team communication isn't anywhere at the top of people's hierarchy of needs.
People Don't Know You
If you're just starting out, you probably haven't built up enough authority and brand recognition.
Your social media and online presence aren't impressive enough.
Put simply, nobody knows you.
Branding takes time.
Becoming an expert in a niche takes time.
If your name rings a bell, people are more likely to backlink to you. Therefore, the less popular your name/brand is, the higher quality of the content you should deliver.
Content Is a Numbers Game
Failures happen.
They do.
The glossy success stories that we read are just the top of the iceberg.
However, the massive amount of failures lies the ocean. If you follow the strategy, make sure to perform every step of it at your best.
Choose the right keyword, publish a superb article, experiment with the outreach email, etc.
Although there's no guarantee you'll achieve the desired 11 percent of conversion, the Skyscraper technique is worth giving a shot.
I didn't want to end the story on a down note. So I'll share our ultimate results. The best thing about giving this link-building technique a try and failing is this:
We've Still Made It (the Happy Ending)
Our marketing effort didn't go in vain.
I know, we weren't successful in getting backlinks to an article as we've expected. But in the end, I'm happy we've written such an in-depth post.
Our ongoing marketing activities – sharing growth hacks and startup knowledge at well-known platforms – constantly gives us new product subscribers and sometimes earns us great backlinks.
With every link we earn, our authority grows.
Who said content marketing, link building, or SEO was supposed to be easy?
It turned out that visitors actually spend time reading our in-depth content. Our bounce rate is low and time on site is excellent.
Slowly but surely, we are improving our ranking positions in Google.
Today, we've finally managed to get that article straight to Google first page. Position 6. We haven't made it to Position 1. Yet.
Even though you might not always get backlinks, don't ever stop delivering high-quality content.
Be better than your competitors in every way.
The success will follow.
More Link Building Resources Here:
---
Image Credits
Featured Image: Provided by author
Screenshots taken by author, October 2017