To me Facebook is the place that unites my relatives, friends and colleagues – people that might build a great community around my website. Here are some tools that can help you share you website with your Facebook buddies:
1. Networked Blogs application allows to create a community around your blog.
What you can do:
Verify your authorship by asking your friends to confirm it (send maximum 20 confirmation requests in a bulk):
Invite friends: you can invite all your friends at once (of course, they will have to sign up for the app to both confirm your authorship and join your blog network).
Add your blog details (blog name, URL, tagline and description, feed URL, up to 3 tags).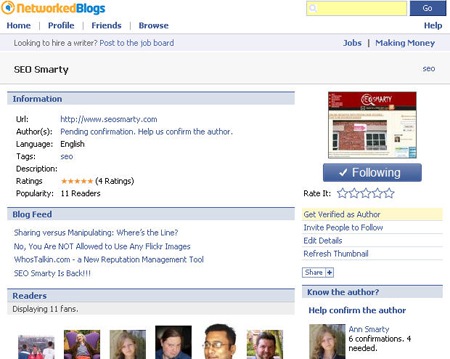 2. RSS connect application offers to add a blog or any RSS feed to your wall or boxes tab or create a fully customizable tab dedicated to your feeds.
You will be able to :
Add a box to your profile wall;
Add a box to your boxes tab;
Create a customizable tab for your feed.

3. Simplaris Blogcast (there are many similar apps but this one is my favorite) integrates an existing blog into Facebook "to increase your visibility and share your content with all your friends". Make sure to configure it to make the profile links go to your site directly:

4. "Share a link" option can be accessed from your profile page:
Specify the link;
Hit "preview";
(Important) Choose the correct image;
Click "post":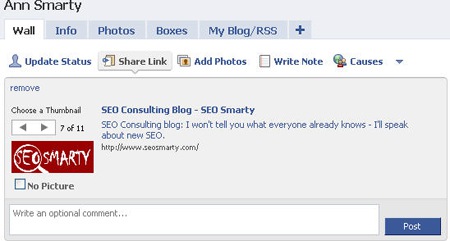 Check out this post for more awesome Facebook apps for doing business.