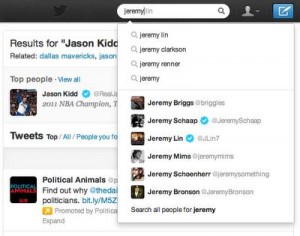 Last Friday, Twitter announced what's new on its search functionality: Search autocomplete and "People You Follow" search result. In addition to recent improvements that the micro-blogging site has rolled out, a simple search makes it easier for users to get closer to things that matter most to them.
More About Twitter's Search Autocomplete
From the term itself, search autocomplete shows the most likely terms for a user's query as he or she enters it. It is especially useful for users who are following an event's hashtag or for those who are looking for a particular Twitter account. Users can select their query from a drop-down menu, even if they are not yet done typing it.
Twitter search result will show the most relevant tweets, articles, accounts, images and videos for a user's query. Other than that, the micro-blogging site made several improvements to make a user's search experience even better.
Spelling corrections:
In case a user misspelled a term, Twitter will automatically show results for their intended query.
Related suggestions:
If a user searches for a topic with multiple terms, Twitter will provide relevant suggestions for terms that mostly occur on that conversation.
Real names and usernames:
Searching for a real name will produce search results with tweets mentioning that name, as well as their Twitter account.
People you follow:
Other than "All" and "Top" tweets, users can now also see search results from the people that they follow. This is helpful for those who are looking for useful and relevant information, and also for those who want to join the conversation.
Prior to this, the micro-blogging site already released Related Queries and Spelling Corrections in search. Twitter's autocomplete and additional filters are something that users can take advantage when looking for a tweet, whether it is a day or three-days old.
The said updates will make search and looking for relevant information easier on Twitter. On the other hand, Twitter for iPhone and Twitter for Android will have the autocomplete, spelling corrections and related search suggestions. As Twitter posted on their official engineering blog last May:
"We're working on more ways to help you find and discover the most relevant and engaging content in real time, so stay tuned. There are other big improvements we'll be rolling out to Twitter search over the coming weeks and months."
Source: Twitter Search Autocomplete/ Twitter Blog