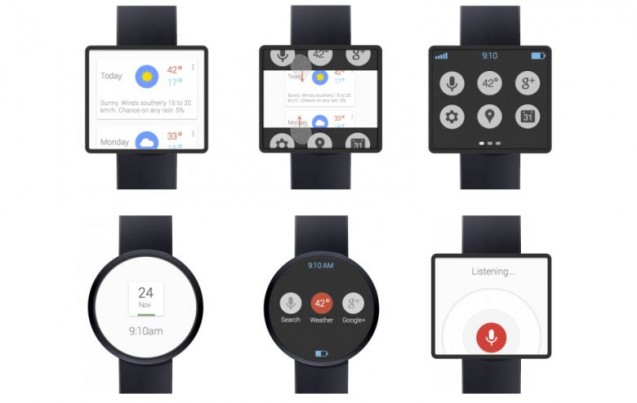 With Sony already releasing their second smartwatch, the Samsung Gear hitting shelves later this month and Apple close behind with the so-called iWatch, did any of us really think that Google would be content with just their wearable glasses? Of course not. This is Google. Not some startup trying to play with the big boys. But, if you've been paying attention to the Big G, then you already knew that the company was up to something smartwatch related.
Back towards the end of August, Google confirmed that is had acquired WIMM Labs in 2012. WIMM Labs was the company that first introduced a 1-inch, Android-powered wearable platform all the back in 2011, and despite the buyout, the app store for the watch is still up and running. Then, things cooled down a bit regarding the Google smartwatch until 9to5Google reported that the smartwatch would be coming "sooner rather than later." And now, everyone is keeping a sharp Glass eye on Google's latest piece of wearable teach.
While nothing has been confirmed just yet, here's everything that you need to know about Google's smartwatch.
The Google Watch is codenamed 'Gem'.
It's believed that the watch will be unveiled in conjunction with the Nexus 5 smartphone and Android 4.4 KitKat on October 31.
The watch will feature automatic Card pop-ups for where and when you need them.
Gem will integrate with Google Now so that it will be able to display Cards such as Time to get home, calender reminders, emails, SMS and social networking updates.
There will also be a push a button, ask a question, get a response feature that's accomplished by the watch talking to a Now-enabled smartphone.
Communication between the watch and phone will come via Bluetooth using the Low Energy technology.
The Bluetooth 4.0 Low Energy should help the watch achieve a longer battery life, which is one of the key features of Gem.
We don't know what apps Gem will feature, but if we go by the WIMM Labs app store, we can expect a number of interesting watchfaces, Facebook, games, and some shopping and travel utilities like a compass and tip calculator.
As of now, the Google smartwatch will not be a standalone device.
Since Google owns Motorola, the watch could resemble the Motoactv. Furthermore, Motorola may actually be building the watch.
Google filed a patent in May 2013 which states that you'll be able to "pinch, stretch and scroll on a platform with limited space available for user input." This could mean interaction with Google Glass.
While all of this is speculation, one thing is for certain. Google has kept a tight lid on its smartwatch. But, with only a couple of weeks until the major KitKat debut on October 31, we can only hope that Google will toss us a bone here and unveil their smartwatch. If rumors are true, the watch is in indeed real since it's been spotted in Google's Berlin, Manchester and Mountain View offices. So, there shouldn't be much more of a holdup.
Are you excited about the Google smartwatch? What features do you hope that it contains? And, do you think that it will be able to compete with the other smartwatches already on the market?
Image via Pocket Now