Google will start rolling out a new search feature aimed aimed at bridging the language barrier across web search results. This new feature called, Translated Search will let you quickly find Google search results written in languages other than English.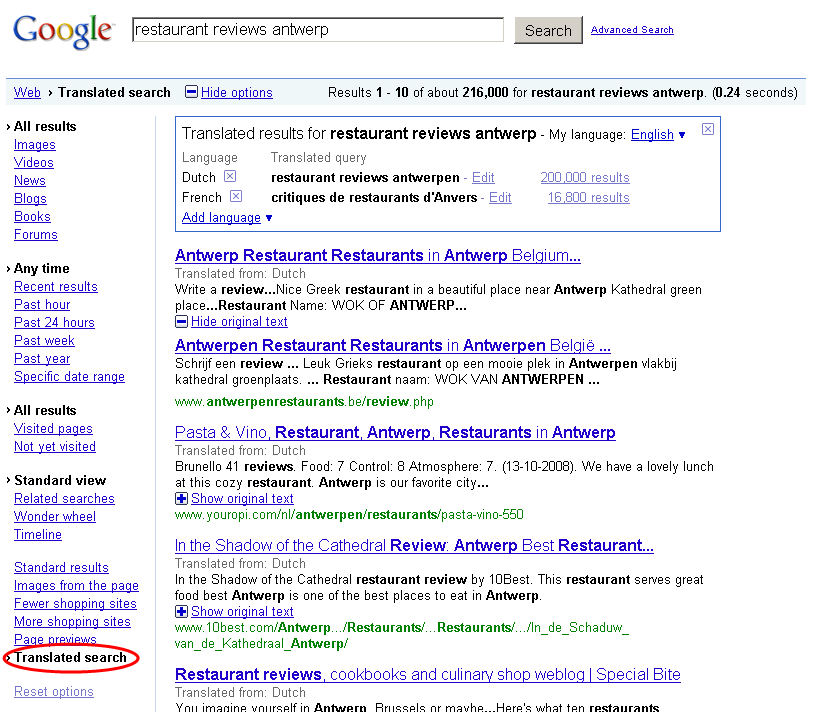 While you can practically translate web sites to other languages using Google Translate, translated search will allow you to do same right on Google SERPs.
To try out this feature, simply click on "Show Options" at the top of the search results page and then select "translated search". When you enter your search term, Translated search will then select various languages to best translate your query into, and presents you with the list of search results written in those languages.
Results of Translated Search is displayed on top of the regular search results and are higlighted with gray borders to indicate that those results are written in foreign languages.
Now, even more interesting is when you enter search keywords written in your own language. Google will translate this into other languages and presents you with relevant results written in your own language but translated into English.
You can also easily switch between languages by selecting any language from the link option at the upper portion of the search results page. It will even allow you to select up to five different languages at the same time.
Sounds good? Actually it does, if only Google has activated it now. Unfortunately "Translated Search' will go live in the next couple of days or perhaps couple of hours.