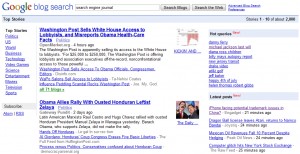 Nothing innovative here really. Just some functional features which should have been added a long time to Google's Blog Search. Then again, better late than never. So, Google has just added RSS/ATOM subscription, list of the most popular terms that users are using, and latest blog posts from, I guess "more prominent" blogs indexed by Google Blog Search?The RSS/ATOM subscription is nothing new really. It's just a way for users to subscribe to any topic or story using any feed reader. For those who don't use feed readers, Google Blog Search front page can now also be added to iGoogle page as a gadget. This can be customized according to topics.
In addition, the main Google Blog Search site is now featuring to ways to get the latest blog stories – via Hot Queries and Latest posts. Hot Queries list down the most popular searches done on Google Blog Search while Latest Posts displays the latest post from popular blogs. Clicking on the
These two features will appear only on the Google Blog Search main site and will disappear on individual blog search results pages.