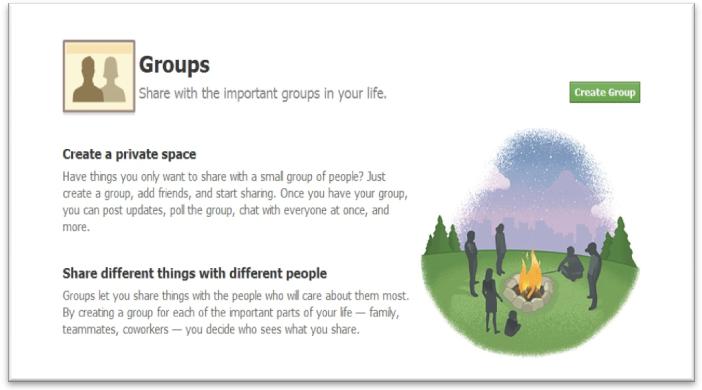 Other than Facebook Pages, groups are also a great way to leverage your brand. But instead of giving out sales pitch, you can use this component to foster a community around your business. That's because it can encourage discussion and participation better than pages, still leaving a room for some marketing. The key here is not to create a Facebook Group based on your company, rather make a group that is closely relevant to your industry or niche.
Create a Group with Active Discussion Tab
The core of any successful Facebook Group is an active discussion tab. This is like any forum, although it's less commercial and less organized. This feature allows any member to post a message or comment to any discussion in the group.
However, it requires moderation and care. You can do this by creating a clear set of content policies before setting up the group, and posting it where all your members can see it. You may also need to check your group's discussion board to make sure that you're being overrun by spammers.
Best Practices for Group Messages
Although not every Facebook Groups have this feature, group messages allows a member to send bulk message to his or her group mates. It works the same with email, letting you send messages that are like newsletter to your members. You can also this feature to highlight certain discussions that could pique the interest of your members.
However, you should always avoid spamming. It would annoy your members if they receive messages from you too often, especially if it's nothing but a sales pitch. It could even prompt them to leave your group immediately. Just keep it minimal, like once a month, and make sure that what you send is very important or useful for them.
Join Relevant Groups
Starting your own Facebook Groups can be cumbersome. An alternative for it is join groups that are closely related to your brand or niche. This will help you gain connection with your existing and potential audience.
However, you have to educate yourself about the group's policies. Some of them have strict rules when it comes to posting content. So before you use this group to create brand awareness, it would be nice if you can ask the group's admin if you can post commercial content. That way, you are sure that they won't ban your account.
Just like any social media platforms, you need to establish a connection with your audience first, instead of giving out a sales pitch immediately.
Source: Facebook Groups Overview | Help Center