The Google Webmaster Tools is taking the "Labs" route of introducing and testing new features. And they just rolled out two new Webmaster Tools Labs features – Fetch as Googlebot and Malware Details.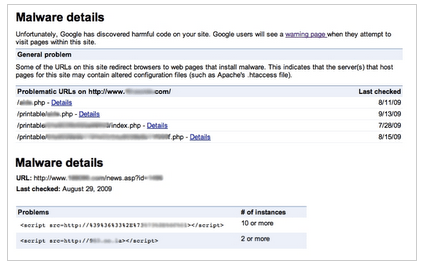 Malware details makes it easier to determine which pages on your site is distributing malware by providing snippet of codes that the Webmaster tools considers to be malicious. This aims to help you eliminate the malware on your site as quickly as possible. If you're a registered Webmasters, you can find links on your Webmaster tools dashboard which identifies the pages in your site that were scanned to contain malware distribution scripts which you may not be aware of. The Webmaster Tools will provide details of these malicious codes in as far as it can.
Fetch as Googlebot on the other hand provides you with the ability to submit pages on your site and get real-time feedback on what Googlebot sees. This feature helps when you are re-implementing technology stack on your site, as well as to find out whether some of your pages have been hacked or why they are not ranking for keywords that you optimized them to rank.
These two new Webmaster Tools were made available to get feedback from webmasters and site owners. So if you're one of them, you might want to send feedback here.