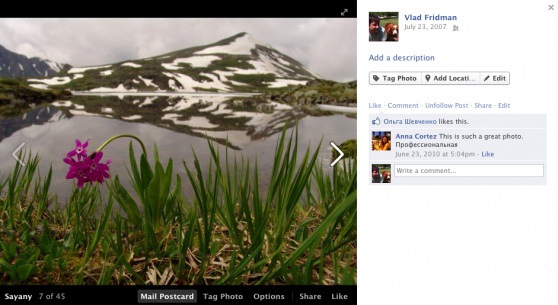 According to recent reports, Facebook is testing a new feature that will allow users to easily turn Facebook photos into printed postcards. The new feature, which is named "Mail a Postcard," was initially built during a Facebook Hackathon and is only available to a few test users at this time.
If a Facebook user is part of the test group, their Facebook photos will have the words "Mail Postcard" on the photo they are viewing. In order to turn the photo into a real postcard, the user simply clicks the button and is prompted to enter the friend's address and a personalized message. If the address is not known, it is easy to check the friend's profile or request the information. The finalized postcard is similar to a traditional postcard and has the Facebook photo on the front with a personalized message on the back.
At this time, Facebook is testing several price points for the new service and has yet to reach a decision on pricing. However, since the service is powered by Sincerely, the parent company of Postagram, the price is expected to be close to the $0.99 Postagram currently charges.
A Facebook spokesperson said the following regarding the new feature:
"A few months ago, some engineers built a fun feature that allows people to mail their Facebook photos as a physical postcard to any of their friends on Facebook. You can send your own photos to any of your friends or your friends' photo to them. The front will be the photo and the back you can add a note for your friend, just like a normal postcard."
With mobile monetization problems continuing to haunt Facebook, the postcard feature has the potential to simultaneously build mobile revenue and engage Facebook users at a higher level. If Facebook decides to launch this new feature for all users, would you use it? How much would you be willing to pay per postcard?
Sources Include: TechCrunch, VentureBeat, & Mashable
Image Credit: Facebook