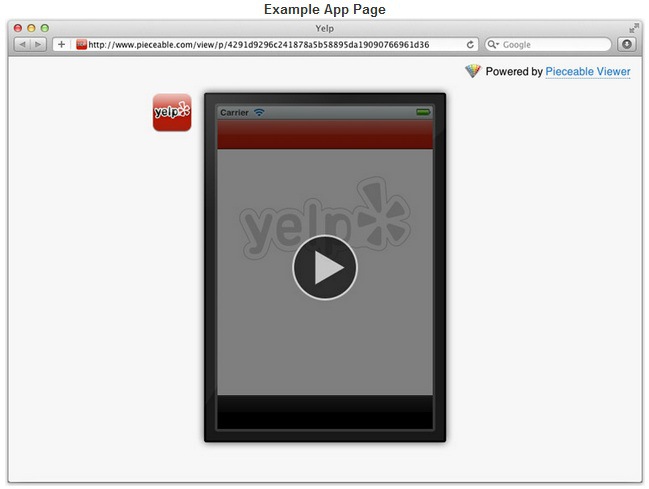 Facebook, which was one of the most hyped initial public offerings of all-time, is hoping to reverse the stock's bad fortune with yet another staff acquisition. Although Facebook is the world's number one social network with over 900 million users, the company has had difficulty monetizing the rapid growing mobile sector of its user-base and this weakness has caused the stock to take a beating. In an effort to boost mobile revenues, Facebook is now hiring away the entire Pieceable Software team.
Pieceable Software, which launched about a year ago, is the creator of a service that allows app developers to publish apps to a web page and easily share the app by simply sending people a link. The company was funded by i/o ventures and the service ranged from free to $60 per month. While the Pieceable Viewer provided businesses and developers with a valuable service, the company had much bigger plans. The leadership team had hoped to become a WordPress-like CMS that allowed people to create apps without having extensive knowledge of code.
Yesterday, the Pieceable website announced that the young company's entire staff will be joining the Facebook team and that the company will be deleting all previously uploaded apps on December 31st of this year:
"We will be winding down the Pieceable service at the end of the year so we can focus on the new challenges and opportunities at Facebook. Facebook is not acquiring the company, technology, or customer data."
While the Pieceable service will be discontinued on December 31st, the company is planning on releasing an open source version this fall and providing users with a tool to load previously built apps onto the open source version.
Although the exact terms of the deal were undisclosed, Facebook will hire Pieceable's entire staff without purchasing the company or its other assets. The engineers are expected to join the Facebook mobile team in the very near future.
Sources Include: The Wall Street Journal & TechCrunch