Looking for early morning news and tidbits for you guys today I ran across a contest for SEO's that looked interesting. Since all the top dog SEOs are here at SEJ at one time or another anyway, I figured; "Hey, why not?" "The Biggest Search Geek Contest" offers a trip to SMX West and other cool prizes for the veritable King Kong of search.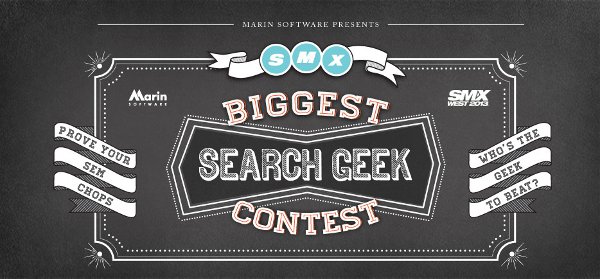 The contest is pretty simple, whoever answers the most questions correctly, in the least amount of time via the website, wins the competition. The Top SEO expert goes to SMX West with an iPad Mini, while the next two competitors take home an iPad Mini each as well. And, the top 50 competitors get a T-shirt for stepping up to face SEO legends. Well, at least that's the possibility. Will Aaron Wall and Danny Sullivan, Greg Boser, David Naylor, or maybe even Stephan Spencer wade in?
A tip from me, before you click "start the clock" – the test is not so easy. 20 questions, expert depth, and the current leader (Chun Wong of switched on media) completed them 43% correct in 5 minutes and 36 seconds. I'm not the SEO expert in the family, but I'd say even Danny Sullivan would need to lace up his SEO track shoes to go faster.
DO NOT, ask my score. Please do, however, let us know yours if you do well. The contest is sponsored by Marin Software Incorporated.