Anyone who owns a business today knows the importance of search engines to their bottom line. This importance gets magnified exponentially when you start looking at local businesses. Consider this statistic:

Not only do consumers search for local information, they convert more to local searches, as compared to non-local ones: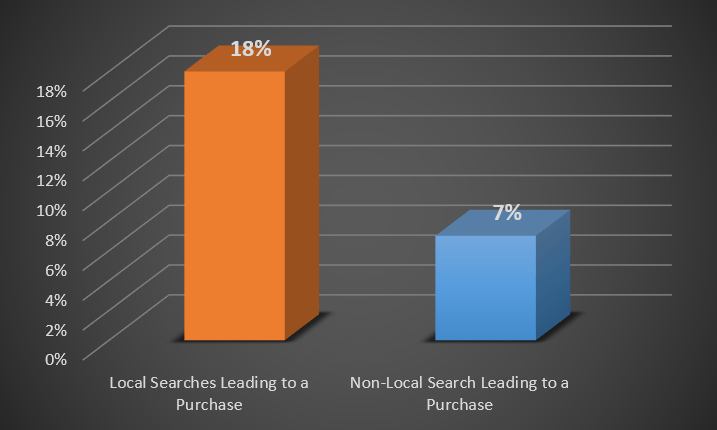 So if local searches are 157% more effective in leading to a purchase as compared to regular, non-local searches; it's time we gave local search the focus it demands.
Local Search Optimization 101
Local search is a specialized field in its own right. There are a lot of details to cover – from ensuring consistent NAP (Name, Address, Phone number) of the business, to injecting a local flavor into the meta data for local pages, to the criticality user reviews hold for both rankings and clicks.
Citations and Business Pages
Getting your business listed on local business pages like Google My Business, Yahoo Local, Bing Places for Business, Yelp, and local directories is often the first step towards building a local search footprint. Managing the data listed about your business on each site, ensuring the citations that you receive from each site are consistent, and focusing on the right websites to earn citations from are all key contributors to local search rankings.
User Reviews
Local search typically revolves around service based businesses where the quality of service is often the deciding factor between success and failure. Reviews feature prominently across organic results as well as the 7-Pack and carousel listings on Google's SERPs.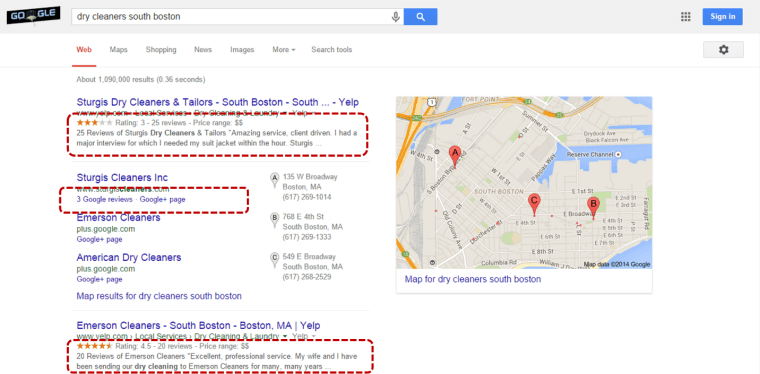 Incentivizing customers to leave reviews on Google+ Local, Yelp, TripAdvisor, and similar review sites offers an immediate stamp of authority to your business pages.
Localizing On-Page SEO Elements
On-page SEO elements play an important role in local search as well. Infuse your on-page ranking factors with local flavor like city and state names apart in addition to focusing on important keywords. Local data in critical on-page elements like the page title, H1 tags, title tags, meta descriptions, page URL etc. send direct signals to Google regarding the relevance of your page to a local search.
While creating dedicated local pages for each city that your business operates in is a given, removing duplicate pages from your website and using the rel=canonical link element judiciously all contribute towards a better local rank.
Images
Images play a huge role in deciding whether you go on the carousel or not.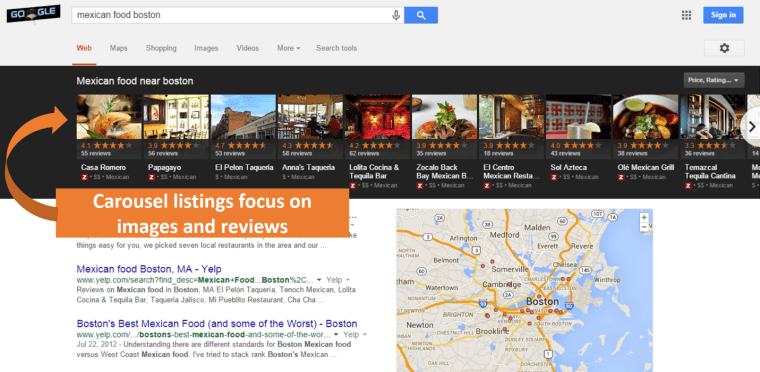 Images on your local pages must not only be of fantastic quality, they must be optimized for local search with local content in their ALT tag descriptions. Large, relevant and eye-catching images accompanied by a detailed description of your business go a long way.
Other Factors
While the factors listed above were the 'can't-do-without' ones, there are a bunch of local SEO signals your business would do well to maximize.
These include keeping the local flavor alive on your social media platforms and content marketing, keeping your local content across the web fresh and relevant, getting the right places tag on your business listings, keeping up site speed and making sure your website is mobile optimized.
The last factor – mobile optimization, though not a directly stated ranking signal, makes sense in the larger scheme of things. According to Comscore data, 79% of mobile users carry out local searches. This obviously makes having a mobile optimized website a prerequisite to ranking well and getting conversions.
Topping Local Searches in Competitive Post-Pigeon Markets
2014 saw local search in the spotlight with Google's Pigeon update, which ruffled more than a few feathers among both local and national brands.
Pigeon's basic purpose was integrate local search signals more closely with Google's broader web search signals to offer users even more relevant results than before. It also made a bunch of other tweaks to combat basic issues with local search like offering well-deserved visibility to local directories, fixing the Yelp issue on local searches, and removing duplicate entries from organic and 7-Pack results.
With the amount of changes that Pigeon has racked up, there's a renewed scramble for the top spot in local listings – especially in key service sectors. So, what should you focus on to fend off the competition and rise to the top? Here's a countdown to the top 10 local search signals that will give your business an edge in a hyper-competitive local search market.
#10. Quality of Unstructured Citations
Unstructured citations literally mean references to your business – name, city and / or description – in places that do not follow the typical directory format. These could include mentions in articles, blogs, and other forms of content across the web.
Pro-tip: Push down on the gas pedal in your content marketing by including local content wherever it matters. Work on getting your business name mentioned alongside your target city as naturally as possible. The more authoritative the publisher, the better is the impact on your local rankings.
#9. Quantity of Google Maps Reviews
User reviews are a key ranking signal, which makes perfect sense since Google's stated objective is offering results that are as relevant and useful as possible to users. Multiple studies have shown users trust word of mouth and recommendations of other real users more than ads or other brand sponsored content. When it comes to judging a particular business and its worth, users (and Google!) abide by the more is merrier rule.
Pro-tip: Actively seek out user reviews from your existing and past customers by reminding them to leave a review through multiple channels. A simple gracious request via an email or a thank you page usually does the trick. It is also a good idea to put up posters or signage inside stores describing your existing reviews and encouraging users to add their views as well. Whatever you do, DO NOT offer monetary or other incentives in exchange of reviews. Most review sites including Yelp and Google+ do not look kindly at such practices.
Spend dedicated time and resources on monitoring spontaneous reviews across various review sites and managing your online reputation effectively.
#8. Physical Address in City of Search
If you're searching for a Mexican restaurant in Boston, a result that shows Mexican restaurants in Los Angeles will definitely not be of any help. According to research, an average consumer is willing to travel 17 minutes to reach a local business. Hence it follows that physical proximity of your business to the searcher's location would help it to gain an extra edge over businesses that are geographically farther away.
Pro-tip: Work on your citation data to include your complete address wherever possible. You can help the cause by offering discounts or other incentives to users for checking-in on Foursquare, Yelp, or Facebook, to your place of business to gain a boost in this regard. In your zeal to cover as many locations as possible, do NOT go overboard and list yourself in nearby cities or towns where your business is not actually located. This will only earn the wrath of Google and make your local SEO suffer.
#7. City, State in Landing Page Title
The importance of a precise address match gets even more technical as we go closer to the most important local SEO factors. It's not just enough to publish your address, city, and state across business pages and directories across the web. It's more important to have your own website scream out these details from the rooftops to get a coveted top rank on local searches.
Pro-tip: Pay close attention to your on-page ranking elements for local SEO. Include your city and state in your landing page title, the H1 tag, the title tag, the meta description, and the landing page URL.
If your business operates in multiple cities, create dedicated landing pages for each city with content that is crafted especially for your target market. Steer clear from copying content and just replacing the city names – it could be counted as a case of duplicate content by Google and you might be penalized.
#6. Quality of Inbound Links to Landing Page URL
This is where Google's Pigeon begins to flap its wings and make its presence felt. The factors important to rank well in regular web searches have now gained importance in local searches as well. Low quality inbound links refers to links from typically PR n/a or PR 0 sites that are labelled spammy by Google, with explicit warnings to users against visiting them.
Pro-tip: Make sure low quality, low authority sites are weeded out from your local link profile. Disavow such links without hesitation using Google's Disavow Tool or third-party tools like Rmoov, which also help you map out and analyze your link profile. Another alternative is to figure out who the webmaster is for the offending website and request a removal of the inbound link.
#5. Proper Category Associations
Google My Business pages allow business owners to list their businesses in clear categories to help in quick information retrieval when a user does a local search. In Google's own words, you need to pick categories for your business based on what type of business you have and NOT based on the products and services you offer.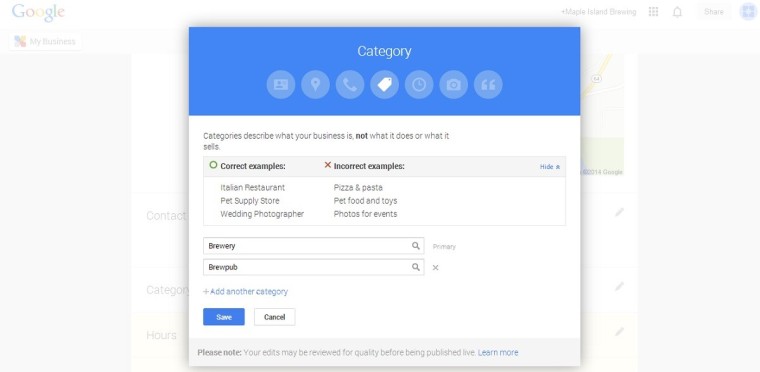 Pro-tip: Besides the three basic categories of 'Storefront', 'Service' and 'Brand' , Google allows you to list up to five sub categories to make your listing as targeted as possible. While adding custom categories is no longer possible, you can try various permutations and combinations of 'what your business is about' to fill in all five category options.
#4. Quality of Structured Citations
Just as you would trust the explanation of a mathematical theorem from a math professor as opposed to your kid brother, the source of your citations is critical for ranking high in closely fought local searches. Citations from high authority sites forms the backbone of local SEO. This point refers to two aspects of your citations – the citation in itself should be high quality and the website offering the citation should be an authoritative one.
Pro-tip: Make sure your citation includes the basic NAP details correctly. A good description of your business with your city name and keywords included helps Google locate you better. High quality images accompanying your citation help your case and can land you a carousel position. Besides the obvious Google My Business Page, work towards building detailed, structured citations on high authority sites like Yelp, Zagat, Yahoo Local, FourSquare, Manta, and TripAdvisor to keep ahead of competition.
#3. Quality of Inbound Links to Domain
Ranking factor #6 dealt with inbound links to the specific local landing page. Here we refer to the quality of inbound links to your domain overall. Just as an Ivy League student is usually found in the company of other Ivy Leaguers, a good website attracts links from other strong domains that collectively help raise the search rankings of the recipient site.
Pro-tip: Focus on developing high quality inbound links with local anchor text through your content marketing efforts. You don't really have to worry about including NAP details or images as long as your business is mentioned in the right context by high authority sites.
#2. Consistency of Structured Citations
Structured citations offer search engines precise data regarding your business. Business directories and yellow pages with their clear Name-Address-Phone Number, category, reviews, descriptions, and images format now get priority in Google's local search rankings in the post-Pigeon world. A key reason for this promotion is that they offer Google all the ammunition it needs to populate its SERP rankings effectively. The key here is to make sure you follow the same format and offer the same details to all directory sites to avoid confusing the search bots and the end-users alike.
Pro-tip: With so much riding on consistent data in your structured citations, you may choose to invest in local SEO tools to help you put up (or fix) structured citations across hundreds of directories and IYPs, monitor their content, and manage them to ensure your business offers reliable, unmistakable signals to search engines. If you're a really small business, tools like Synup will get you started (and keep your listings) for absolutely free. On the other hand, Moz Local and Yext are two heavy-duty tools I prefer.
Spare some time to draft individual citations for each location you operate in and make sure your descriptions and details are unique to each location.
#1. Domain Authority of Website
The single most important differentiator in a crowded competitive marketplace is the strength of your domain. The trust a user and a search engine by extension, places in your brand and your domain name reflects in the most important achievement in local SEO – topping search results with placements inside the 7-Pack or carousel for your keyword + city combination.
Pro-tip: If there's one step digital marketers need to take post Pigeon, it is to use the top down approach when it comes to local search rankings. Work towards building a website that is respected and well-regarded in your industry. Develop a solid link profile with high authority sites linking back to you with the right keywords and anchor text. Work on not just improving your search rankings, but on building a well-rounded and easily recognizable brand. The efforts may seem huge to you now, but the payoffs are even bigger!
Image Credits
Featured Image: Created by author for Search Engine Journal
Image #1 and #2: Created by author for Search Engine Journal
All screenshots taken December 2014