SEO PowerSuite
SEO category is sponsored by SEO PowerSuite. All the SEO tools you'll ever need under one roof. Track rankings, analyze competitors, build links and do on-page SEO with ease.
Get your free copy now!
Every serious online business during its development reaches the line when it becomes essential to clearly realize the market's structure, see and feel your competitors, have a gust of the dynamics of demands of your potential customers.
In the current report I would like to concentrate on such an interesting moment as market research, as it allows building business in the web on the solid ground and make corrections during its development that are based only on topical and timely data.
We will try to analyze the western market of online forex, understand the means of bringing traffic, what are type and regional sources of this traffic, in other words — we'll try to get an insight into marketing strategies of marketers leading in the current niche.
The reason why we've chosen the western segment of market is that Ru-net does not possess enough quality tools for such researches at the moment.
Ok then, let's start.
First of all, we should specify the purposes of our research, in other words – what information we would like to gather? Most often it's the following data:
What projects are most successful in the current niche? What do they present?
What value and quality of traffic do they approximately attract?
What means are used to bring visitors?

Type-in (direct typing in the address line, selecting from bookmarks, etc.)

What range of type-in traffic does the project attract?

Referrers

What range of traffic does the project bring from referral sites?
Which projects bring most traffic to the analyzed project?

SEO (Search engine optimization)

What queries is the site ranked for?
What properties do these queries possess?
What methods are used in promotion?
What other projects are relied to the analyzed project, are they used to promote the analyzed project?
What company promotes current site?

PPC (Pay-per-Click)

Is PPC used in promotion?
What systems of PPC are used, what keywords are used to promote the site in the blocks of paid ads?
What texts are used in ads?
Are separate landing pages specially designed, what are their features?

Email marketing (advertising by means of email)

Is email used as advertising channel? What is its role in project's marketing?
What features does email distribution possess? Do they track visits from electronic letters?

Affiliate marketing

Does the project have its own affiliate program? What is number of its affiliates?
What opinions about affiliate program are represented in the web? Is there any data about affiliates gainings?
Does the project participate in CPA networks?
Competitor Identification
In most cases, to determine your competitors it's enough to make several searches in Google by the most serious keywords in current niche, check this data by means of SemRush service (www.semrush.com), and also to look through the corresponding sections of DMOZ, Yahoo! catalogue, and Business.com.
Several important points:
1) During the search it's better to switch on SEOQuake plug-in and to pay attention to Alexa Rating
2) When you find competitor's site with the lowest Alexa Rating (the lower this rating is, the higher traffic ranking is), add it into SemRush and get URL addresses of competitor sites both in organic search and in PPC.

Summarizing the analysis results, I have found rather large number of powerful resources in the niche (which is no surprise). Let's select 5 of them as an example:
www.ac-markets.com

www.fxcm.com

www.easy-forex.com

www.fxclub.com

www.gftforex.com
Project Traffic Ranking
There are ways of analyzing projects' traffic without direct access to statistics. It's possible due to such tools as Alexa and Compete. The first one gathers data from toolbars pre-installed on users' computers (if my memory doesn't fail me, such toolbars are developed only for Internet Explorer, and this fact can bring significant inaccuracies in specific cases), and the second – from data provided by Internet providers in the USA, according to existing agreements.
Whatever instrument we are going to use, it's important to remember one thing – the lower site's popularity is, the lower is actuality of information, provided by these tools. For example, in his book «Web analytics: An hour a day», Avinash Kaushik recommends not to trust data brought by Alexa implicitly, if rating is more than 100.000,.
In our case it's all ok with traffic ranking of leading sites, so information is more or less authoritative.
Let's take a look: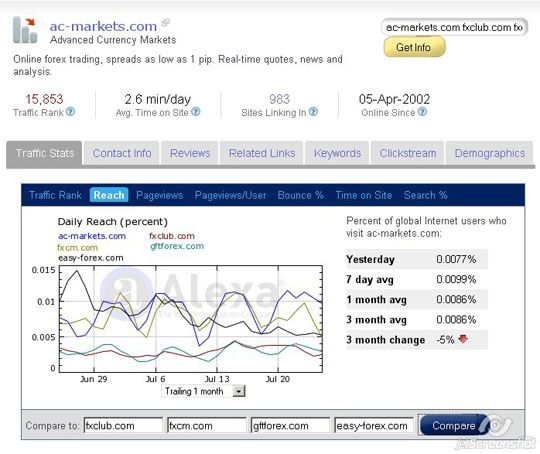 Google Trends for Websites shows almost similar picture, but it also adds obvious information about regional qualities of attracted traffic.
To specify approximate numeric values, you can just make a selection of benchmark websites with similar approximate traffic, with statistics available. Thus, we can get approximate data about real traffic:
URL
Alexa rank
Daily


Visitors est.

http://www.ac-markets.com/

15821
20.000-30.000

http://www.fxcm.com/

16507
20.000-30.000

http://www.easy-forex.com/

17031
20.000-30.000

http://www.fxclub.com/

31613
15.000-20.000

http://www.gftforex.com/

44920
10.000-15.000
We can check our information with the help of Google AdPlanner — e.g., let's look at data for www.fxcm.com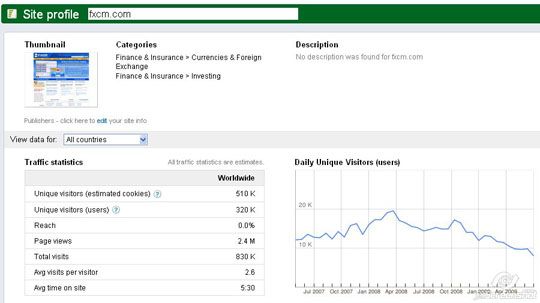 You can complete the picture of comparative traffic by means of Compete.com (specified figures mean estimate number of users from the USA).

The next step will be defining of geography of competitor sites.
Alexa can be our assistant here as well: