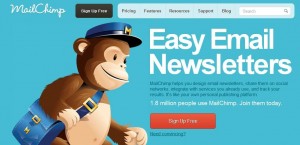 Email marketing may sound old school, but it can still serve as an effective tool when it comes to online promotion. It's important that you have an email service provider because it can help you manage your contact, especially when your customer base is starting to grow. Having an ESP also means that you're in for some serious marketing.
On the flip side, choosing which ESP is right for you can be daunting. That's because there are tons of services to choose from.
Private IP Address
An IP address indicates the origin of your email. Just like you wouldn't share your home address to large number of strangers, you wouldn't want to share your IP address to your subscribers to prevent being blacklisted. That's why it's important that your ESP provides a private IP Address.
Reliable Infrastructure and Customer Support
It's also important that your ESP has multiple, high-speed connections. This will secure that even their servers won't go down even if one of their Internet connections fail. Thus, allowing your subscribers to click through. But when worse comes to worst, your ESP should offer both online and phone customer support.
A/B Testing and Reports
Just like in any online advertising elements, you have to test multiple versions of your email to see which message works. In relation to this, your ESP should offer a wide array of user-friendly reports such as deliverability success, open rates, and click-through rates. That way, you'll know where your email marketing is leading you.
CAN SPAM Compliance
It's important that you'll require your subscribers to comply with the CAN SPAM Act. However, you cannot encourage them to do so if you won't make it sweet and simple for them.
List Segmenting
Your ESP should also allow you to segment your list based on various criteria like demographic. Being able to target subsets of your list will help you deliver relevant content that makes your email marketing campaign more successful.
Terms and Pricing
Depending on your email marketing needs, it's also important that your ESP lets you cancel and switch any services at will whenever you think that you're not happy with the service. Most of all, you have to look for a provider that has a flexible payment terms based on your needs.
There are a handful of ESPs that you can choose from. However, the bottom line in choosing your provider is the one that suits your marketing needs.
Source: MailChimp Homepage/ MailChimp