Building healthy relationships with clients – old or new – is essential for SEO agencies.
Even if you've established trust with your clients during the initial onboarding period, maintaining the strength of those relationships is an ongoing process.
Now, more than ever, it's critical for SEO agencies to invest time and energy in keeping their clients close and happy on a consistent basis – not just for the first 30 days.
This is where customer success comes in.
Customer success measures how happy your clients are, which directly impacts your retention rate.
A high customer success rate means a low churn rate, which equals less time and resources spent on acquiring new clients.
By tracking customer success metrics, agencies can constantly improve their client interactions to support long-term retention.
And even potentially attract new clients through word-of-mouth.
If you can achieve good customer success, you're setting your clients up to become your biggest promoters and brand advocates.
Yet, as the world transitions from offline to online operations, search professionals need to find ways to stay close with their clients, even when they can't meet with them in person.
The way to do this is through regular reporting and proactive communications.
But how should SEO professionals approach these activities in the era of the new normal?
We interviewed some leading SEO experts to gather their insights on dealing with client relations during the coronavirus pandemic, and tips for other agencies to apply during these unprecedented times.
Foster Client Engagement in a Remote-First Setting
How did you engage with your clients prior to the start of this year?
Some SEO professionals were already set up for remote operations, but many agencies used to rely largely on in-person meetings to foster client engagement.
The customer success managers we spoke with suggested some useful insights for SEO professionals who are undergoing this offline-online transition to continue to promote positive customer relationships:
Be More Proactive in All Your Client Relationships
Usually, SEOs communicate a lot with clients during the onboarding process, but thereafter, client-agency interactions mostly consist of formal meetings for reporting and informal meetings for answering quick questions.
Yet, in the age of the new normal, businesses are still adapting to remote work settings, and during this transitional period, we've seen some clients miss reports altogether.
Just because it slipped through the cracks of their inbox.
SEO professionals can prevent being neither seen nor heard like this in a few different ways:
Set Meeting Frequencies
Larisa Buduroes (Head of Customer Success for Upswing) says that in the current climate, setting the frequency and purpose of each meeting clearly is essential for keeping client communications focused and efficient.
Michael Transon, CEO for Victorious SEO, also notes that they've seen some customers experience a surge in growth since February, so these clients are demanding fewer reports and meetings than before.
The key takeaway here is that, in a remote setting, some clients have found meeting more often doesn't necessarily produce better results.
Whereas others are more interested than ever before in staying in the loop.
So be prepared to adapt to the individual needs of your clients when setting meeting frequencies.
Go to Them, Before They Come to You
It's important to make sure – regularly and proactively – that everyone is aligned on business objectives, according to Laurel Stewart.
Especially now, with marketing budgets under increased scrutiny and SEO professionals needing to prove the ROI of their campaigns more than ever, search professionals need to ensure their activities are constantly aligned towards producing the greatest impact possible for clients.
You should also be proactive about suggesting things that clients can do to achieve their business goals.
Perhaps there are new keyword opportunities that they can take advantage of or a new trend that could impact their campaign performance.
Reaching out to clients reminds them of your value, even when in-person meetings aren't taking place.
Track Customer Success
Are your clients reading your reports?
Are they happy about what they see?
It's important to engage with your customers to know how they feel about your performance and ensure they appreciate the value of their SEO efforts.
Whether that be through in-person meetings, calls, surveys, or engagement tracking tools.
One reason proactive communication is trickier nowadays is that nearly every business has its preferred communications channels – Skype, Zoom, Google Meet, WhatsApp, Slack.
The list goes on.
As Larisa Buduroes points out, this means SEO pros have to be adaptable to various mediums to maintain client engagement in a remote-first setting – a theme that kept emerging in our talks with industry experts.
Optimize Online Operations With Video Conferencing & Surveys
Video Conferences
Video meetings are now everywhere.
And while they don't exactly replace face-to-face meetings, they're the closest some of us can come to mimicking the experience of client meetings in pre-pandemic times.
When it comes to measuring customer satisfaction, video calls are particularly important – as long as you keep everybody's video feeds on.
Both Larisa Buduroes and Madalina Mihai, Head of Customer Success for SEOmonitor, emphasized the importance of gathering feedback from clients through their facial expressions, nonverbal cues, and body language.
Things that can't be conveyed over a voice-only call.
However, some meetings are still better in-person.
It might be because of the type of client, industry, or campaign, but sometimes issues need to be clarified or discussed in person.
When that happens, Larisa Buduroes says her team will still meet a client in-person. Like when a better understanding is needed for a project that's in the discovery phase or requires multiple changes of direction.
In other words, optimize video meetings whenever you can, but still be prepared to adapt, depending on a specific meeting's objectives.
Customer Success Surveys
Video isn't just useful for meetings; it can also help SEO professionals automate their client communications in a way that still feels personal and authentic.
For instance, at the beginning of the pandemic, Upswing's CEO sent out a video message to all their clients, making sure that they know how everything is changing (strategy, communications practices, etc.) to help secure their businesses.
Thus, also supporting the customer success team to stay on top of their portfolio in a remote work environment.
Similarly, Larisa Buduroes says that Upswing has optimized its customer satisfaction survey to analyze how the relationship changed during the pandemic.
Since the switch, client response rates have stayed roughly the same as pre-coronavirus, showing that digital customer success tracking can be just as effective as in-person.
One area digital surveys can't compete in, however, is when it comes to gathering more detailed customer feedback.
For that reason, SEO professionals should follow up with any clients who report lower satisfaction rates in a video call, giving them a deeper understanding of how to improve the client relationship.
Keep Your Reporting Process up to Date
It's not enough to keep clients happy anymore – SEO agencies need to prove their worth through the reports they provide.
Reset Expectations in the Current Environment
Clients have higher expectations for reporting now.
CMOs from client companies want to be more closely connected with agencies, as they have to report to their boss and justify all marketing spend.
Instead of saying: "Which channel converts better? Let's test and see," they now say: "Which one converts better? That's the only one we'll spend on."
So how can SEO professionals meet these new reporting expectations?
Give Access to Aggregated Data
Showing performance snapshots might not be enough.
SEO professionals say that clients are increasingly requesting access to all campaign data and analytics to get a deeper understanding of their marketing activities.
So agencies may need to invest in tools that aggregate data from multiple sources and present it to clients in an easily-consumable format.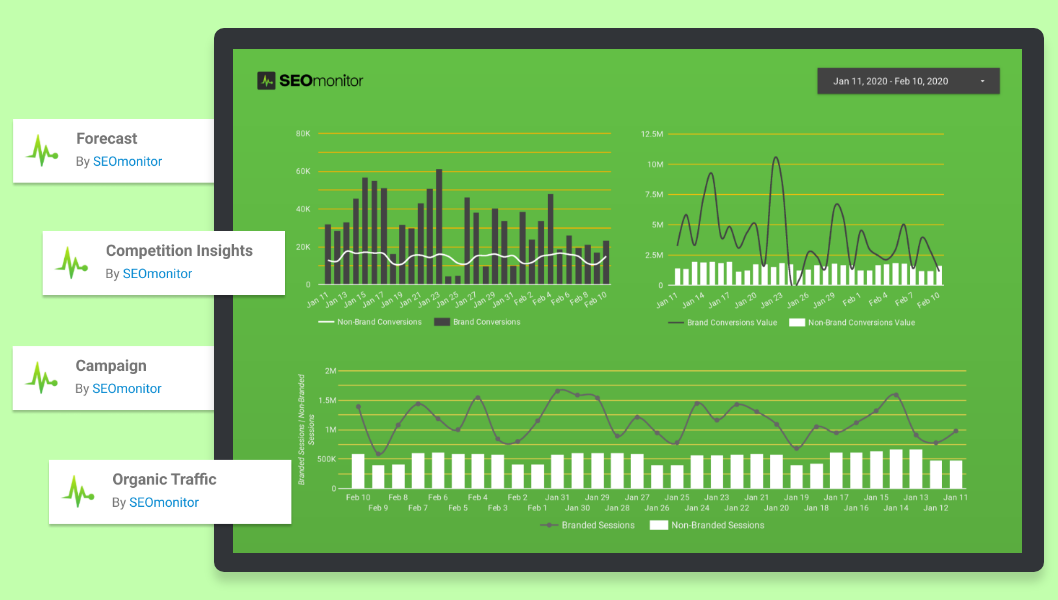 There are available tools in the market, such as Google Data Studio and SEOmonitor's Reporting Board, that can give clients access to a dashboard showing different inputs from analytics and multiple-sources data to granular views of tasks, reports, deadlines, etc. in one platform.
This will keep things aligned and transparent with your clients – although you might have to decide how much you'll allow them to interact with the data (one way is by giving them view-only access, not editing).
This gives clients a "live report" that they can monitor, without altering any reporting configurations.
This live dashboard therefore also serves as a way of communicating continuously, even between meetings.
Report on Goal Progress
Once everyone is aligned on client goals, Victorious SEO also proactively reports on progress towards those specific goals, in addition to the usual tasks and metrics.
It's important to come back to the center – the customer's business goal, both Transon and Stewart add.
By regularly showing the tangible value of a campaign in this way, agencies can convince existing clients to continue allocating budget for SEO, even in these uncertain times.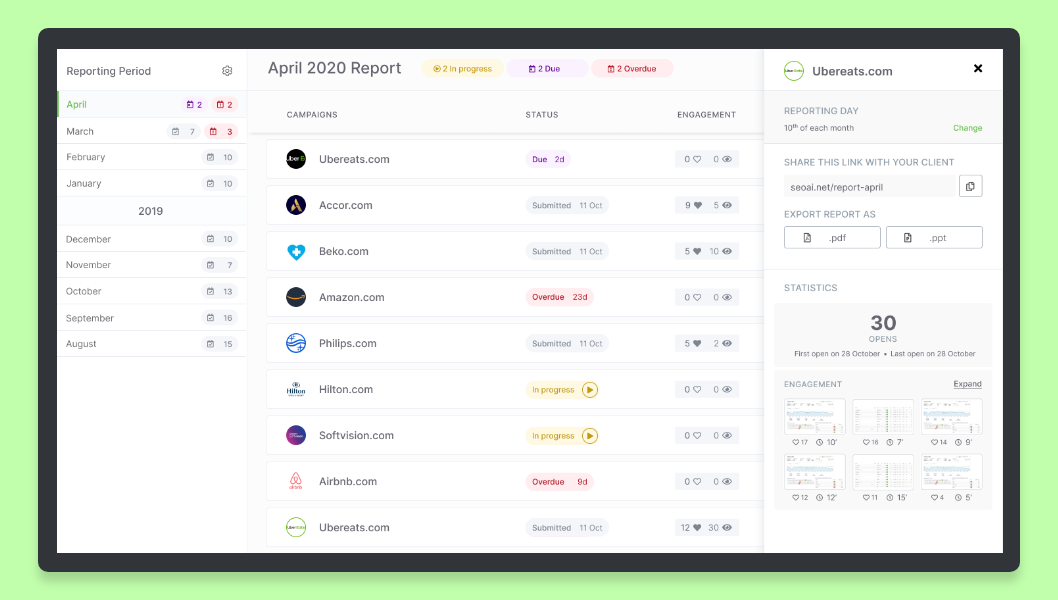 Optimize Reporting Tools
Another thing that's changed in the wake of the pandemic is the need for more powerful, efficient reporting – both when it comes to client-facing reports, and internal reporting.
Complex Client Solutions
If clients used to approach you saying: "I need SEO services to improve sales," they may now be saying: "I have a problem – help me fix it, but only within this budget."
Because agencies are now being asked to troubleshoot with limited resources, some are now expanding their set of tools – for example, by combining CRO and UX with SEO.
This is a growing trend in other business service industries, too, as companies offer increasingly complex and tailored solutions to stay competitive in the new normal.
Automated Features
Madalina Mihai says that search professionals have also been requesting increased flexibility and automation when it comes to reporting tools.
For example, some agencies asked if SEOmonitor's Reporting Board could be adapted to automate its Google Sheets integration.
These additional automation features make it easier for SEO agencies to match the expectations of their clients while limiting the time and energy spent on regular reporting. If a tool chooses key metrics and generates a report for you with automated features, all that's left for you is to add the narrative and present it to clients.
Keep Track of Client Feedback & Engagement
This is where customer success and reporting can complement one another the most.
In order to stay on top of client feedback and engagement in this remote setting, SEO professionals (again) need to be adaptable.
Rather than evaluating customer success purely through a Likert scale, Larisa Buduroes says that Upswing also focuses on evaluating clients' satisfaction with their current strategies through close communication.
This is an issue that is particularly relevant in the current economic landscape when consumer behaviors are changing rapidly.
Another way to track your client's feedback and engagement is by measuring their activities on your monthly reports in SEOmonitor's Reporting Board.
You can take note of their reactions and open rates on the platform to measure their overall satisfaction and get a real-time snapshot of your customer success rate.
In a Nutshell
To maintain healthy retention rates and increase customer success during the new normal, SEO professionals should:
Foster client engagement in a remote-first setting by being more proactive in all your client relationships, and optimizing online operations with video conferencing and surveys.
Keep your reporting process up to date by resetting expectations in the current environment, optimizing reporting tools, and keeping track of client feedback and engagement.
Let's face it – remote work arrangements are here to stay.
Setting up your agency to deliver effective client communications and reporting solutions – even in an online-only context – is a crucial part of continuing to satisfy your SEO customers in the future we're now heading towards.
SEOmonitor's Reporting Board is designed to help agencies promote client engagement and provide up-to-date reporting that communicates the ongoing value of SEO campaigns.
SEO professionals that are either getting started on their dashboarding project or are already doing complex integrations can benefit from our system with:
Process Management: See all your client reports in one place, including your team's status for the current reporting period, workflow structures, delivery dates, and notifications when reports are due.
Report Building Assistant: Create fast, flexible reports with Google Slides, save agency master templates for later use, and insert top insights into your reports with a single click – then customize them as much (or as little) as you want.
Feedback & Engagement Tracking: Measure how your client interacts with reports (by recording opens & likes). This lets you gauge customer success by taking clients' "pulse" at the best possible moment: right after they read your report.
This is just a part of our solutions to help SEO agencies acquire, manage, and retain more customers.
Join us in our journey to bring more transparency to the SEO industry.
Try our reporting solution
designed for SEO agencies!
The opinions expressed in this article are the sponsor's own.