How do you usually define success when it comes to a new SEO client?
As an agency, you're probably constantly juggling multiple accounts, stakeholders, and business objectives that imply different expectations and strategies.
Knowing how to set the right benchmark and explain the value your agency can create through SEO is crucial for a successful partnership.
However, to speak a common language and define success following the client's understanding, you need to consider the client's profile and their growth status quo.
We've talked with multiple agencies from different markets to find out how they approach the pitch and create lasting client relationships from that point on. And here's what we found out:
SEO forecasting is a great tool to differentiate in the market and create a compelling pitch.
A reliable visibility metric can function as a "market share" indicator and digital/search success metric.
Custom reporting is a competitive advantage in enterprise environments.
Let's go over them one by one and see what Dave Nillson, founder at The Converted Click, Alan Ng, Technical & Insights Director at connective3, Tom Telford, Managing Director of Search, Social & Analytics at Clarity, and Aybüke Yerlikaya, SEO Manager at GroupM Turkey, had to say.
Use SEO Forecasting as a Competitive Advantage for Pitching
"I remember being in a big pitch last year, and the client said we were the first agency they've spoken to that did a forecast and committed to showing what we could potentially do for their business," Nillson said. "I think that was a defining factor in actually getting them to sign with us."
SEO forecasting not only functions as a differentiator, but it's a strong opening argument in showing the practical ROI of your proposed campaign.
As Nillson further explains:
"Let's say I'm trying to understand the business opportunity for a potential client. I want to know what the client wants to be known for in the online space. Then, I can do my research, classify it in topical silos and focus on keyword difficulty to be realistic when forecasting, especially if the client's domain and profiles are relatively new.

In the pitching phase, I can then explain how the keywords translate into opportunity, where the difficulty lies, and the expected results. Putting the forecast in before the costing also lets me show the client our agency's methodology, know-how, and what they're actually paying for."
A reliable forecasting solution that considers all significant variables (search volumes, year-over-year trends, average CTR curves, seasonality, etc.) will help you paint a clear picture of the playing field.
Moreover, you can set the right price for your client and even highlight the ROI through an objective benchmark: the Google Ads equivalent.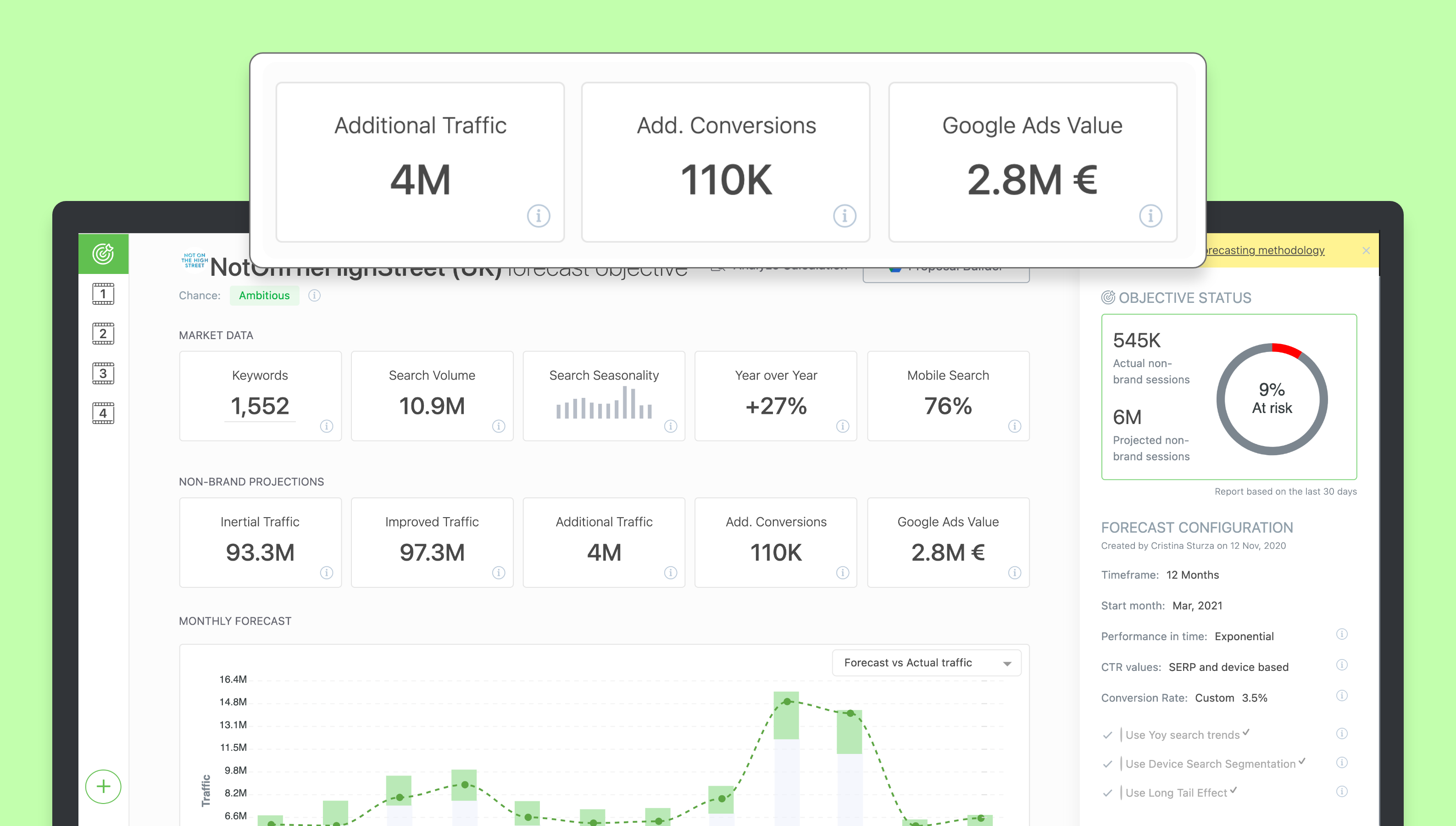 That's how Yerlikaya managed to convince a big client in the financial sector to trust their agency with the SEO campaign of a new, niche product.
"Making a case for SEO with forecasting and the Ads equivalent helped us showcase how we could promote a new financial product in what was considered a traditional industry," Yerlikaya said. "The client understood and trusted the data because we were able to make that comparison."
A forecasting exercise is meant to set a precise measure for success, not by predicting the future but by highlighting the possibilities and the growth opportunities.
You can think about it as a potential north star, provided the desired ranks are reached – explore more on the topic in SEOmonitor's Library for SEO agencies and discover more agency case studies.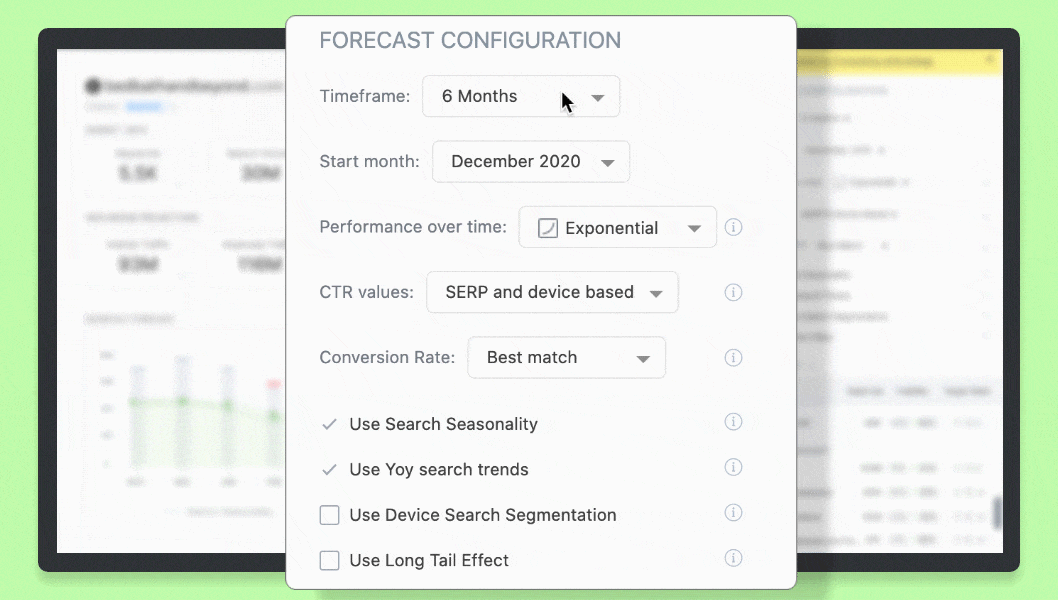 "I remember being in a big pitch last year, and the client said we were the first agency they've spoken to that did a forecast and committed to showing what we could potentially do for their business. I think that was a defining factor in actually getting them to sign with us," says Dave Nillson.
Explain the Client's 'Room for Growth' With Specific Metrics
Another crucial aspect for you to set a shared success definition is mapping the client's search real estate.
Analyzing their status quo and their competitors on specific key phrases and topics will give you the chance to create a compelling business case. As Telford explained:
"As an integrated communications agency, at Clarity PR, we have a philosophy of thinking of Google as the world's largest online newspaper. By taking a full-page view, our search, PR, and paid teams can work together to help a client get maximum coverage through the search results. We always ask: What about the overall keyword sphere? It's not just about ranks, but picking topics and owning that space."
One way you can set the stage for that growth to happen in terms of SEO is to use a reliable visibility metric as a "market share" indicator.
Calculated as an impression share weighted against search volumes, SEOmonitor's Visibility metric, for instance, lets you define one key strategic input: the business' room for growth in a specific space.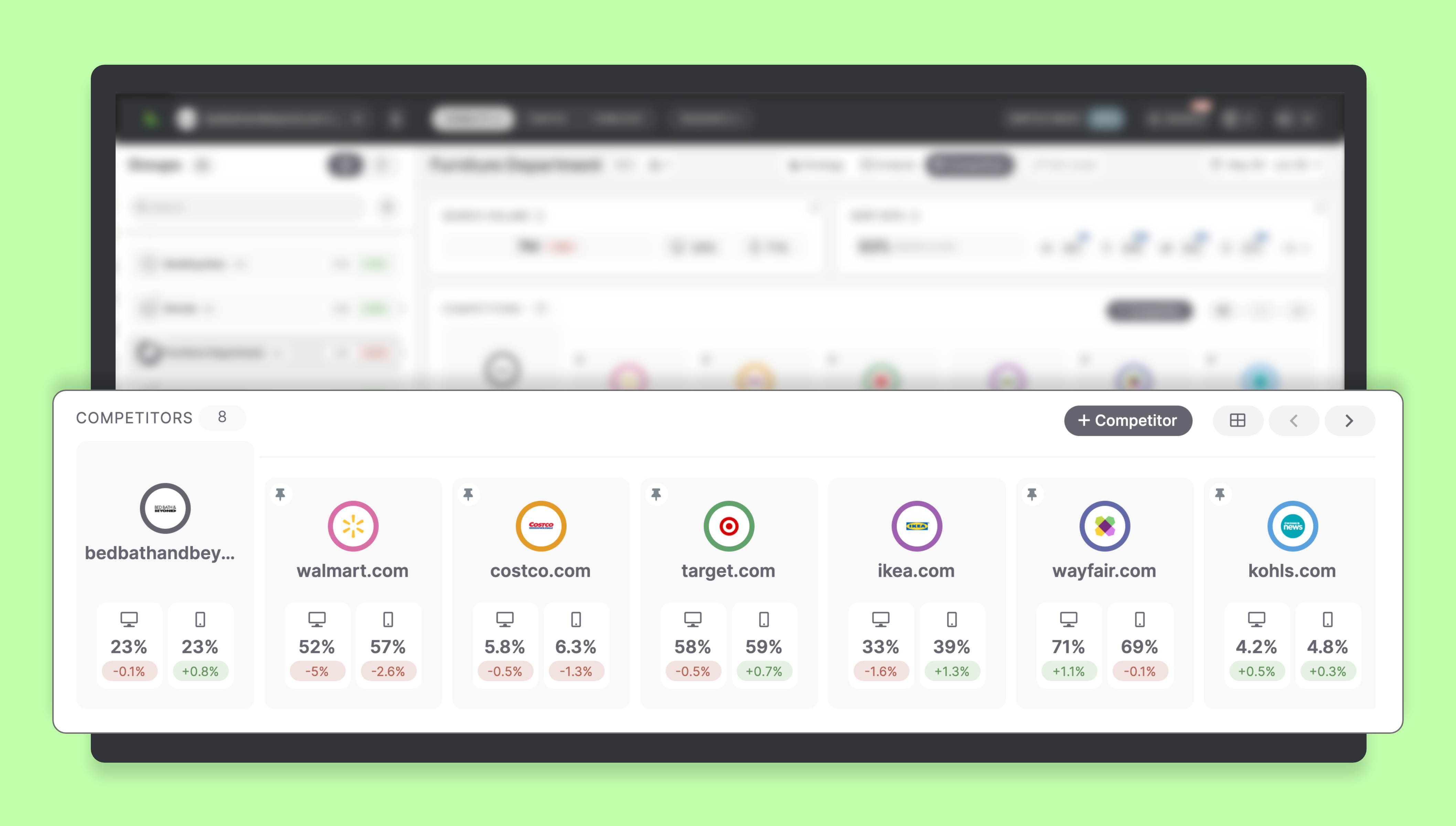 Taking the Visibility metric as a performance benchmark will also allow you to build trust in your agency's reports.
Here's how GroupM Turkey does it:
"Clients that are fairly new in the digital landscape want to be in full control of their rankings and online presence. Having the Visibility metric and its explainer at hand, we can check the status daily, look at competitors and see which keywords influence visibility shifts and if that's an opportunity for our client."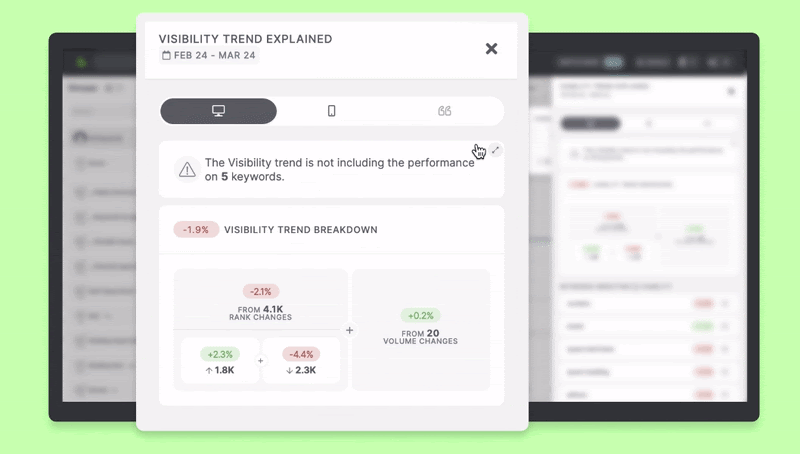 If you're operating at an integrated communications level, then enriching SEO-specific metrics will further both the client's understanding and your tactical creativity.
"We discovered we have fantastic results through mixing tools that are traditionally service-specific," Telford said. "So enriching keyphrase research with sentiment analysis tools or help PR teams to spot subject opportunities using keyphrase benchmarking or SEO-ready coverage using backlink analysis. Bringing new angles to practices has helped boost creativity and client success."
Leverage Your SEO Reports & Speak the Client's Language.
As we've already hinted at, reporting is one other big part of an agency-client relationship that can be negotiated from the beginning.
"We're all hands-on with the client," Ng said. He pointed to their competitive advantage in having top management directly interacting with clients' teams from day 1.
"Working with big clients who have their internal digital marketing teams and analytics needs, we constantly have to fit into their model rather than the other way around," Ng said.
That's why connective3 focuses on creating customized dashboards that serve the internal teams at every step of their collaboration together while enabling the client to make their marketing reports.
"Clients like to interrogate the raw data," Ng said. "So we start the journey together by customizing that data and then becoming the insights providers. And I think that pays off in terms of educating them on our role and the client's being able to feed their internal business intelligence tools as well."
That's where API access and custom Data Studio connectors come in handy. Your designated SEO tools should enable you to keep the client in the loop at every stage of their SEO campaign, thus making reporting another trust indicator.
After all, it's all about constantly communicating that initial SEO value you promised in the pitching phase while tracking your shared success metrics.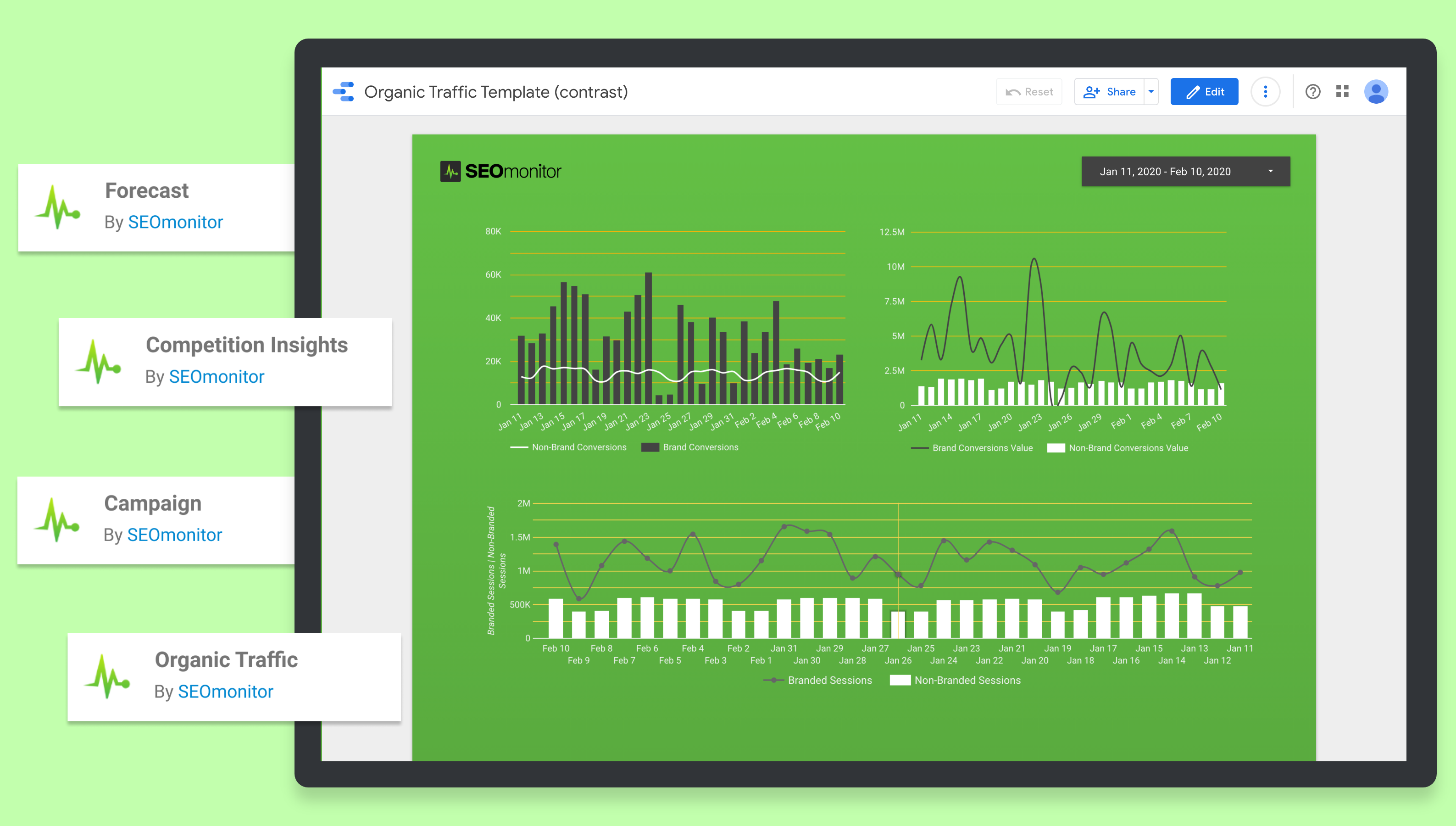 The monthly reporting is not only an excellent moment to get the client's pulse, but a space to restate expectations, troubleshoot the strategy, and even add to it, as you get more hands-on experience with the client's business.
Conclusion
As our agency experts pointed out, you have multiple ways to showcase how SEO value translates to business outcomes throughout the campaign life cycle.
But it's essential to set the common ground and negotiate what success means from the get-go.
Transparency, from the pitching stage through to reporting, is vital:
A forecast will help you set realistic expectations and explain the client's growth potential in a specific vertical.
A visibility metric will support you explain how the digital landscape looks like for your client compared to competitors on specific keyword groups.
Integrated Search and PR metrics will help you paint an accurate picture of the client's status quo and potential to own a specific digital space.
SEO reporting solutions and data accessibility will enhance your client communication and enable you to create even more value for their marketing efforts.
To support agencies in their quest of obtaining and managing more clients, at SEOmonitor, we're offering unlimited API access and multiple Data Studio connectors without any extra costs, so you can personalize your campaign data any way you need.
Join us, and hundreds of SEO agencies clients, in the journey of bringing more transparency to the SEO industry.
Discover our SEO platform designed just for agencies!
The opinions expressed in this article are the sponsor's own.