How do we measure success?
This is one hard question to ask yourself as an SEO agency.
With a complex business model, including multiple departments, clients, and projects to align, and a monthly recurring revenue to secure, setting measurable objectives and keeping yourself accountable as an agency may sound like a herculean task.
As you need to drive value to your clients, it's usually their objectives that make the agenda first.
Yet, a fully designed strategic process from point 0 also means improved efficiency and better strategic results – you know what you want to measure and how to go about it to achieve it.
That's where the Objectives and Key Results (OKR) framework comes in handy.
Derived from the Management by Objectives legacy (Peter Drucker) and fully developed at Intel in the 1970s, the management methodology became a favorite of tech giants like Google, Microsoft, and Uber to set ambitious goals and make them happen in a systematic way.
After all, it was John Doerr, one of the key persons in designing the Google OKR process, who said: "Ideas are easy. Execution is everything."
And, to ensure proper execution for your agency, whether you're just getting started or you want to try OKRs in a different way, here's what you need to know:
The OKR Process in Action
As with any good framework, there's a simple theory behind it and a lot of practice to do, to customize it for your business context:
Objectives represent what the company wants to accomplish in a given timeframe – they need to be ambitious, qualitative, and focused on bringing value to the business.
Key results represent how you'll accomplish those objectives in a specific, concrete, measurable way – they're also trackable.
Based on Doerr's formula "I will (Objective) as measured by (Key Results)," you can go ahead and start developing them:
You need to set 3-5 company objectives for the year and/or for each quarter with your leadership team.
Then each department sets 3-5 objectives that tie-in to the company objectives set by the leadership team.
The final tier is the individual 3-5 objectives set between managers and their teams that contribute to each department and the company objectives.
Each objective has a set of 2-5 key results – that always include numbers.
"What I've seen work best with agencies and setting up OKRs, is making sure that the business goals drive what the OKRs are," says Michelle McCourt, PR Manager at 15five. "These direct and keep people on course, but structure from leadership is needed to encourage people to perform at peak productivity. So, if your company's goals include growing your client base and being a successful partner for your clients, build your OKR structure to fit that in. For example, grow client base by XX%, or retain XX% of clients. Then, everyone's personal OKRs can ladder up."
Or, as Christina Wodtke highlights in Radical Focus, you need to balance the three main ingredients:
Setting inspiring and measurable goals.
Making sure that the team is progressing towards desired goals.
Setting a cadence for these goals.
How to Use the Objective & Key Results Framework for Your Agency
Let's dive deeper and see how agencies we've talked with use the process.
You'll see there are different ways to make it work for you, all having their various merits: treating your agency as the client and measuring accordingly, keeping your agency accountable with client OKRs or using OKRs to drive innovation for a specific branch of your agency business.
Treat Your Agency as a Client and Set OKRs in Line With Your Vision
If you want to effectively define what success looks like for your agency, then treat yourself as a client and set up your environment accordingly, as Aaron Dicks, Managing Director for Impression Digital, advises.
That can mean creating goals for your marketing and business development teams, with key results such as increasing discovery calls by 20% or delivering x no. of discovery calls this quarter to more focused ones like monthly performance of targeted agency keywords or link building performance based on your PR endeavors.
"Determine how you want to measure yourself as an agency and what success means for you and then measure against it," Impression's Director adds. Having a benchmark to aim for focuses your team on the quality of actions and results, while delivering structure to your business processes.
Maybe you want to develop a certain client vertical or rank in the top 3 for agency keywords in your region – whatever you set to achieve, you now have something measurable and trackable.
Plus, as Dicks adds, setting quarterly OKRs, you have enough time to make a difference, but it doesn't interact directly with the annual strategy, leaving room for experiments and lessons learned from one cycle to the next.
The OKRs process encourages that after all – so learning from failed key results and objectives is crucial to scaling your efforts.
It's also something to get comfortable with, as Luke Fitzgerald, Founder of RightFitz, mentions: "In a scoring system from 0.1 to 1, a 0.3 score can be OK. Although it's sometimes hard to explain it to the team, if you nail your goals every time, it means you aren't aiming high enough to challenge you."
Measurable Objectives & Accountability for Your Client Portfolio
"I will start every customer conversation with the question, 'What are your objectives?'", Jeff Lizik, CEO of Redshift, argues when explaining how he adopted the OKRs methodology for the agency's client portfolio, after discovering it years before in a Google-referencing material.
Starting with the client's business objectives offers a good foundation to set measurable goals and key results, while keeping the team accountable. It also "ties the strategic to the tactical", as Lizik adds, creating a roadmap for each client campaign, that is measurable step by step.
As an agency, they go further into the process and create OKRs based on the Annual Planning meetings set with their clients – these OKRs are then owned by each account manager in the team.
Let's say a client wants to get back on track in 2021, after the pandemic disruption. But what does that mean?
Key results may include optimizing landing page conversions, increasing leads by x% or achieving top 3 positions for local keywords in specific product/services categories. Yet, you may want to include an overarching KPI for this stretch objective and measure revenue as well as a proper indicator for the business getting back on track.
Sometimes, it can be a struggle to formulate measurable goals in the sales phase. Yet business objectives can be "reverse-engineered" and, as an agency, you can be consultative and help your clients identify the right ones for them and connect your SEO performance directly.
To make sure you start with the right benchmarks, a reliable forecasting methodology provides the means to set SEO objectives you can measure against – thus tracking SEO wins and business results (sessions and conversions) all the way.
To make sure you start with the right benchmarks, a reliable forecasting methodology provides the means to set SEO objectives you can measure against — thus tracking SEO wins and business results (sessions and conversions) all the way. 
Drive Innovation for Your Agency
Luke Fitzgerald brings another compelling use case to the table, talking about using OKRs to drive innovative projects or growth for your agency, whether through enhancing an existing service or creating a new business unit.
Such objectives like developing a new revenue stream from a specific SEO service, building a UX or CRO department, or designing a special project benefit from the OKRs system because you get precision and efficiency, with a structured priorities setting.
Fitzgerald also points out that building a performance dashboard with data pulled from various sources (Google Analytics, Google Search Console, SEO tools, etc.) and using 90-day sprints help with periodically evaluating major successes, learnings, and what needs to be optimized for the next cycle.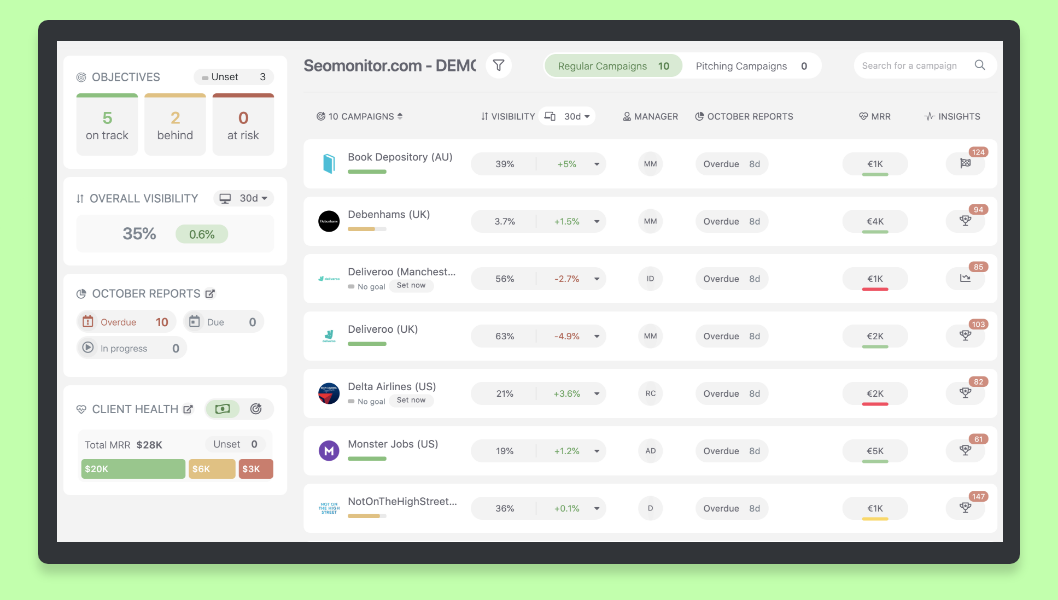 "It's about doing what you do in a better, quicker way. It's tough to manage, as agencies are basically selling time, so there is a lot of pressure if it doesn't work right. Yet it gets you to your objectives faster if you commit" he adds.
And, as McCourt argues, it's also about aligning that common vision from top to bottom and vice versa: "It's critical for leaders to implement common themes that create objectives every quarter, implementing metrics to measure them, communicating along the way, and then discussing successes and missed opportunities when the clock runs out."
What to Consider for the OKRs Process to Work
Keep Yourself Accountable
No management process works without a tracking system in place:
Block out time in the calendar. Set a weekly meeting or individual time slots in a given day for OKRs review.
Use a tracking tool. Whether it's sheets and emails or a specialized software solution like 15five, create the context for alerts and notifications to keep you accountable and on track.
"If you're using time tracking software or project management suites, then it makes sense to allocate specific non-billable blocks to the relevant OKR tasks and add them to your weekly/monthly workload plans as you would with any regular billable work," Rightfitz's founder explains.
Discover the Timing That Fits Your Agency
You can do quarterly OKRs that converge to an overarching annual objective or you can think about custom periods – Fitzgerald, for instance, had experienced in the agency a 3-cycle period with 5 to 10 milestones and a "break cycle" that permitted more analysis and better experiments.
Be mindful about the time it takes to create OKRs from one cycle to another – plan for strategic "retreats" every 2 or 3 months and encourage your teams to provide insights in advance – so that everyone is knowledgeable and better aligned.
"There are three tips that I recommend with OKRs, whether remote or in-office: Less is more; Balance ambition and success; Watch out for unintended consequences in the long-term," McCourt suggests, highlighting the value of few, focused OKRs.
Be Patient & Don't Shy Away From Experiments
The OKR framework needs iterations to get fully functional, so give it time and prepare for "failure" the first time you use it – it's actually a fast learning process and you'll get better at it the more you use it.
You can choose a project or a department to "trial" it or even think about experimenting with your agency culture:
"It's really important to make an OKR around culture, especially when we're in a remote setup. For example, if you conduct your annual, quarterly, etc. engagement survey, and the team has 3 low areas. Let's say one of those areas is connectedness. Make an OKR for the team that's specifically focused on raising that element up – meetings a certain number of times, having an offsite, etc.," McCourt advises.
Advantages & Disadvantages of the OKR Framework
In a nutshell, the OKR framework supports an SEO agency in their quest for innovation and strategic optimization with ambitious goal setting and measurable actions to achieve said goals.
Advantages
You reach alignment on business objectives across the agency. Being transparent as a process helps drive towards the same goals. From an individual perspective to the whole agency, everyone knows what they need to do and where they're at.
Improved efficiency for your team. Having a structured process of performance review helps in learning quicker, identifying bottlenecks faster, and an overall improved workflow.
As Jeff Lizik mentioned, it highlights the relationship between the strategy and the tactics, making everyone understand how their performance ties into the business results.
Disadvantages
It can seem hard and time-consuming, especially in the beginning, as you need various meetings and review slots each week, month and quarter.
"If you don't own it, you will set yourself up for failure," Luke Fitzgerald argues. That's why every objective needs to have a responsible person and you need a tracking system to know whether you're on track, behind, or even at risk.
A "pressure" to succeed. A good success rate is at 60-70% completion rate, implying you've set your goals high enough, embraced your failures, and learned from them. But it's a hard and emotionally challenging process until you overcome the pressure to simply succeed.
To help you in this process of ambitious goals setting and objectives management, our team at SEOmonitor developed various features that you can use to keep track of your performance:
A forecasting module that supports you in setting realistic SEO objectives you can measure against – for every client in your portfolio.
A client health tracker that offers an overview of key metrics for your client portfolio – from the status of their SEO objectives to business performance in terms of sessions and conversions. Plus, you get alerts every time a client's health changes for good or bad.
A reporting board designed to track client engagement and provide up-to-date reporting that communicates the ongoing value of SEO campaigns.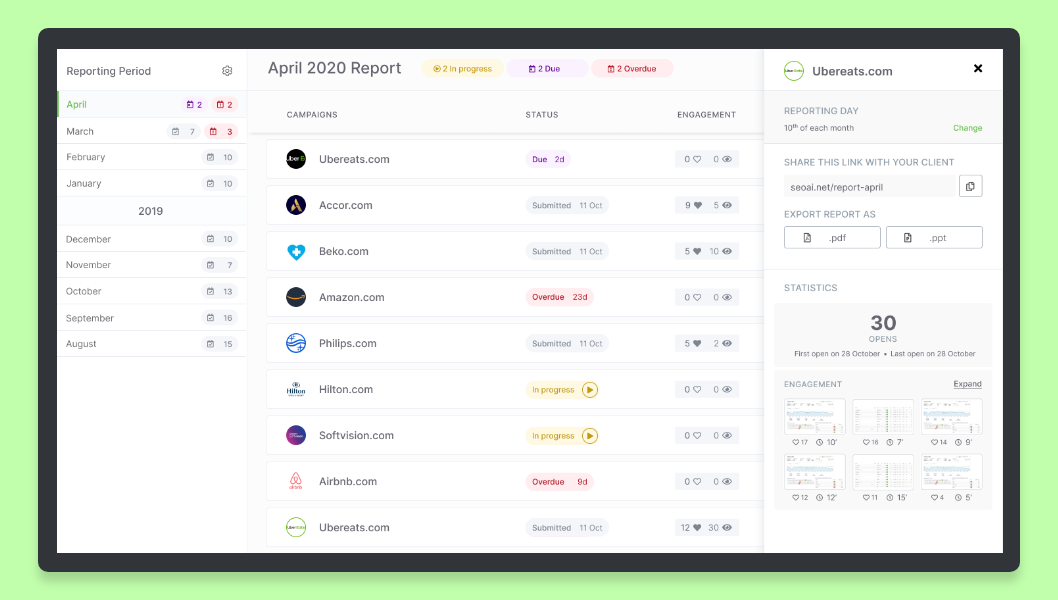 We're also working on a guide to help SEO agencies implement or optimize OKRs, to be delivered in December 2020. If you want to be the first to receive it, subscribe here.
Download the OKR guide
designed for SEO agencies!
The opinions expressed in this article are the sponsor's own.