Whenever your SEO agency receives a new inquiry, you need to assert the potential that lead has in terms of SEO growth.
It's a resource-intensive and uncertain process.
You have to keep many variables in mind:
The lead's digital business landscape and potential.
What that lead wants to achieve for their marketing efforts.
Their available internal resources.
The right price that supports your agency and satisfies the client.
As your team juggles with all the necessary inputs to gauge the viability of the lead's SEO objective, you may also evaluate if it's the right fit for your agency's DNA.
Or, as Edward Coram James, founder and CEO of Go Up, puts it, "You can tell a lot about someone from their email requests. For instance, maybe it's someone who inquires about pricing but refuses to set up a call…"
…a situation that clearly determines the way the relationship will play out and the value of efficient communication – or lack of.
Sometimes it's obvious that you should just say no.
For the other times, if it's not a case of clashing values and visions, you need a straightforward qualifying process and a reliable benchmark to "keep you honest," according to James.
And that's where a realistic forecasting methodology becomes a competitive advantage.
Why Use a Forecasting Methodology to Evaluate Your Leads?
Once you've decided that it's the type of business or project you want to work for, then it's all about running the numbers.
"From a business point of view, considering the sustainability and reputation of our agency, it makes a lot of sense to choose clients where we feel we can do a really good job," James said.
That translates into evaluating two main things:
The potential client's SEO objective and how realistic it is.
What an SEO campaign is going to look like for the lead in terms of budget and ROI.
Using a forecasting tool helps with both of these things as you create a pitching campaign and analyze your targeted keywords and the variables that influence them.
Considering search volumes and seasonality, year-over-year trends, SERP features, average CTR curves, the device mix, and so on, you see how traffic can look like for that lead if certain ranks are met.
You can even correlate the direct impact you can create for the client's non-brand organic traffic and how that relates to business results – sessions, conversions, and even additional revenue for ecommerce leads.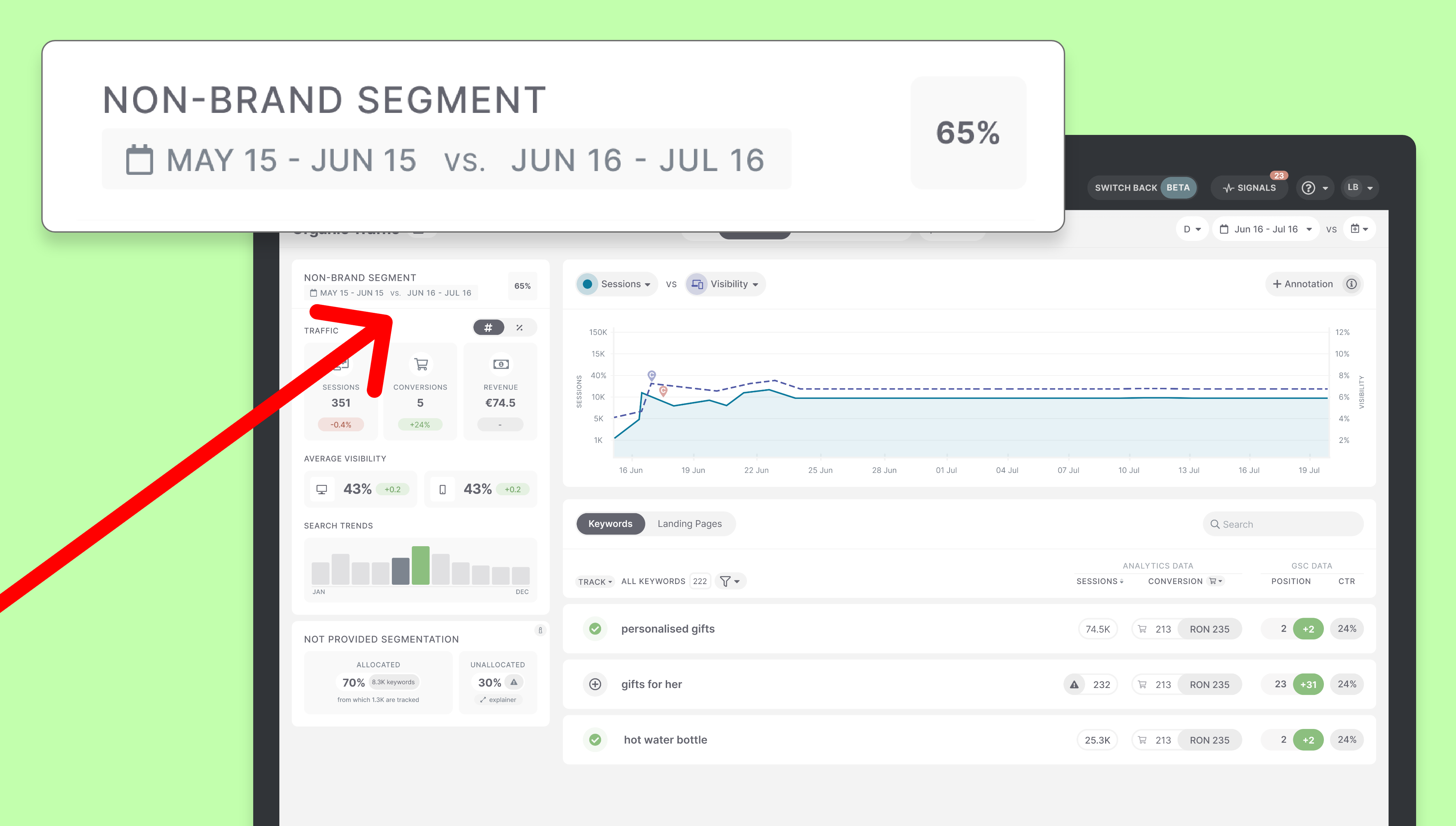 "If we are able to get them into the top 10, top 5 for x, y, and z, and it actually results in a substantial increase in inquiries, then we have a first opportunity hint. Going through their analytics data, we also gauge their conversion rate," James said.
That's how the initial forecasting exercise works to determine the possible increase in the number of inbound organic leads.
Crunching the numbers can lead to "unworkable" results as well.
For instance, if it's a business that will reach the desired objectives in three years' time and needs to invest around $20,000 to $30,000 per month to do so, it's not a plausible scenario to further pitch to.
But if the numbers look good in your scenario, then the qualifying process continues.
"From a business point of view, considering the sustainability and reputation of our agency, it makes a lot of sense to choose clients where we feel we can do a really good job," says Edward Coram James, Go Up's CEO.
Building the Business Case with Forecasting
A Way to Align Your Team
Doing a forecasting exercise at this stage not only helps you evaluate the potential of the lead's growth possibilities, but is also an important step in the agency's internal calibration.
For Go Up, this is a "viability test" which includes both the forecast and a deep dive into technical issues, SEO opportunities, and other important bits of a preliminary audit done by the strategy team.
If what the strategy team evaluates is in accordance with the forecast scenario, and there is significant ROI to pitch to that client, the agency can make a solid proposal with all internal views aligned.
To decide if a lead is worth pursuing and control the process, the strategy team is unaware of the findings of the initial forecast analysis, while focusing on:
The lead's website issues, domain authority, etc.
Keyword opportunities and the "market share" of that business in terms of visibility.
What key resources are needed for a successful SEO campaign: technical SEO, PR, UX, CRO, etc.
The budget versus the SEO possibilities.
In the end, spotting the right opportunity is a matter of answering the following questions:
How much revenue is out there for the client to get?
How long and how resource-intensive is it going to be to reach those targets?
If all the resources are spent in the agreed amount of time, will the client be ROI positive?
If you can come back and say that for a $5,000 monthly budget, you can generate $2 million in a year, then the ROI is clear on both sides.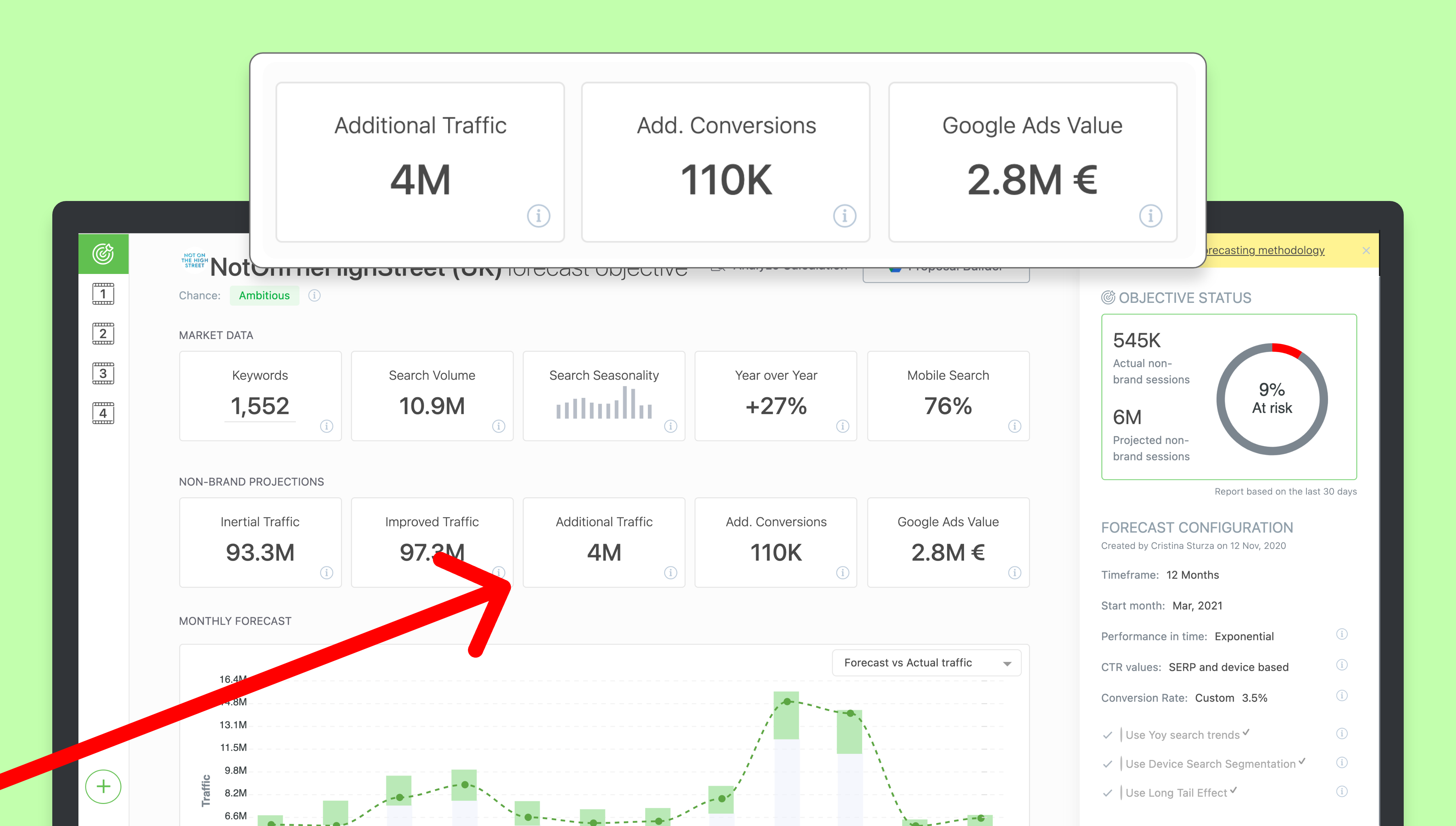 If, on the contrary, the lead's SEO objective is unrealistic, and your internal exercise has proven it, you can help them become aware of that. Then, you can set a new target or, depending on the case, explain to them why SEO is not the right marketing approach for their business at the moment.
"When using forecasting, we take that whole setup as being 100%, then look at the slice of the pie that we think is realistic, which might be 30%," James said. "Then, being really conservative, we carve that to 15%. So we can measure the revenue that 15% will generate – it's what we compare to the output and the required budget."
Doing both the forecasting exercise and the viability test becomes a way to assess the strength of a potential campaign while keeping all the involved members of the agency accountable. That's why, as a process, it then generates the necessary confidence to communicate with a lead and highlight what works and what doesn't.
A Way to Showcase the SEO Opportunity
Gauging the SEO opportunity is, as we've seen, a strategic exercise in itself.
With a clear understanding of the lead's search landscape, the specific search terms that you can optimize and their traffic, the comparison with their competitors, etc., and the forecast scenario in the back of your mind, you can articulate their growth potential.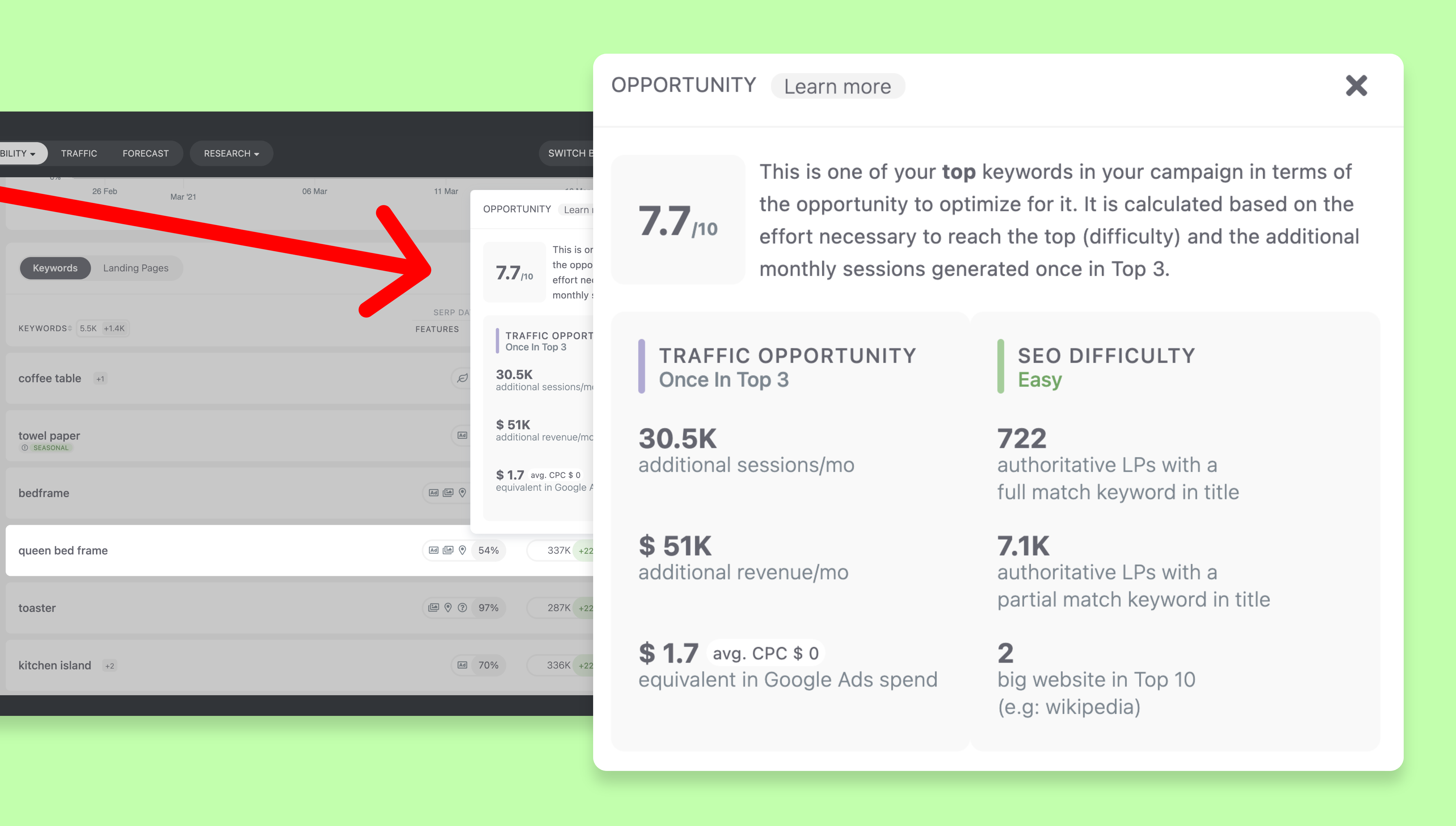 For the sake of transparency and clear communication, you can present the data range you're basing your strategy on and explain how that translates into the business opportunity you've uncovered.
"There was a financial services company launching a new platform who came to us and said that if we can get them 300 paid signups within year one, then this campaign will have been an absolute success," James said.
To evaluate the viability of that objective and pinpoint the opportunity, the agency removed anything that looked highly transactional, short-tail keywords, and so on, and designed the internal forecasting exercise around long-tail keyword sets – based on thorough research from a similar business.
James explained:
"We analyzed what's left after removing everything that looked really juicy. Did we have an attractive value proposition after that? We took the combined search volume of all of those different long-tail keywords and realized we could provide ROI in the first 10 months of the campaign. We did the conversion rate estimate based on their sister website and then thought – if we're increasing that conversion rate by 20% and hit the targets on 70% of these keywords on the first page, are we hitting that 300 signups mark? The answer was yes, so we went to the client and said: These are not KPIs, but we think that there is a business model to be had here."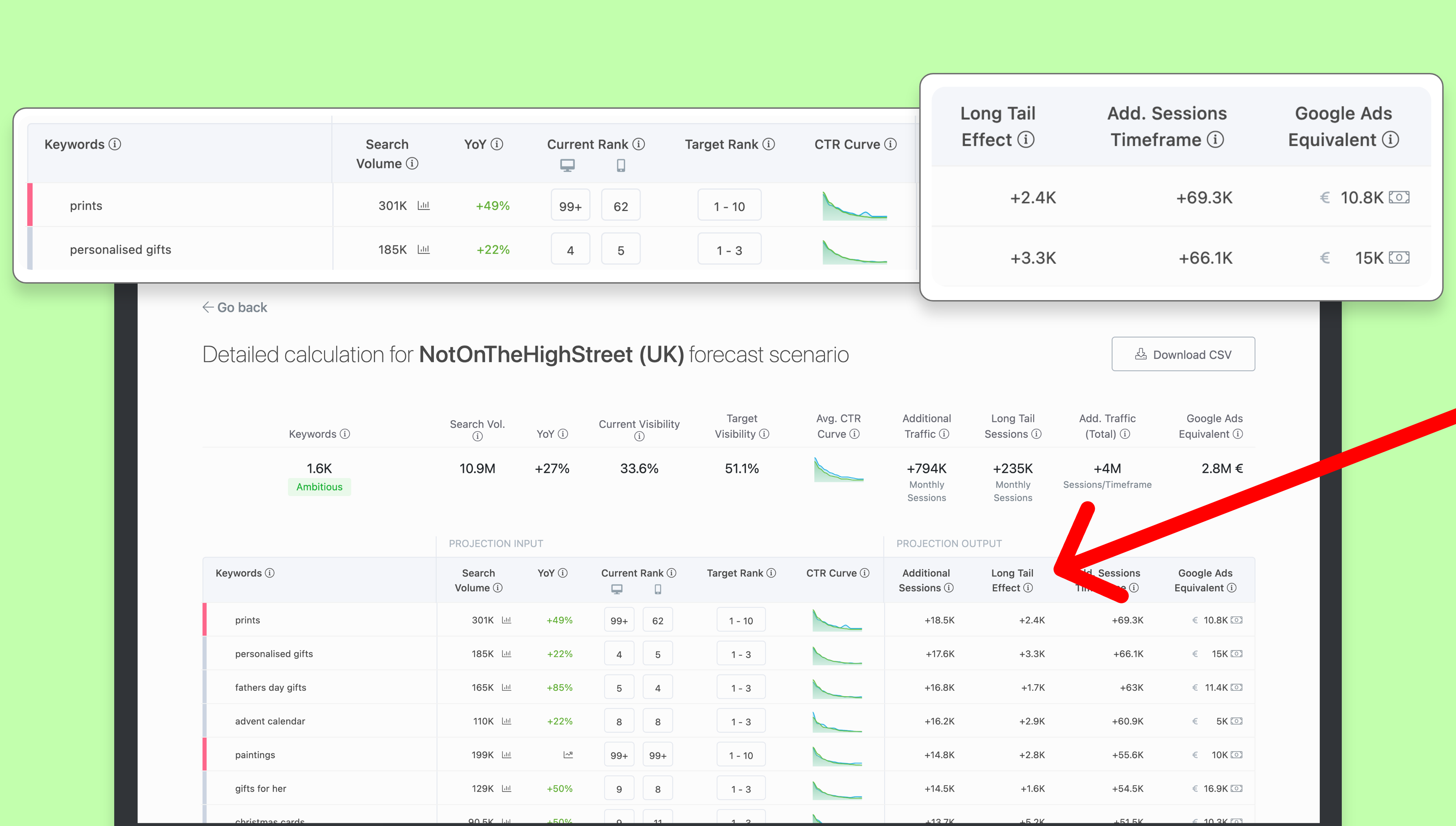 In the end, the financial services client increased even more than the initial objective, and it was their internal use of the forecasting methodology that made the growth potential clear from the start.
Still, for Go Up, this is also the moment when they clarify that they set KPIs after the first technical improvements are in place:
"If you literally just change the title tags on a website, you're going to get an indicator quite quickly as to how Google interprets that change and how much it moves the needle for the client," James said.
Setting this kind of expectation makes the agency confident to provide a forecast scenario in the third or fourth month of the collaboration and set hard KPIs.
"Once we have the initial changes done, we can say all of these keywords here can reach top 3, these top 5, etc. We go back to the forecasting and then set proper KPIs. We'll often tie ourselves to those targets financially," James said. "We'll ask the client to withhold 10% of the monthly management fee. And if, after 12 months, we don't hit these KPIs, then we waive that 10%. But, if we do, then we send you a nice invoice for that 10%."
Pro Tip: Whether you present the forecast scenario in the pitching stage or use it as an internal compass, don't forget about the importance of reforecasting, either. Quarterly business reviews are a good moment to take the client's pulse and present new SEO opportunities that you've spotted during the past months.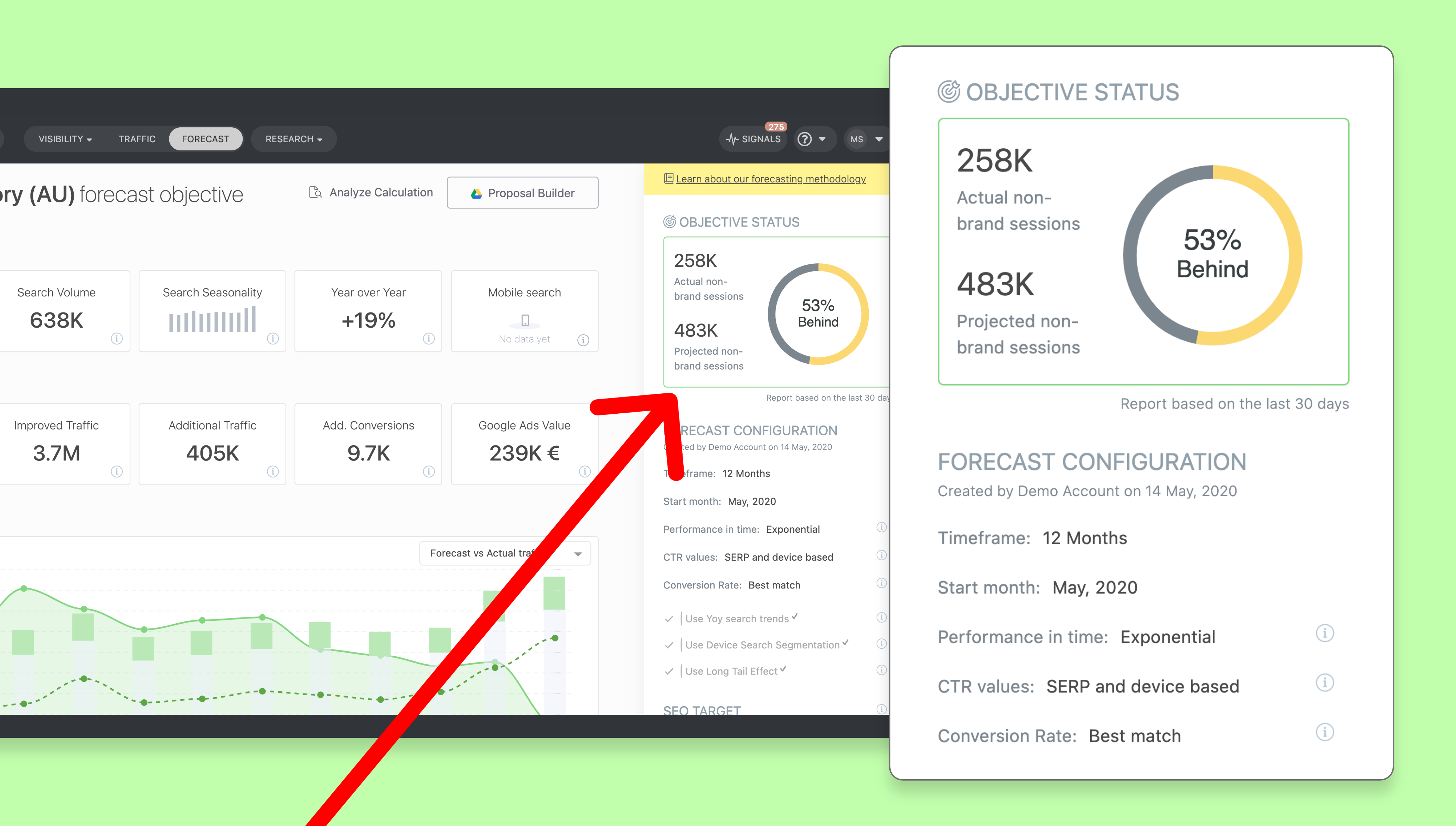 In Summary
Qualifying clients for your SEO agency involves a lot of work and resources while balancing all the factors you need to consider for a successful collaboration.
If it's a lead that gets you excited and is a good fit for your agency's culture, it becomes a matter of evaluating the viability of their SEO objective and opportunities.
Go Up's use of SEOmonitor's forecasting module is a straightforward way to internally assess if the client's ROI is worth it, keeping all sides accountable.
After all, building a business case with forecasting helps you:
Gauge the "market share" of the lead and its growth opportunities.
Understand where you can make a difference and how that can correlate with business results.
Evaluate the consistency of the ROI and be honest about the potential performance of a campaign.
With SEOmonitor's methodology, you can do all that, while also showcasing the added business value your agency can create, modeling additional traffic, conversions, and a Google Ads' equivalent cost – which can be an indicator of setting the right budget.
The forecasting module is just one of the solutions SEOmonitor develops for agencies to acquire, manage, and retain more relevant customers.
Join us in our quest to bring more transparency to the SEO industry.
Evaluate SEO growth opportunities
with a solid forecasting model!
The opinions expressed in this article are the sponsor's own.