There are three things that are part of every marketer's ongoing strategy: market research, competitor analysis, and industry benchmarking.
Market research is key in understanding the big picture and identifying your direct and indirect competitors.
Directly related to that is competitive research, where you take a deeper dive and break down who is succeeding and how. For example, are your competitors investing in SEO, paid ads, or building a powerful social media following?
Along with all of this comes industry benchmarking, where you gain insight into the industry as a whole – considering things like what channels are on the rise and how seasonality will impact your entire market.
We came up with a tool that will help you get invaluable data in all three of these areas: Market Explorer.
With the newly launched Market Explorer, SEMrush users will have access to unprecedented insights and be able to take your marketing to the next level.
You'll be able to use the tool to:
Identify industry leaders and their digital market shares.
Discover new direct and indirect competitors.
Learn about your audience demographics and interests.
Analyze market trends and spot seasonal ups and downs.
All through September, Market Explorer will be available to all SEMrush users for free.
To give you a better understanding of what Market Explorer can do, let's take it for a spin and see how it works.
Market Explorer in Action
Let's take a closer look at searchenginejournal.com and see what kind of insights Market Explorer can pull.
To begin, we'll enter the domain and then Market Explorer will begin researching the market.
Whenever you type in a domain, the machine-learning algorithms analyze the domain and build an industry based on it; they then combine all the websites that belong to this industry, giving you a comprehensive overview of what's going on in the industry.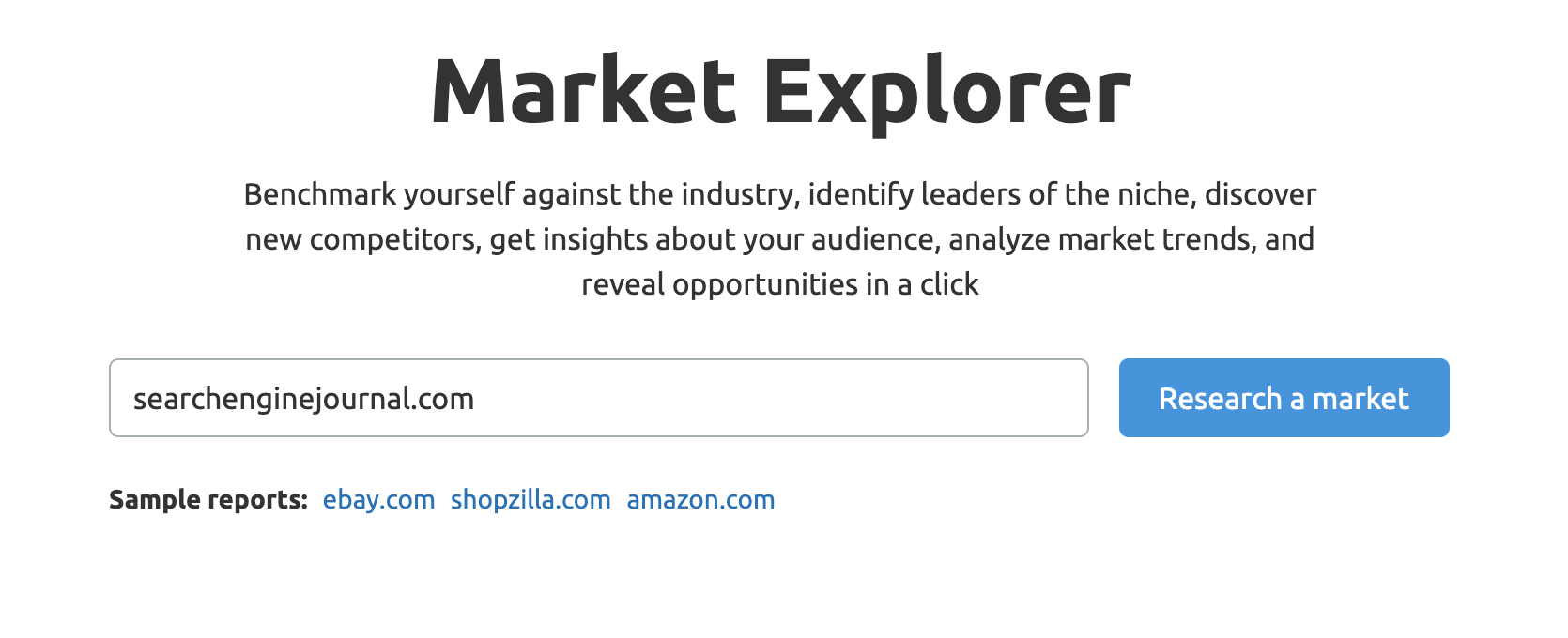 Market Overview
Market Traffic
The first widget, Market Traffic, shows the total number of visits to all websites within the market.
If you're interested in data from a specific location, you can adjust the report to limit the data to the country of your choice. The data goes back up to 18 months, and can be used as a benchmark to compare your own site's performance to.
Moreover, you can tailor this widget to look at specific segments of traffic (direct, referral, search, social or paid traffic) or, as seen here, you can look at an overview of all traffic.

There are three things that are part of every marketer's ongoing strategy: market research, competitor analysis, and industry benchmarking. We created Market Explorer to help you succeed in all three.
Market Traffic can show how your entire industry is affected by an algorithm update or by seasonal trends.
If you know the seasonal trends in the industry, you can prepare your marketing activities to smooth out the decline or whip up the growth.
For example, if you anticipate the industry will decline in the next month, you can allocate a larger budget for PPC ads to keep the demand on the previous months' level.
If, on the other hand, you anticipate growth, you can preorder more products to avoid going out of stock or hire more salespeople to be able to sell more with the higher demand.
In-Market Audience Interests, Gender & Age
Next up, you'll discover more about your market audience.
In-Market Audience Interests can help marketers refine their marketing strategy, especially when creating targeted paid search or social ads based on interest.
It can also come in handy for content strategists carrying out persona research.
Going back to our specific report on searchenginejournal.com, we found that the interests that aligned with Search Engine Journal's audience include:
Marketing
Brand Management
Search Engine Optimization and Marketing
Affiliate Programs
Sales
Telemarketing

The report also gives a gender breakdown and audience age breakdown.

Knowing audience interests and demographics not only helps you tailor your offering to the needs of a specific audience, but also makes it easier to find co-marketing opportunities.
For example, In-Market Audience Interests shows that the Search Engine Journal audience is interested in affiliate programs.
Based on that insight, Search Engine Journal could find companies that provide such services and launch a co-marketing campaign to reach a new, fresh audience that will love what this publication has to offer.
Similarly, other businesses can discover audience interests in non-competitive products and partner with such companies to share the audience.
Market Relevant Sites
Share of Visits
The Market Relevant Sites report shows you the top 20 websites in an industry, based on total traffic or a specific type of traffic (direct, referral, search, social or paid).
This is a key feature: you're getting access to a list of companies that operate in the same industry and compete for the same customer attention.
Not only that, you'll see how well those companies capture their audience's attention through their digital market shares.
Here we took a look at how searchenginejournal.com stacks up when it comes to search traffic within this industry, and (not surprisingly) the site is in the top 20 sites, earning .64% of all search traffic across 50K+ domains.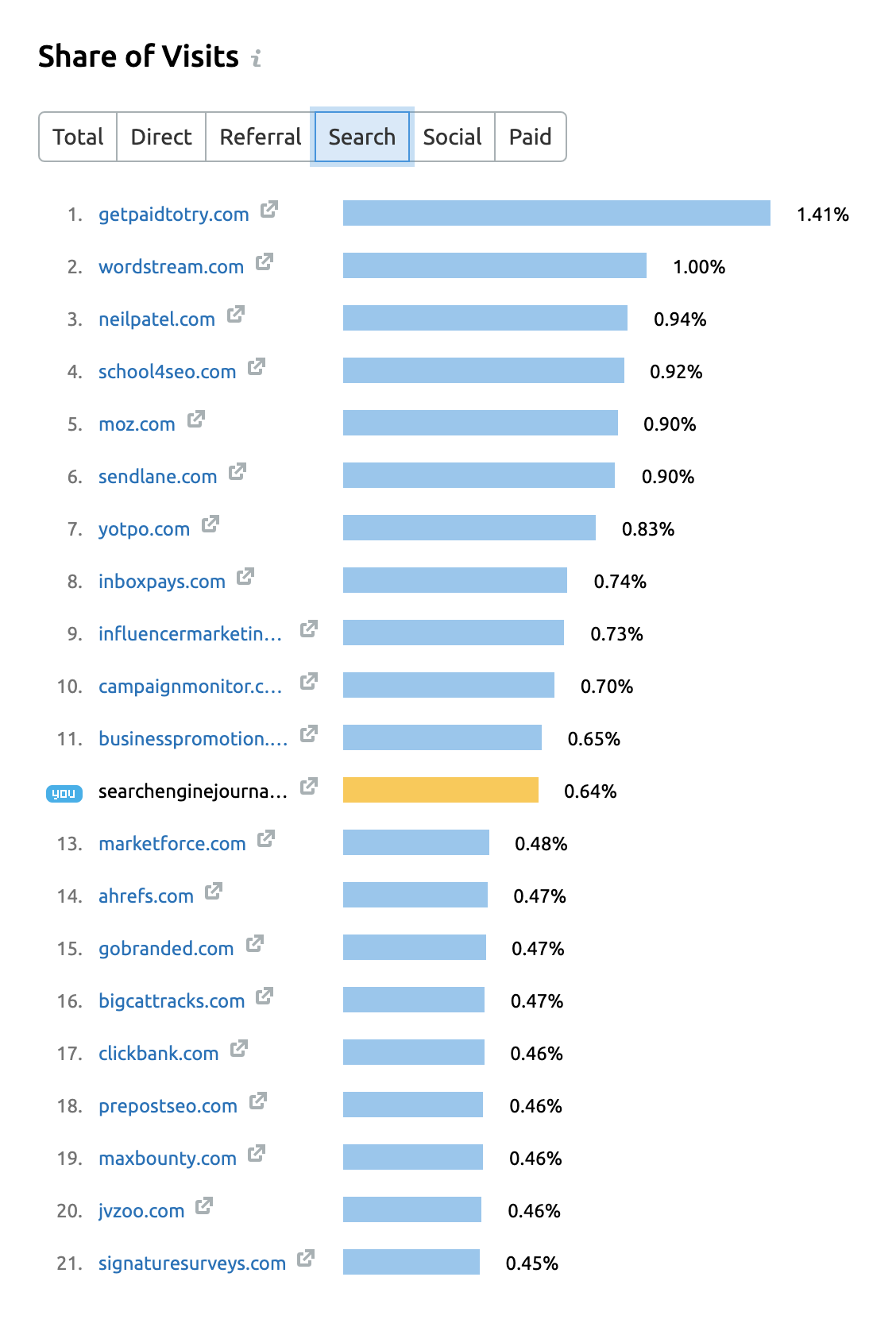 Knowing what top industry players bet on helps you to refine your marketing mix to achieve a better return on marketing dollars spent.
For example, some websites rely on search traffic while ignoring Google Ads, or another website might focus on community building and driving the most traffic through social media.
Market Relevant Sites gives you a map to see what, where and how your competitors are succeeding so you can tailor your efforts and strategize accordingly.
Or, if you're a digital marketing agency working in a specific niche, this report offers a good way to find companies to offer your services to.
Domain Search Traffic, Traffic Sources, Audience Age and Gender
When you click into each website, Market Explorer shows monthly traffic and trends, as well as a breakdown of their specific audience's demographics. This section will help you to see exactly what they're focusing on and identify the site's strengths and weaknesses.
Here's what the Domain Search Traffic widget showed – Search Engine Journal's traffic is in green, and the overall industry's traffic is in blue.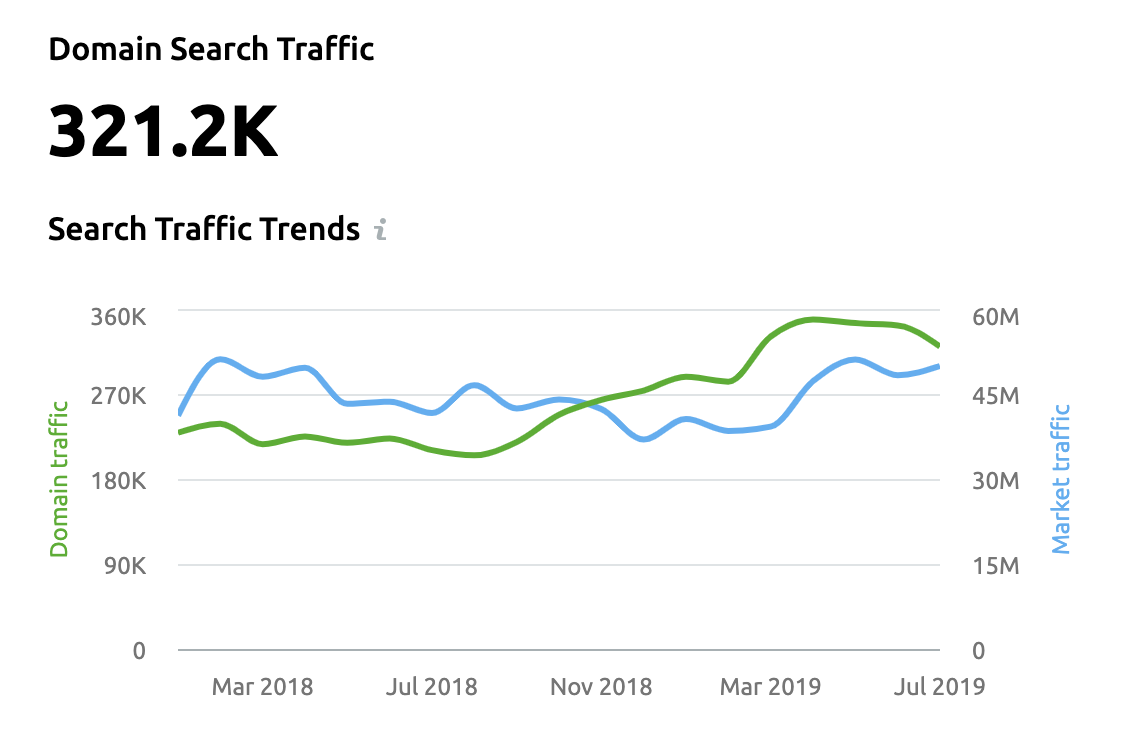 As you can see, Search Engine Journal's traffic is healthy and has been rising steadily since August 2018.
What you can also glean from this comparison is that the industry has been stagnating-declining from October 2018 to March 2019, while Search Engine Journal traffic has been steadily growing.
Looking at specific domains from the top-20 list will help you to uncover whether these companies are industry trendsetters or just trend followers.
You can also access more data specific to the researched site, including a breakdown of domain traffic sources, and an age and gender breakdown.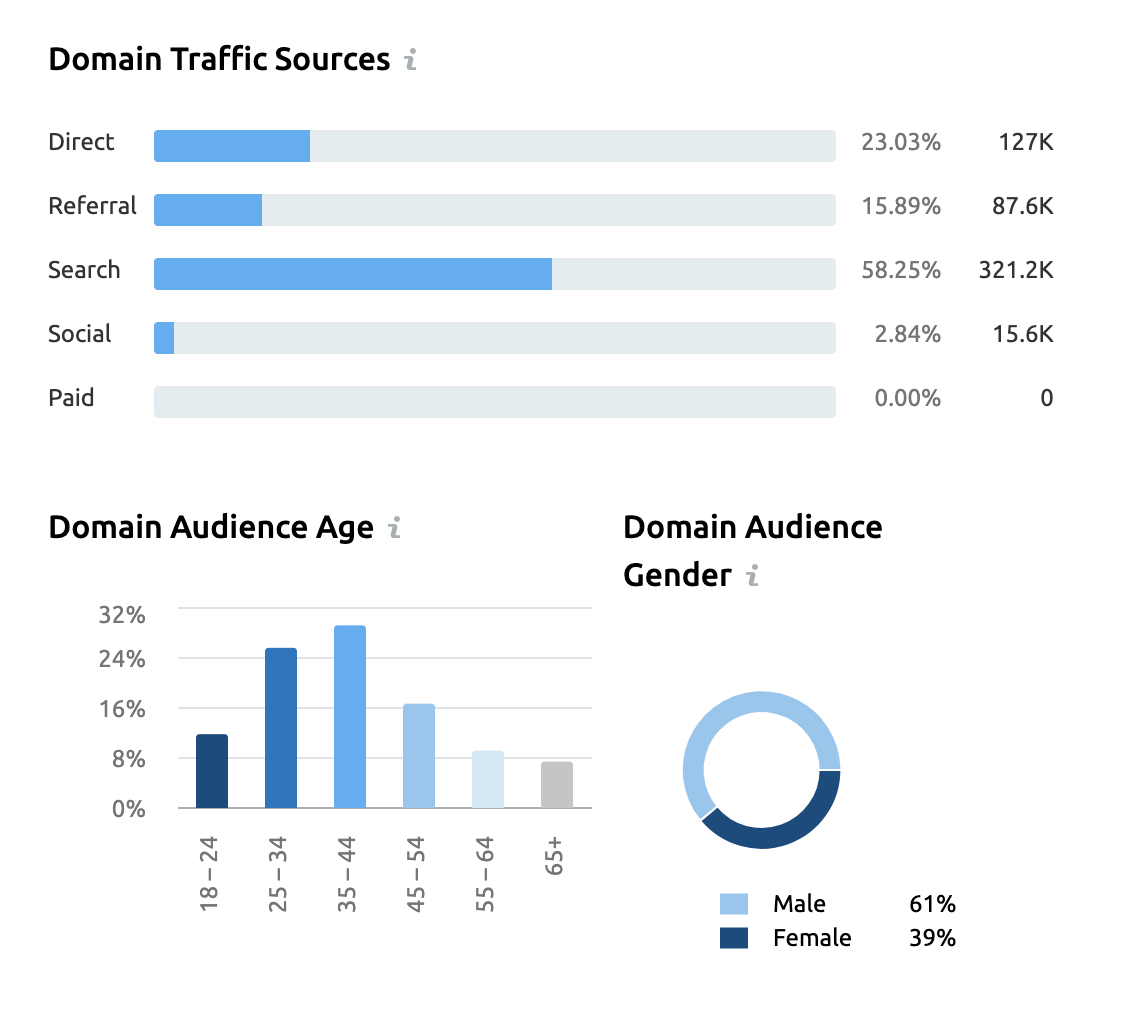 Use Market Explorer for Your Site Now!
In October, Market Explorer turns into a paid tool — so take advantage of this free tool while you can!
Market Explorer offers unprecedented data that all marketers can leverage.
You can use it to inform your marketing strategy, research your competitors, source new clients and figure out how to position your product in a new or existing market.
Market Explorer will also be your secret weapon when it comes to competitive and industry benchmarking.
Head over to SEMrush now and give Market Explorer a spin!
Benchmark yourself against the industry with Market Explorer
The opinions expressed in this article are the sponsor's own.