Since 2013, Pro Rank Tracker has been one of the SEO industry's most relied upon tools.
This whip-smart software is a go-to for tens of thousands of SEO professionals, with dozens of features, advanced reporting, and the ability to slice and dice SERP data in hundreds of ways.
Agencies and large companies have grown to love Pro Rank Tracker and rely on it daily.
Over the past six years, the Pro Rank Tracker learned much more about its customers and digital marketers at large, and saw a real need for tools at every end of the spectrum – both the advanced SEO professionals they were already serving, and SEO beginners who needed something a little less complicated.
ProPrankTracker envisioned a lite version of their own tool – one that:
Focuses only on the most important reports.
Offers a simple user interface.
Is less expensive.
Which makes sense, because let's face it: not everyone needs to run thousands of keywords and crank out dozens of reports.
If, for example, you're a small business owner who only needs to focus on a handful of key terms for a single site, you have different needs than an international conglomerate with sites in multiple countries in multiple languages.
To that end, Pro Rank Tracker has been hard at work on a new tool, Rankitor, that offers a simpler interface at a more affordable price point.
Launched in August, it's the exact tool they envisioned, backed by years of expert programming, analytics, and data, but pared down to offer only the essentials.
In an effort to help you determine which of these tools is right for your unique business, we'll explore the features of Pro Rank Tracker and Rankitor.
Pro Rank Tracker: A Robust Solution for Agencies and Large Businesses with a New, Game-Changing Feature
Since 2013, more than 60,000 agencies, enterprises, SEO pro, marketers, and website owners have relied on Pro Rank Tracker to conduct analysis and research.
Pro Rank Tracker is a highly robust tool that supports international tracking across all Google sites, providing data for mobile traffic, desktop traffic, and Google My Business Listings.
In addition to Google properties, Pro Rank Tracker supplies valuable data for Yahoo, Bing, YouTube, Amazon, and other search engines.
Pro Rank Tracker is constantly evolving to bring SEO and digital marketing pros more data.
Their latest feature, Full SERPs, launched this year. It's a game-changer for advanced SEO competitor analysis.
Use Full SERPs to check up to 100 results for a limited number of tracked keywords.
For each keyword, users see valuable additional data and associated trends.
Full SERPs allows you to see where you rank for a keyword and how your competitors rank, plus monitor any changes that are shaking up the SERP.
It offers a powerful historical rankings chart, allowing you to see all the shifts in top ranking for your own site and your competitors.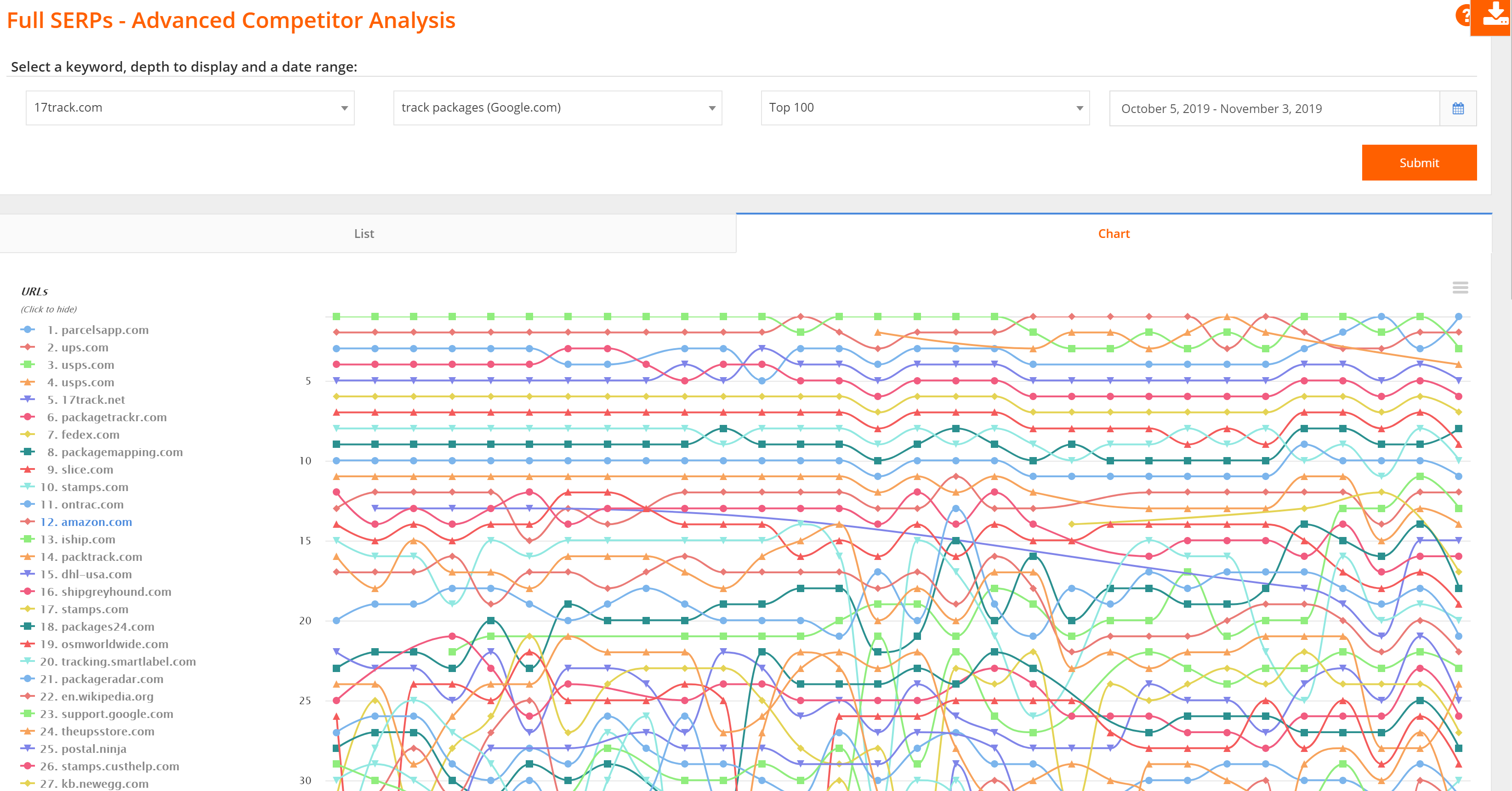 Seeing data like this firsthand is a key part of SEO, as it proves exactly how effective your digital marketing strategy actually is.
Full SERPs is definitely something Pro Rank Tracker power users will love.
In addition to Full SERPs, Pro Rank Tracker has a variety of sophisticated features including:
Daily ranking updates, as well as updates on demand.
Comprehensive site auditing.
The Rankings Discovery Tool to identify hidden wins.
The Keywords Suggestions Tool to identify new opportunities.
Two proprietary apps: PRT Mobile, which allows you to check and download reports. from your mobile device; and MyRanks App, where you can show your clients live rankings and reports, all branded with your logo and company info.
Web-based tracking that allows you to access the tool from anywhere without downloading anything.
API access on all Pro Rank Tracker business plans, allowing you to integrate data in your own software and systems.
Reporting in six languages, including English, Spanish, French, Italian, German, and Dutch.
Unparalleled customer support, with a 24/7 ticket system, as well as live chat and Skype guidance; Pro Rank Tracker also offers video tutorials and every business plan comes with a personal account manager.
Pro Rank Tracker plans start at $49 a month.
With each subscription, you can set up sub-accounts and give access to your team members and clients.
It's an ideal solution for companies and website owners that need deep insights into their rankings.
It's also a go-to for SEO agencies that are looking to bring white labeled reports from a best-in-class tool to their clients.
Speaking of clients, here's what some of their clients have had to say about their experiences using Pro Rank Tracker.
Over the past six years, the Pro Rank Tracker learned more and more about its customers and digital marketers and large, and saw a real need for tools at every end of the spectrum—both the advanced SEOs they were already serving, and beginner SEOs who needed something a little less complicated. ProPrankTracker envisioned lite version of their own tool: one that focuses only on the most important reports, offers a simple user interface, and is less expensive.
Easy, Accurate, and Constantly Evolving
"Checking you ranking for keywords manually used to be easy and accurate, these days however your individual device, location, and past search history can all affect where you rank making a third party, non-biased tool like Pro Rank Tracker essential. I have been using Pro Rank Tracker for over a year and love how easy it is to use. You can set up location and device (including individual phones), specific ranking reports, and it updates frequently with results over time logged and graphed so you can measure you or your SEO companies performance over time. They are constantly evolving new features and are happy to help if you need a hand getting setup … I would recommend Pro Rank Tracker to any company wanting to monitor their, or their competitors rankings (or both)." — Duncan Jones, growth marketing specialist
Comprehensive and Affordable
"Pro Rank Tracker is the most comprehensive and the most affordable keyword rank tracking solution I've ever seen. I'm using it to track my own keyword rankings and I'm impressed by how nicely all the data is presented. The No. 1 reason why I love this tool is that you get a lot more reporting features and functions for the same price compared to competition." — Marius Kiniulis, digital marketer
Excellent Customer Support and Standout Accuracy
"There is no keyword rank tracking service that is more accurate than Pro Rank Tracker. I have used a multitude of similar services and Pro Rank Tracker is by far the very best. It's feature rich, easy-to-use, and provides my clients with accurate easy to understand ranking reports. Its ability to accurately pick up on Google local rankings is amazing. Overall a 10/10 and the customer support is excellent." — Gary McGeown, SEO
Rankitor: A Lite SEO Tracking Tool that Makes Powerful Data Accessible to All
Rankitor offers all the necessary features an SEO professional needs.
It's less complicated and less expensive, making it the ideal solution for small business owners and people who are just starting in SEO.
All reporting from Rankitor relies, however, on the same extremely robust capabilities of its parent tool, Pro Rank Tracker.
Rankitor provides data from all countries, in all languages, and supports all devices.
Wondering what, exactly, you can accomplish with Rankitor?
Track your website rankings daily across Google, Yahoo, Bing, YouTube, and Amazon.
Manage URL-based or keyword-based projects.
Research search volume for any keyword.
Monitor your SERP rankings, compare their performance over time, and track their overall history.
Get smart keyword suggestions based on the keywords that your site already ranks for.
Set up daily, weekly, or monthly reports so you can stay on top of changes.
White label those reports and share them with clients.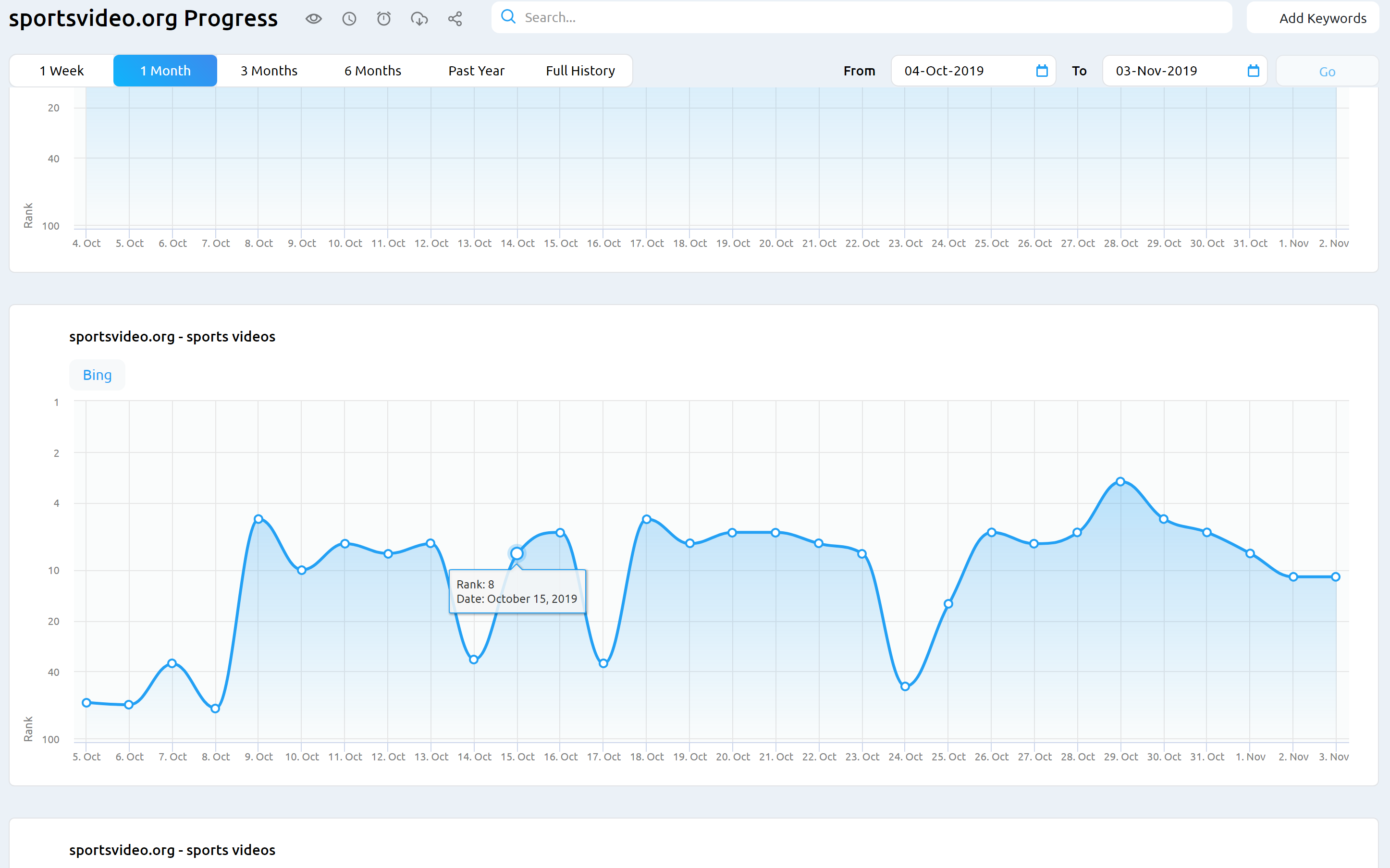 Rankitor subscriptions start at $5 a month, making it one of the most affordable SEO tools on the market.
Which SEO Solution is Right for You?
Now that you've learned about both these solutions, you probably have a good idea of which one is right for you.
Take advantage of their complimentary seven-day trial (no credit card required), which will allow you to further explore both tools.
Whether you choose Rankitor or Pro Rank Tracker, you'll definitely boost your digital marketing efforts.
Both offer incomparable reporting that will help you optimize your site, win SERP rankings, monitor your traffic, and keep a close eye on your competitors.
If you start out with Rankitor and find you're hungry for more reports, it's easy to upgrade and switch over to Pro Rank Tracker, as well. (Pro Rank Tracker's support team will gladly assist you in migrating from Rankitor to Pro Rank Tracker to make sure your data won't be lost!)
Whatever you choose, you can't lose!
The opinions expressed in this article are the sponsor's own.