If we were to make a list of the "years the world changed," 2020 would definitely be up there.
In just a few short months, both businesses and consumers have rushed toward the digital landscape, altering shopping habits and operations in almost the blink of an eye.
If that sounds like an overstatement, consider this:
At the beginning of 2020, only about 4% of workers in the U.S. clocked in remotely.
During COVID-19, that number sprang to 77%. PwC believes that some 55% of workers will continue to remain remote at least part-time.
Likewise, McKinsey suggests that the "flight to online" is more than just a reaction to lockdown. It's a new way of interacting with brands and it's here to stay.
Remote work and digital operations are now the new norm, two things that many businesses will struggle to adapt. But growing in this direction is already proving critical if you hope to have any chance to survive.
From positioning your brand online to digitizing your operations, you've got your work cut out for you. You need the right tools as much as you need the right people with the right expertise.
Here's why, and how platforms like Fiverr Business can help.
Why SEO Is More Important Than Ever
Remember all those internet gurus who were once claiming that "SEO is dead"? Boy, are they turning out to be dead wrong!
SEO will be dead when search engines are dead, and if there's anything getting more central to our lives right now, it's Google.
In 2020, we saw a tremendous shift toward digital business due to many of the events that transpired.
Google, which handles 92% of all search traffic, reportedly handled an average of 3.5 billion searches each day (or 1.25 trillion searches yearly) in April 2020. Fast forward to September 2020, and that number had doubled – we rounded out the year with an estimated 2.5 trillion searches.
What are all those eyeballs looking for on Google?
Your business – and its content.
Why Content Strategy & SEO Strategy Are Business Strategy
Content – your blogs, webpages, even lead magnets like your ebooks – have long had a reputation for being busywork. For many years, that's how businesses treated it: endless lists of topics and keywords and editorial calendars … and all for what, again?
Well, because everyone was doing it.
And while everyone is still doing it, the fact that people primarily turn to Google for answers means that content is your key to getting discovered. Without it, you have no hope of surviving this new digital reality.
The statistics don't lie.
Content creates:
More chances to get found. Brands with a blog have 434% more indexed pages on Google than those without one.
More reasons for others to link (and drive traffic) to you. Brands that blog regularly get 97% more backlinks than those without one.
More consumers a reason to buy from you. Brands that post 16 or more blogs each month generate 5x more leads.
In short, blogs mean more spots on Google, more people talking about you, and more leads. Your content helps you get found on the search engines, but you still have to help the search engine find it.
That's the role of SEO.
If you still believe that SEO is only about creating keyword-stuffed pages, you're about 15 years behind.
These days, search engine optimization and content creation are very closely linked. In fact, good SEO strategies emphasize brand building – and you can only build a brand by developing a reputation for putting out high-quality, authoritative, trustworthy content that positions you as an expert in a field.
See where this is going?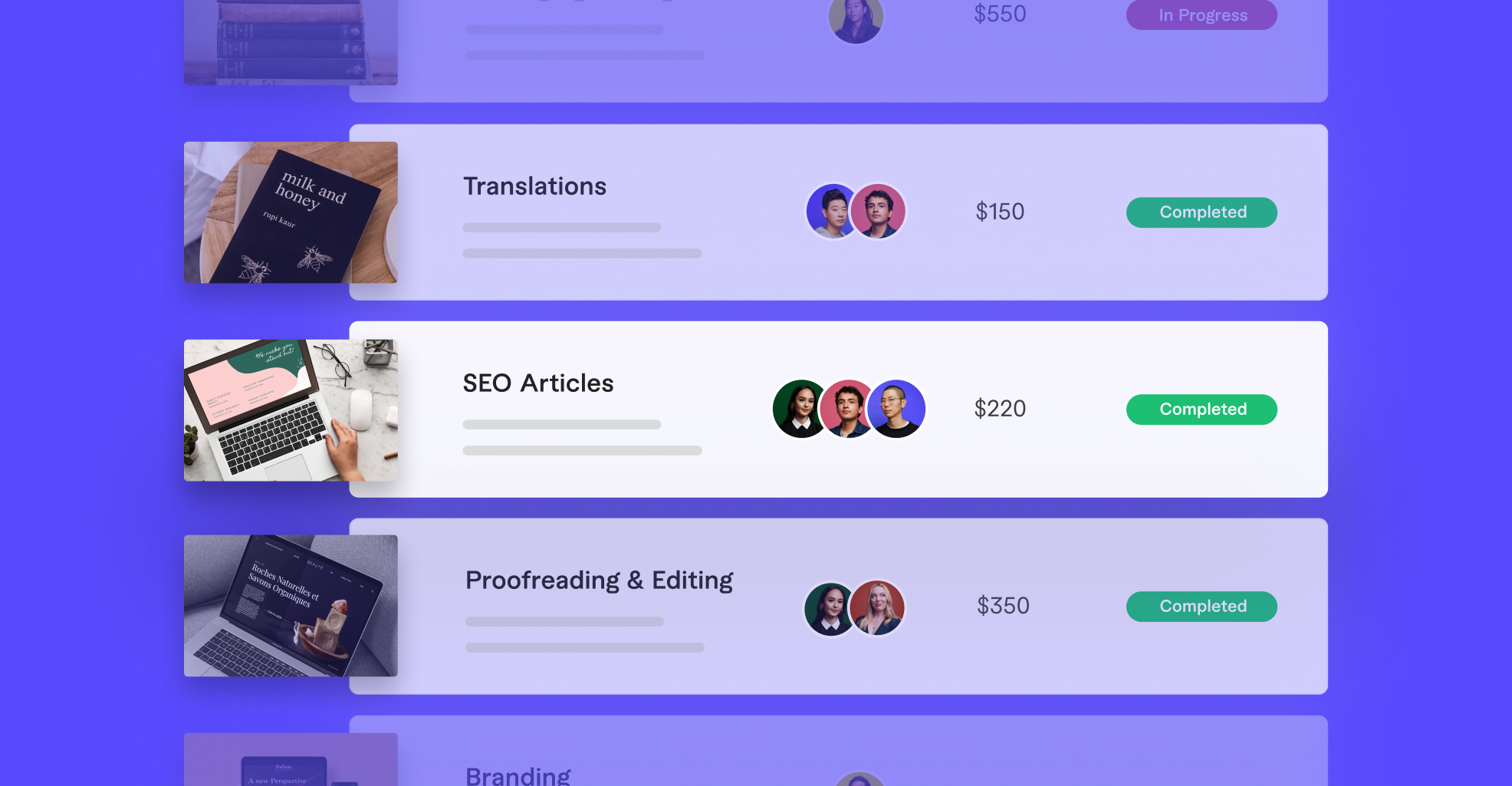 In this new era where everything is moving digital, you must be using content strategically, to position yourself as the authoritative answer that your target audience is looking for in Google.
If it helps, think of it this way: your optimized web content is how you put yourself in the direct digital path of your customers. You must do that now, because…
You Don't Have Time to Wait Months to 'Get Discovered'
The fact that the daily search volume on Google doubled in just four months tells us that a new norm exists. Getting your content and your SEO up to speed to win you those organic spots in the SERPs can help you take advantage of this.
But you need to do it now. Not in another year. Not even in another four months. That means nailing:
The right keywords. You'll need to look for specific, long-tail keywords with low competition – the ones that your competitors missed.
The right content. Like making a strong first impression, emphasize ultra-authoritative content from the start.
The right team. From your core team to your auxiliary freelancers, having the right team assembled gives you the tools and expertise you need.
Think that's too much work?
Imagine paying thousands of dollars for PPC ads every month – only to have them take all of your traffic with them the moment you stop paying.
Now imagine creating a single, comprehensive piece of pillar content around which the rest of your content is developed that holds a top spot in the SERPs for two years – and how many leads that single piece can generate – without you lifting a finger.
That's the new normal that you must embrace. Here's how to do it.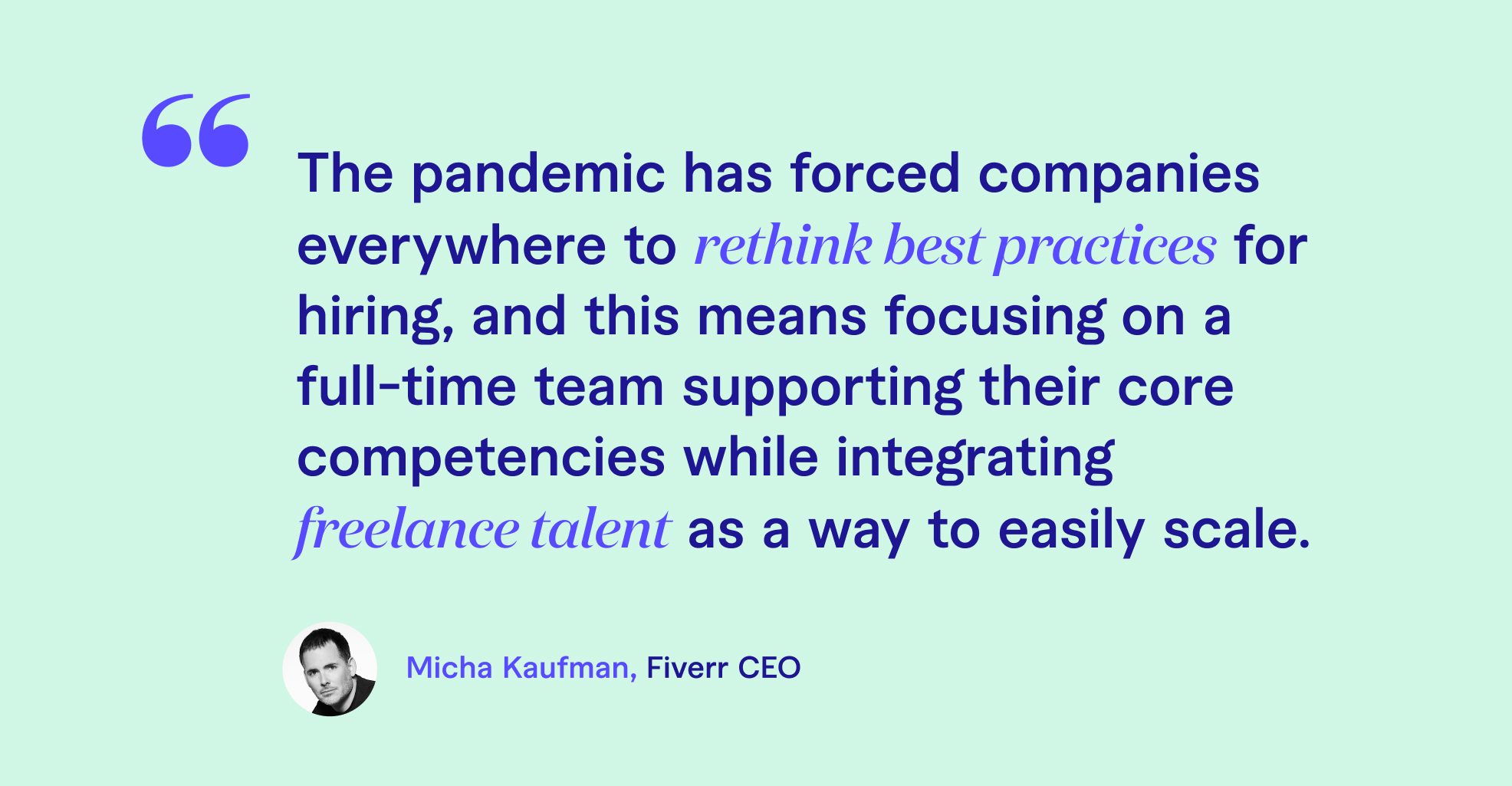 How to Get Seamless Collaboration with a Remote SEO Provider
Embracing this new digital reality may require bringing new talent on board.
For many, that's an SEO provider who can help steer your brand toward visibility in the search engines.
But before you reach out for that specialist, make sure you're prepared to support seamless collaboration with your remote SEO provider and the other members of your team.
Here are five ways to seamlessly work with a digital provider.
1. Digitize Everything
Have you ever heard the term digital transformation?
It's the transition to digital processes in a way that reorganizes businesses around a new set of customer-focused priorities. It's effectively what the pandemic crisis has forced businesses to do.
McKinsey once noted that around 29% of businesses succeed in digital transformation. One marker of success includes the development of a culture that encourages the business to see itself as fundamentally technological.
If that sounds abstract, consider it this way: how many business processes do you have that still occur on physical paper? That includes resume collection, invoices, bills, advertising, even informal processes like idea brainstorming and team meetings – it's more than most people think at first.
Many people think digital transformation means developing new web presences like websites or social media. That may be part of it. However, you must analyze what business processes themselves must move online, where they're accessible to your team no matter where that team might be located. It may mean that you must:
Implement a CRM.
Leverage free tools like Google Office.
Create new ways to collect invoices and bills.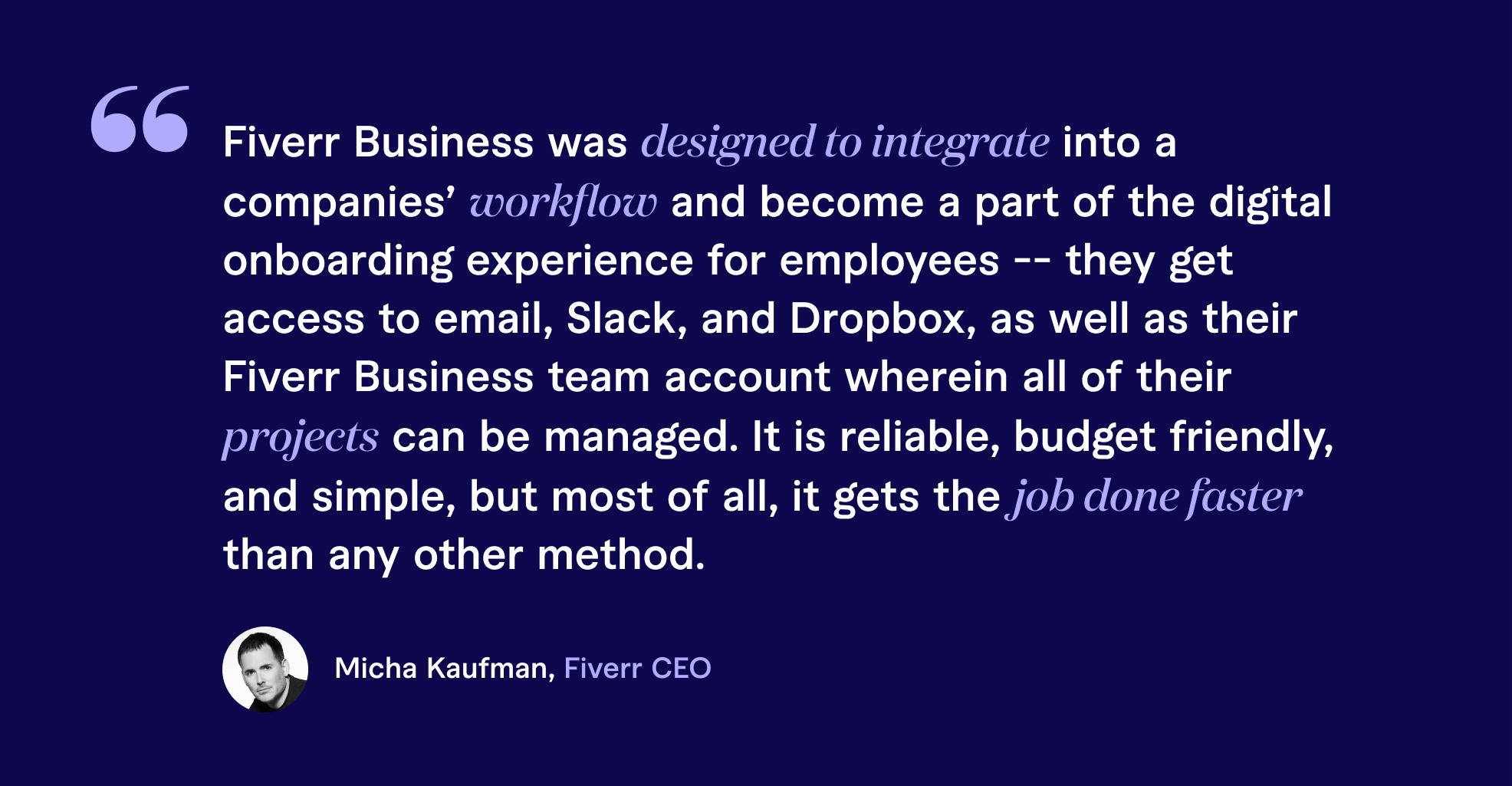 2. Break Down Information Silos
Information silos are environments in which information gets kept and not shared with the outside world. Often, they happen with departments. For example, information silos frequently occur between sales and marketing, where they create a disconnect that causes your customer relationships to suffer.
They also frequently occur between digital marketing and business management, and between freelancers and your core team of employees. In both cases, your teams are less productive all around because they can't work together and don't have access to the data or business intelligence that they need to make accurate decisions.
Breaking down information silos to encourage the movement of data between parts of your organization may require you to rethink the way you build your teams. For example, while it may be tempting to have one team of freelancers and one team of employees, it might be wiser to blend them together.
Information silos are one thing that digital transformation often targets. When you're breaking down your information silos, consider:
Can you bring everyone onto one platform, putting them under one digital roof?
Are there team members who naturally control the flow of information either because of the nature of their role or how they work?
Are bottlenecks forming because two processes or systems aren't compatible with one another?
3. Make Sure Your Content, SEO & Business Strategy Align
Your content and SEO should exist to satisfy business needs. Those specific needs vary, from attracting customers to addressing a pain point to dominating a keyword to beat down your competition.
From this point on, you must never ever create content that doesn't address a specific purpose. If you can't explain why you're creating a specific piece of content, don't create it.
This is what lies at the core of content strategy. By aligning your business strategy with your content creation, you lay out exactly what your content needs to accomplish. Then, your SEO provider will know exactly what he or she needs to do to help that content accomplish its goal.
During this step:
Perform an SEO audit and a content audit to see what you already have and what needs to be brought up to speed.
Identify what business needs you have and what needs your customers have, then begin strategizing how to use your content to accomplish that.
Brush up on the roles of content strategist and content marketing. A content strategist or marketer from Fiverr can simplify this process for you.
4. Embrace Freelancers in Your Core Team
To survive in the new normal of business, you need a nimble team that exhibits breadth as well as depth – professionals skilled at staying agile no matter the market conditions.
What sort of people come with the most experience doing just that? Freelancers.
A core team of freelancers, who are there when you need them, can develop a deep knowledge of your business and its content, identifying what it really takes to grow your brand. From there, additional support professionals can add breadth to your team's overall capabilities, as necessary. In many cases, that can actually be your SEO provider.
Why?
Good SEO providers know that SEO is data-driven. They can bounce in and out as you need them because they know how to:
Look at where you are and where you want to go, then use metrics to lead the way.
Provide concrete metrics and numbers that prove their ability to perform.
Ask the right questions to get the information they need to go to work.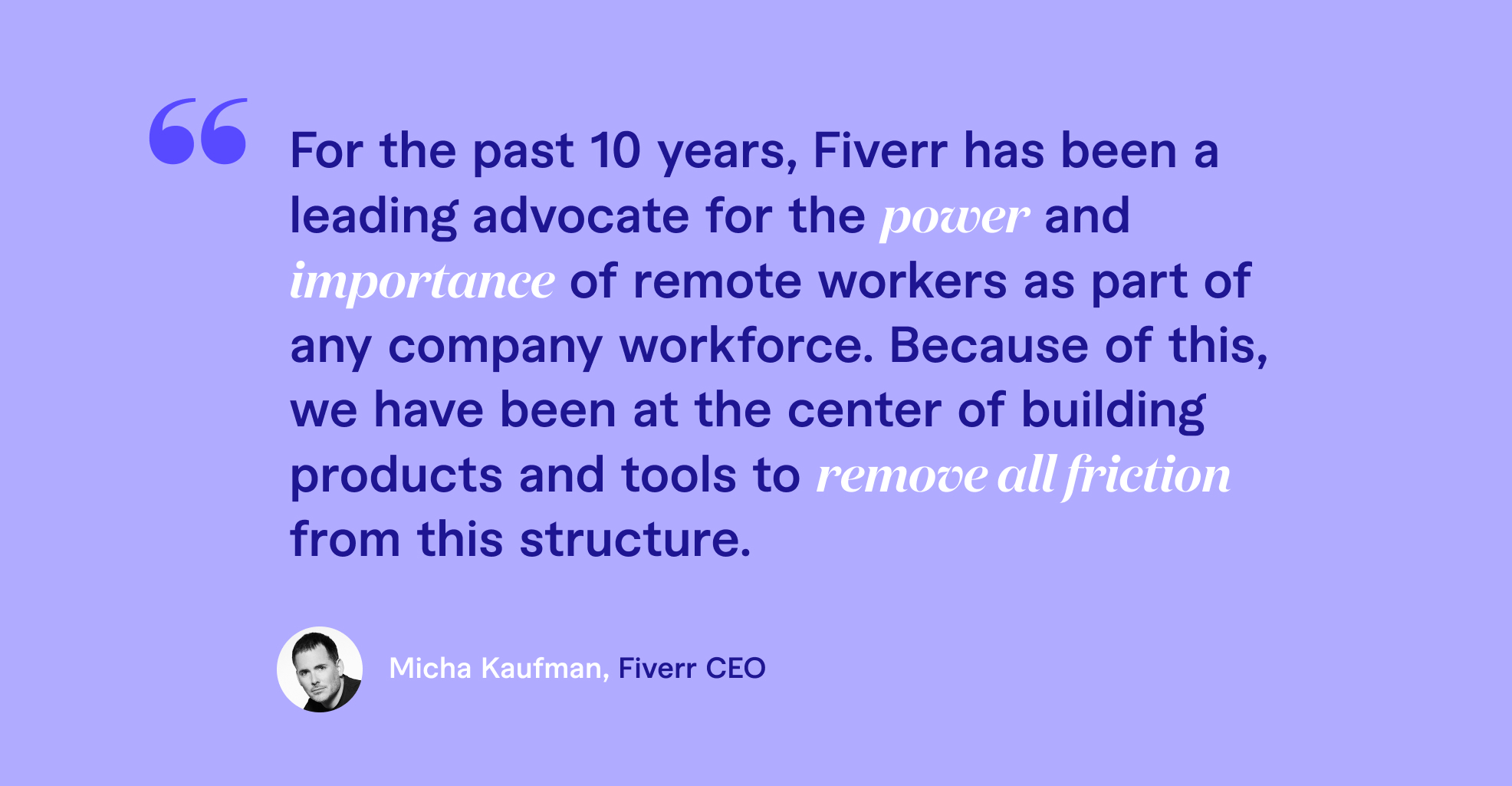 A company's digital transformation can help guarantee their success and their ability to stay agile in the future.
A core team no longer needs to be in-house, as long as you have a group of trusted skilled professionals that can continue to help grow and scale your business.
5. Hire Your Freelancers in the Same Place
If you're breaking down silos and digitizing manual processes, you'll notice that your processes might be getting simpler. Support that by making sure your people are all in the same place.
Platforms like Fiverr Business make it easy to get right to work without the hassle of coordinating multiple people in multiple places. When everyone operates on the same platform, it:
Enhances collaboration. It's easier to bring new team members up to speed and bring teams together in one workspace.
Simplifies budgeting. From finding SEO specialists or other talents within your budget to paying your freelancers, you'll keep the money hassle-free.
Streamlines communications. Say goodbye to checking your email, Messenger, Slack, Asana, and whatever tool you forgot about just now that you use to manage people.
Puts talent within reach. If your team discovers you need talent that you don't currently have on board, finding that talent involves looking through a catalog of vetted pros, not scouring a dozen different sites, and taking a chance.
Makes it easier to scale. Whether you're starting out or are bringing a robust team, you'll have exactly what you need to stay productive – at scale.
Summary: Collaborate Seamlessly & Grow Your Brand With Fiverr Business
The "new normal" is here, and it's taking the form of 79,275 Google searches per second.
By pivoting your business to a digital platform and aligning your content creation and SEO with your business strategy, you can take advantage of that.
In fact, you must.
Your consumers are increasingly looking for you online and you must put your brand where they can find you.
To accomplish this, businesses need new tools and new ways to collaborate on projects with freelancers who have the talents the brand needs to grow. No matter where your team is working, Fiverr Business can help you consolidate your project management and access the talent you need to get more done – from the comfort of wherever you all choose to work.
Join Fiverr Business today and get the first year free.
Join Fiverr Business today
and get the first year free.
The opinions expressed in this article are the sponsor's own.