Share of voice is an essential metric to track, whether you're measuring your own site or reporting to a client.
If a market's online attention and web traffic were one big pie, consider share of voice as your slice.
The bigger your slice becomes, the smaller everyone else's slice is as a result.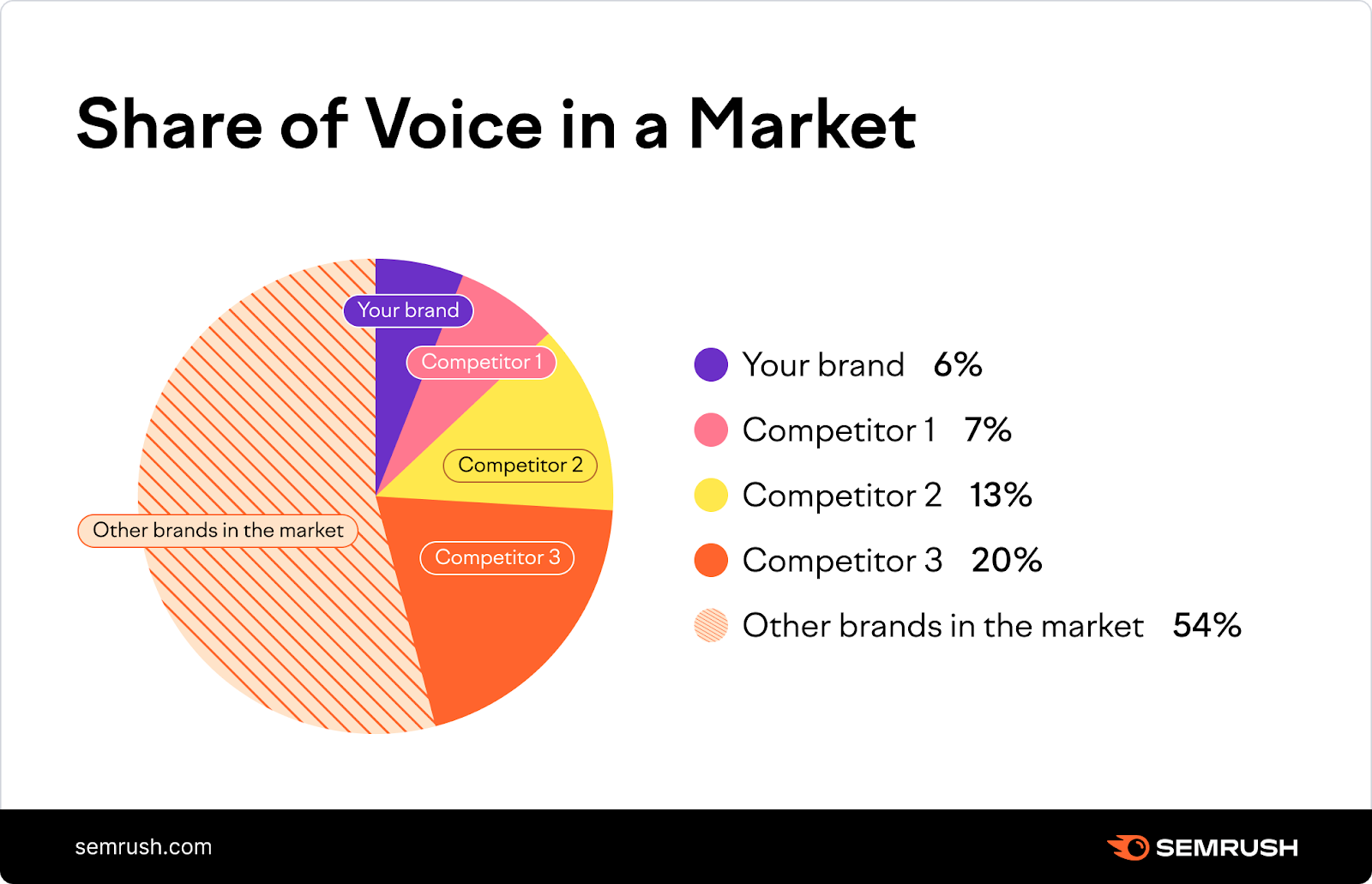 And if a certain topic is trending or growing in popularity this whole theoretical pie gets bigger, too.
That's why share of voice may be a better metric to represent SEO performance than, say, the number of keyword positions.
You could get 100 new keywords with top 10 positions but if the keywords are not popular, it won't translate to a lot of traffic.
Or, you could improve to the top position for three of the most popular keywords in a niche and that would translate to having a nice boost on share of voice, because your site would be seen a lot.
A sound strategy falls somewhere in the middle, targeting keywords with low competition early on to gain some share of voice and eventually working your way up to queries with greater search volume.
Do you need to know how prominent your brand is in more than one city?
Semrush has an easy way you can do this – just set up a Position Tracking project with multiple locations and you can begin to measure your share of voice based on your target keywords.
How Does Semrush Calculate Share of Voice?
In Semrush, Share of Voice is calculated as the percentage of overall estimated traffic going to your site out of the total estimated traffic available to the keywords you're tracking.
With this metric, the search volume of each keyword and estimated click-through rate of your position on the SERP impact your percentage.
Please note: the Share of Voice feature is available only with a Business subscription to Semrush.
A sound strategy falls somewhere in the middle, targeting keywords with low competition early on to gain some share of voice and eventually working your way up to queries with greater search volume.
How to Set Up Position Tracking for Multiple Locations
Here's how it works in six steps:
Go to the Position Tracking tool and create a new campaign for the domain you wish to track.
Set a target area by choosing a city, state/region, or ZIP code, and device type.
Enter all of the target keywords you want to compete for (these keywords determine the total web traffic that informs the share of voice calculation).
Run the Position Tracking tool.
Add another location and repeat steps 2-4 for as many areas you wish to compete in.
Navigate to the Devices and Locations tab to find your share of voice in each area.
Now, let's see this process in action.
Step 1: Go to Position Tracking and set up a new Project by entering the domain name and Project name.
Step 2: Enter your first target location.
This could be a state, city, or even zip code to get as specific as possible.
You can also choose to show local search volume here.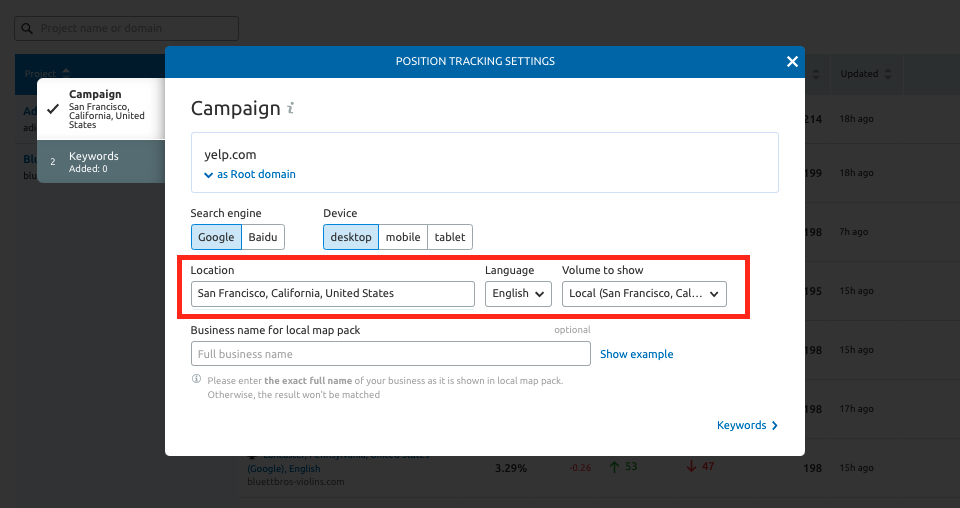 Steps 3 & 4: Enter your target keywords and then hit Start Tracking.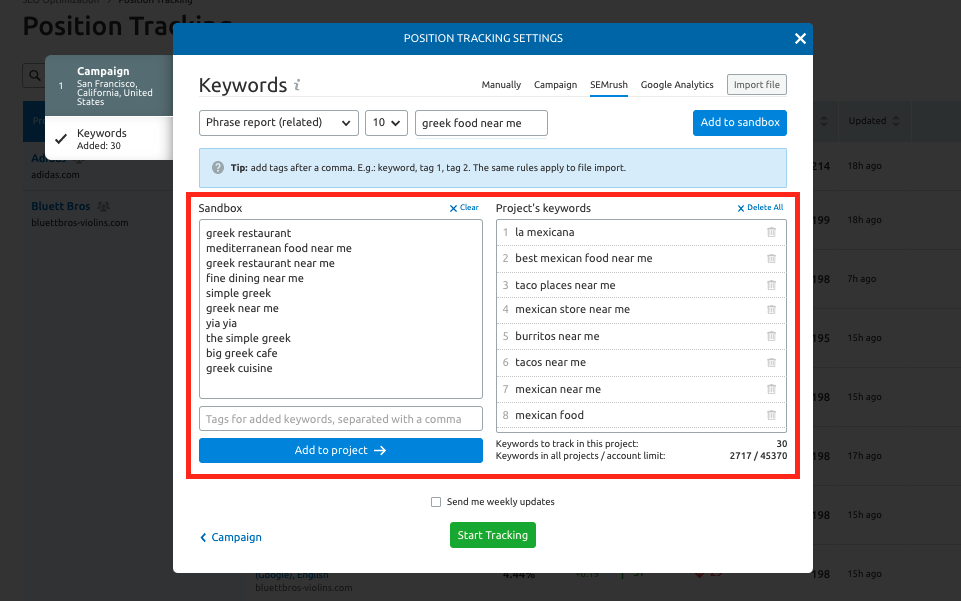 Step 5: Once the project is set up, you can proceed to set up your second location.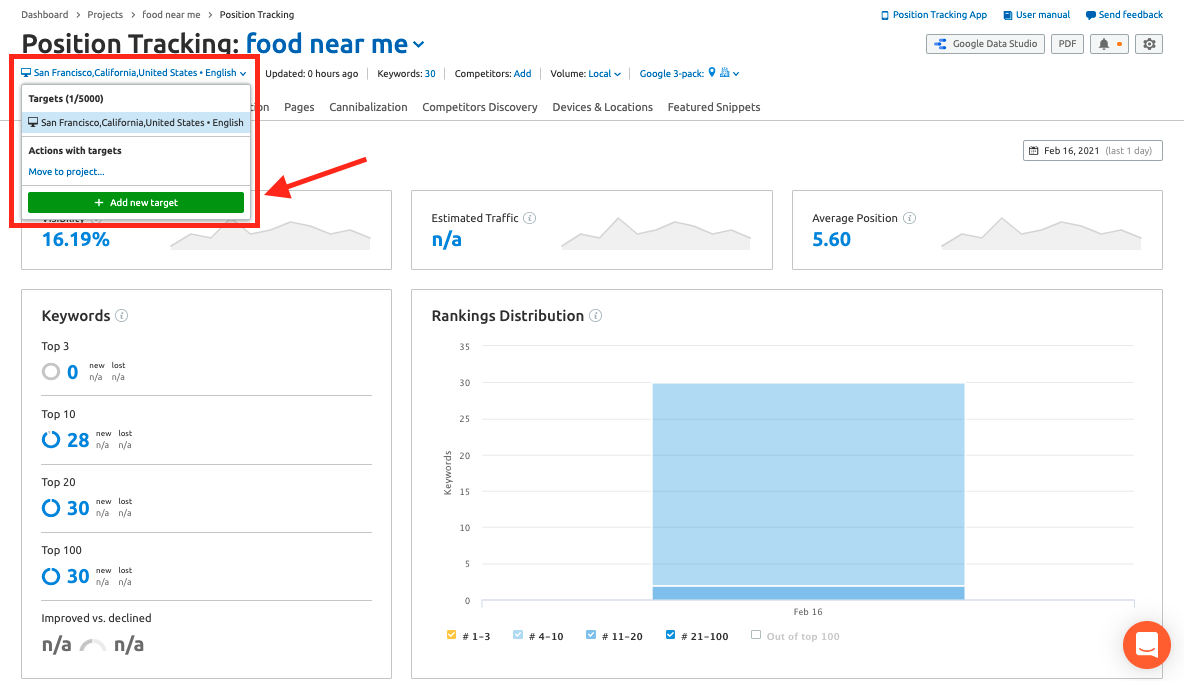 Step 6: After a day or two, once your project has collected data, you can navigate to the Devices and Locations tab and compare your share of voice in each area.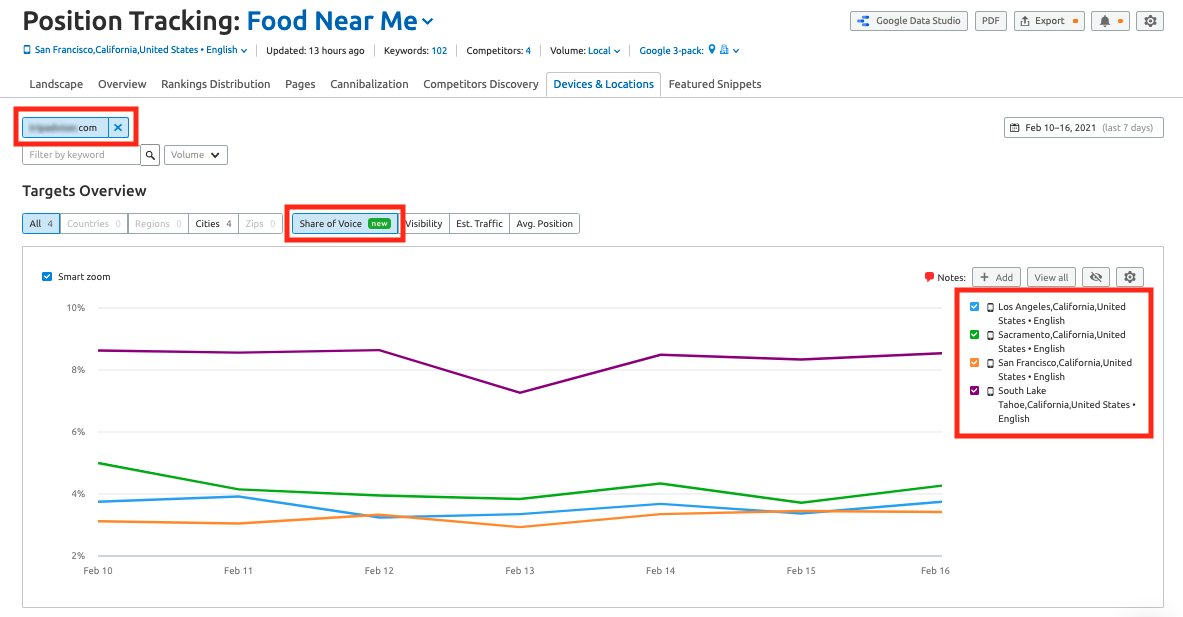 In this screenshot, we can see how this domain has a little over 8% share of voice among the target keywords in South Lake Tahoe, with their share of voice in Los Angeles, San Francisco, and Sacramento roughly 4 percentage points behind.
These insights can help you:
Pitch new local campaigns for a client based on share of voice in certain cities.
Discover your biggest competitors in each city.
Understand which cities your site is performing the best in.
Decide where to support a weaker organic share of voice with paid ads in target city.
See where you may need to allocate more of your SEO attention.
Pitching a New Local Campaign with Share of Voice
If you run the above exercise for a prospective client, you could formulate a nice pitch based on share of voice.
Semrush has a whole tool area dedicated to making great PDF reports called My Reports.
In this area, you can craft the perfect pitch (from scratch or template!) by combining Semrush data widgets with screenshots and text, along with other formatting.

You can even save your previously created PDFs as templates for the future.
For example, let's say you find a local business that serves a city and three surrounding suburbs.
You could set up the tracking to measure their share of voice in each area, then save the Position Tracking via screenshot or PDF export and show it to them.
You can say something like:
"Look, in your main city, it looks like your share of voice is okay at around 5%. But in the surrounding areas, we see it's a little lower at 2%. At the same time, your competitor has a 7% share of voice. With our SEO efforts, we will aim to raise your share of voice up to 10% in all of these areas to help your business expand."
Then, you could even use the Estimated Traffic metric in the same Project to estimate how much new traffic could be generated to the site with that increased share of traffic.
Discovering Your Competitors in Each City
Competitive analysis a huge part of SEO. But before you start, you'll want to know exactly who your biggest competitors are in each location.
To do this, jump into the Competitors Discovery tab and select the location you want to analyze.
This report shows you all of your top competitors based on the location and device type.
You can compare and contrast competitors in each area by flipping between locations with the selector at the top of the interface.
One More Semrush Tool to Know: Listing Management
If you need help managing local SEO with an all-in-one tool, you can jump right into the Listing Management tool.
From this tool, you can take care of local SEO from all sides:
Citation management and updating.
Tracking keyword rankings on Google Maps (in a custom grid).
Managing and replying to reviews on Facebook and Google.
The Heatmap tracker is an awesome report to share with your client, especially if you need an even more hyper-local look at a business's rankings in a local area.
Here's how it looks with a 7×7 grid set up to track four keywords over an area in New York City.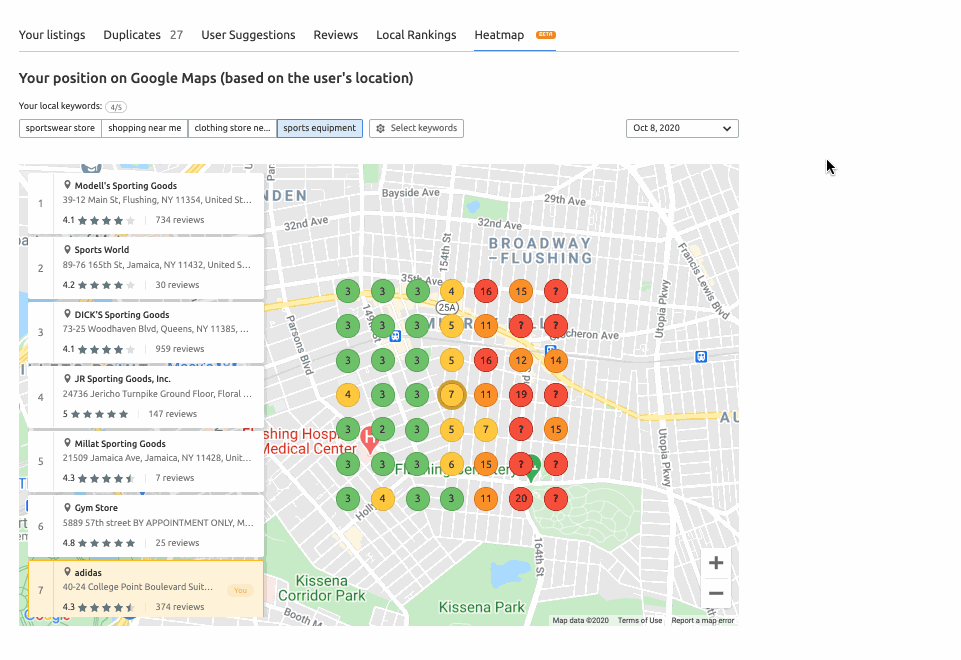 As these rankings change, you can show this map alongside the share of voice graph to indicate specifically where rankings have gotten better.
Conclusion
Share of voice helps you gauge your site's position on the market compared to all your competitors.
For SEO, share of voice is a good indicator of organic performance as it takes into account every keyword's search volume and estimated traffic.
Whether you're measuring your own site or reporting to a client, use share of voice as a metric to showcase the success of your search campaigns.
Improve your ranking and stay ahead of the competition
with the Position Tracking tool
The opinions expressed in this article are the sponsor's own.