Wix announced a significant evolution of the platform with a new offering called Wix Studio that enables agencies to quickly scale the process of creating business websites for clients.
Wix Platform
Wix is known as a platform that allows individual businesses to create and maintain their own high performance websites without having to deal with the underlying technology.
The advantage of Wix is that they take care of security, performance and the technical aspects of SEO like the constantly changing requirements of structured data.
This eliminates the need to have a dedicated developer or SEO to constantly maintain a website, allowing businesses to focus on their business.
That business model didn't offer agencies a way to improve their own business model of creating websites and maintaining them for clients.
And that's where Wix Studio comes in.
Wix Studio
Wix Studio is a platform that enables freelancers and agencies to grow their businesses by leveraging Wix's powerful suite of capabilities and tools.
Wix Studio offers:
The power to create business websites for clients at scale
New development and creation editor with coding capabilities
Multi-site management
Complete design control
Offers Control of Custom CSS
AI layout design
AI text and images
Intuitive user interface
Custom CSS with Wix
Avishai Abrahami, Co-Founder and CEO of Wix noted:
"We have devoted the past several years to our professional audience by working closely with our agency partners, deeply understanding their workflows, and evolving our products accordingly.

Now, we are introducing a completely new platform for them to build quality websites, manage all of their clients and so much more…

We believe that with Wix Studio we will be able to continue generating significant growth in our Partners segment.

Combining our web development expertise and the power of AI to assist with complex web design projects, we're continuing our path to trailblaze the web creation industry."
Client Management Workspace
A key part of Wix Studio is their workspace that makes it easy to manage clients.
Wix Studio Workspace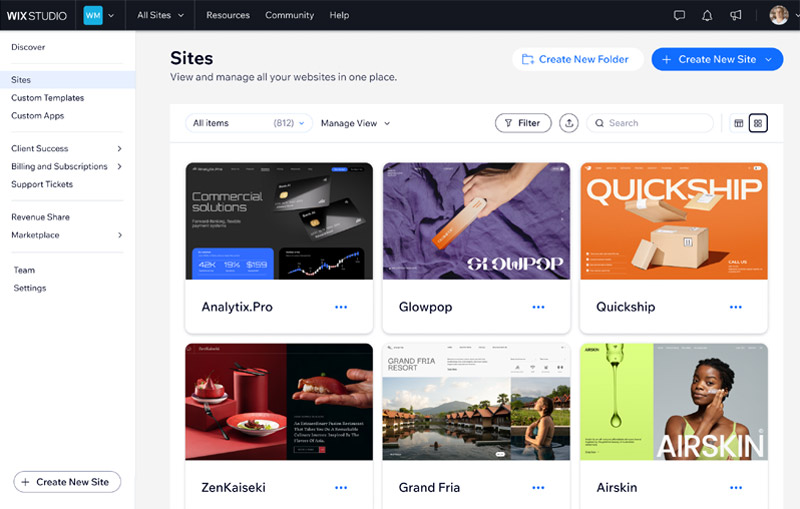 According to the announcement:
"One dashboard to power all projects and clients: A completely new workflow to manage clients, projects and multiple teams within one powerful dashboard, also accessible on the dedicated Wix Studio mobile app.

Team management to work at scale: Allow teams to efficiently work on a wide range of projects simultaneously by creating and reusing apps and templates across any project. Track and manage the team's support tickets history to expedite issue resolution, and stay on top of new releases and product betas.

The client experience: Personalized client-facing dashboard and editor provides a smooth experience to collaborate. Quick-edit capabilities and a complete, customizable resource kit ensure clients can receive and maintain their websites on their own, as needed. Clients can receive updated analytics reports with important site information and performance."
Power of Wix For Freelancers and Agencies
Wix has a long history of making it easy for store and service owners to create professional and beautiful websites that are purpose-built for business.
Wix Studio provides freelancers and agencies the opportunity to easily scale their business and take on more and more clients using tools that make it easy to manage a growing portfolio of clients.
Read more details about the new Wix Studio for freelancers and agencies.
Featured image by Shutterstock/Krakenimages.com