A new study reported by eMarketer and administered by media software company STRATA reports that 92% of marketers polled only spend up to 10% of their total marketing budget on paid social media: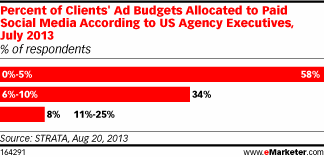 The study also asked participants which social media networks they would most likely use to conduct their paid social media campaigns. Facebook was the clear winner, with over 90% responding that they would use the social network for a client's paid social media campaign. YouTube and Twitter were nearly tied at 55 and 53%, respectively, with LinkedIn (35%), Google+ and Pinterest (25%) rounding out the top six.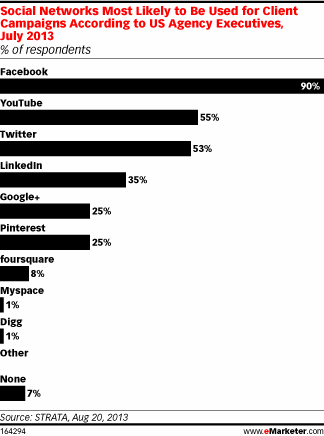 Social Media Advertising Growth
In addition, 25% of the respondents also reported that they believe paid social media offers a greater ROI than free social media efforts. This signifies a surge toward the belief that paid social can bring about more engagement, and thus, greater ROI.
Furthermore, other sources have stated that growth in paid social media spend has been forecasted for 2013 and beyond. An April 2013 post by Social Media Examiner states that 65% of those polled in another study reported that they were planning on increasing their social ad spend for 2013. The post also stated that those polled planned on using paid social media in addition to other online marketing efforts, like search engine PPC, video, and more:

66% of advertisers said they use paid social media combined with other online ads [online display (83%), online video (46%) and mobile (40%)], and 51% said they run it together with offline advertising [print (52%) and TV (37%)]. Agencies showed a similar pattern of usage.
These results coincide with the aforementioned eMarketer report, that paid social media only makes up to 10% of the total marketing budget for most organizations. While this portion all marketing ad spend doesn't seem like a large amount, the gradual growth of ad spend on social networks like Facebook, YouTube, and others have shown that marketers (and the companies that employ them) are looking toward making social media advertising more of an integral part of their budget.
Featured photo credit: HarcoRutgers via photopin cc