It's been quite some time since we had a new broken link checker reviewed here. At last I've come across something simple, fresh and useful!
Pinger is a great FireFox addon that checks all (or selected) links on a page and does it very fast!
To use it, you just need to:
Right-click anywhere on the page and select "Ping all links";
Select any links on page and click either "Ping all links" or "":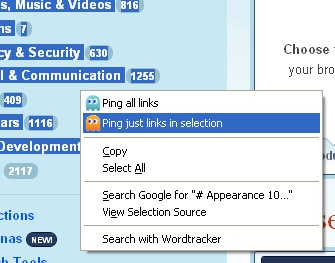 After running through the page links, the tool returns a summarized report: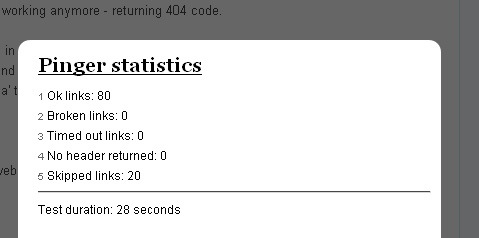 The above statuses stand for the following:
Link returned HTTP code between 200 and 300, meaning it's ok
Returned code was either 404, or some of other 'can't get here'
Every link has 45 seconds to open and return header. "This one didn't make it, so you better check it yourself"
Link didn't return any HTTP header. Either is server down, or it's redirecting to protocol other than http / https.
The tool also visualizes the link status nicely by highlighting working links in green, broken links in red, skipped links in grey:
Other broken link checkers we have tried previously: