The maturity and widespread acceptance of social media marketing, combined with the expectation of being able to track everything in the era of big data, has created a lot of expectations.
It has also raised deeper questions about performance.
Using Google Analytics, we have the power to go deeper to prove the impact and value of our marketing efforts.
We should never start the answer to a question months into a social media campaign with "I think" when we have the capacity to know the impact of digital marketing activities for sure.
Google Analytics can be a great source of deeper insights for the social media marketer.
This post will show you eight specific reports and areas to leverage for painting a clearer picture of how social media is involved in driving website traffic and conversions.
What is often overlooked when using Google Analytics is the full customer journey. By default, Google Analytics features "last click" attribution to conversion reporting which doesn't show the full picture of how visitors are interacting with our websites.
1. Audience > Demographics & Interests
When running a social media campaign, we need to make sure we're getting the right target personas to the website.
Not all clicks are the same.
When we look only at our social media platform analytics (Facebook, Twitter, LinkedIn, etc.), we're just seeing engagement and clicks from their perspective. We don't see what the visitors ultimately do when they land on our site.
Even with our best attempt at demographic and interest targeting, we aren't guaranteed that the right people are clicking through.
Google Analytics allows us to see the basic demographic information, as well as interests, of our visitors. We can filter it down to social media traffic as a segment.
This is powerful information to ensure that our social media targeting is actually driving the traffic we expect and can help with insights for related audiences to expand our targeting.
2. Audience > User Explorer
To validate what we expect and assume in the customer journey, the audience user explorer is a great tool for drilling down to see how a sampling of visitors encountered our website.
While the users are anonymous and we don't get full details, it's still helpful to see how repeat visitors entered the site, navigated through it, and when they returned.
Using this info you can find patterns and challenge assumptions about how visitors engage with your content.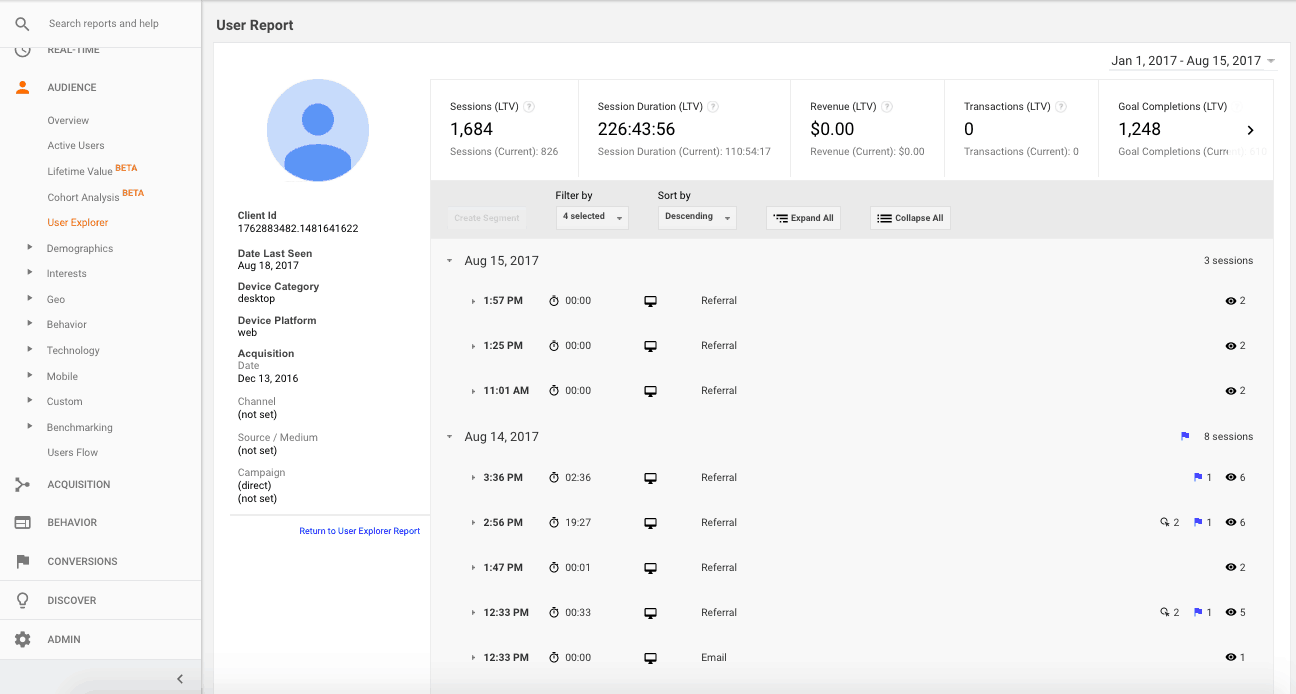 3. Conversions
Conversions can be configured for e-commerce sales, lead form submissions, email signups, sessions that include visits to a specific page, and other self-defined goals.
Like most reports in Google Analytics, we can isolate social media traffic as a segment to view conversions.
What is critical to understand is that, by default, when we look at conversions in Google Analytics, we're seeing them classified by what source a visitor entered the site (direct, SEO, PPC, social, email, referral, etc.) when they met the conversion criteria.
This is the "last click" attribution model of giving credit to the source that the conversion actually happened. This doesn't take into consideration if the user came to the site three times prior to converting and what the source of the first and second visits were.
In a lot of cases, we see that social media drives early visits in the customer journey even when it ultimately isn't the source of the "last click" to the site that led to the conversion.
When we only look at last click we aren't seeing the full picture and impact of all of the marketing channels.
4. Conversions > Model Comparison Tool
To help combat the short-sighted data view of last click attribution that Google Analytics defaults to, we can use the attribution model comparison tool.
It allows you to drill down into your conversion data by channel and switch the model from "last click" to "first click," "linear," and other options.
You can even import models from others or create your own custom model.
You don't have to be a statistician to learn about the attribution model concepts and Google has links to some helpful content in this area so you can better understand how the different models impact your reporting.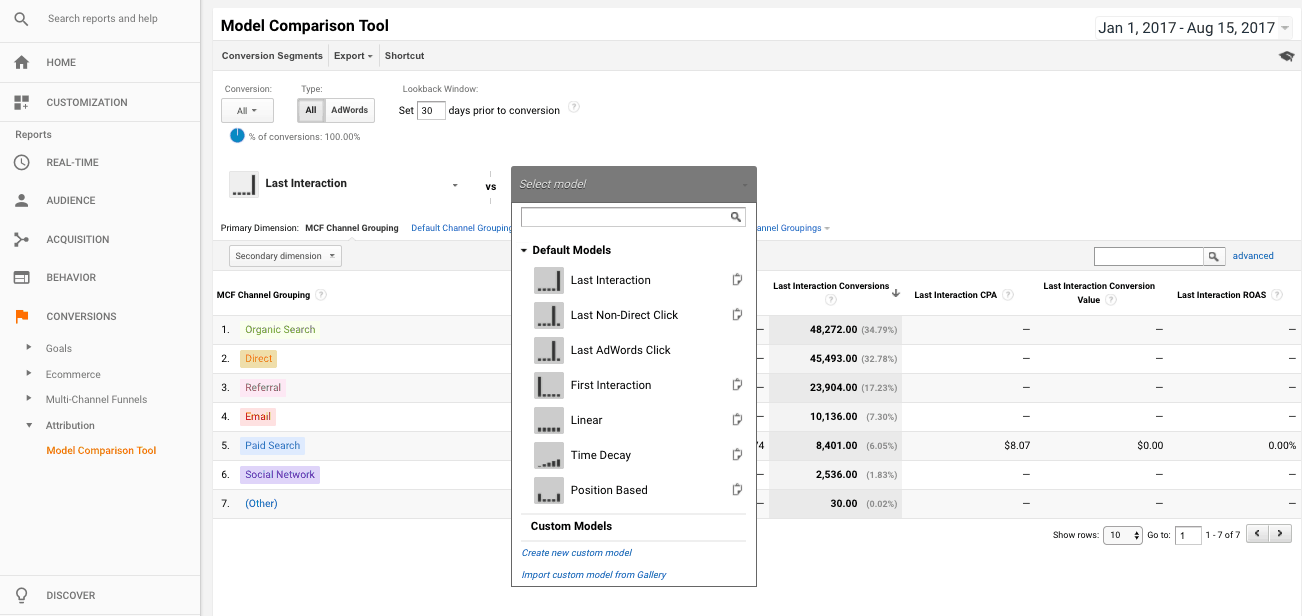 5. Conversions > Assisted Conversions
Assisted conversions is an underutilized statistic and report. It has been around for years, but wasn't as prominent until more recently when attribution became a digital marketing industry buzzword. It can be helpful in painting a complete picture of the impact of different channel sources.
Assisted conversions are credited when Google Analytics has tracked multiple sessions for a user prior to the conversion.
While the default of last click attribution is applied, it gives credit to sources that a user entered the site through in sessions prior to the final one where they took a conversion action.
For channels like social media, this is another valuable area where you can track how much social contributes as a source earlier in the customer journey.
If you're running an e-commerce site and have revenue data in Google Analytics, you can see an actual dollar amount attributed to the source as an "assist."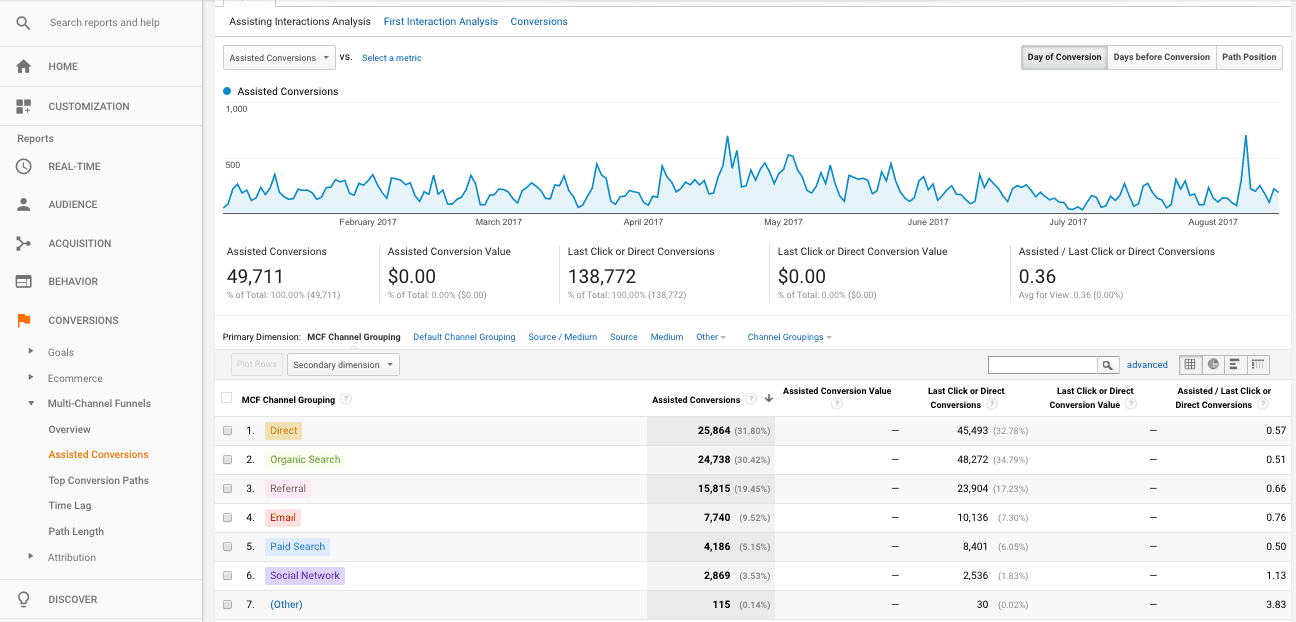 6. Conversions > Top Conversion Paths
While assisted conversions is an aggregated stat for channels that drove visits earlier in the customer journey, it's important to know what specific journeys or (as Google Analytics labels them) paths to conversion based on sessions.
This report is great at showing the specific combinations of sources driving visits to the site and frequency of the combinations.
You can really see how the customer journey is playing out in this report.
7. Acquisition > Social Reports
Google Analytics has added some reports exclusively focusing on social media. While you can find all of this information in other areas of Google Analytics by going into the separate reports and selecting social media as a filtered segment, it's nice to have all of these preset and tailored to social traffic.
The reports include:
An overview.
Drill-down into specific social media sites that are sending traffic.
The top landing pages for traffic coming from social.
Conversions specific to social media networks.
The flow of users within the site showing how they engage with content once they are on your site.
These specific reports can provide valuable insight into whether your social traffic is meeting your goals once those visitors are on your site.
While some social strategies focus on engagement and brand awareness that stays on the social media platforms, if you're focusing on getting users to your site, you'll want to know as much as possible about what they do when they get there.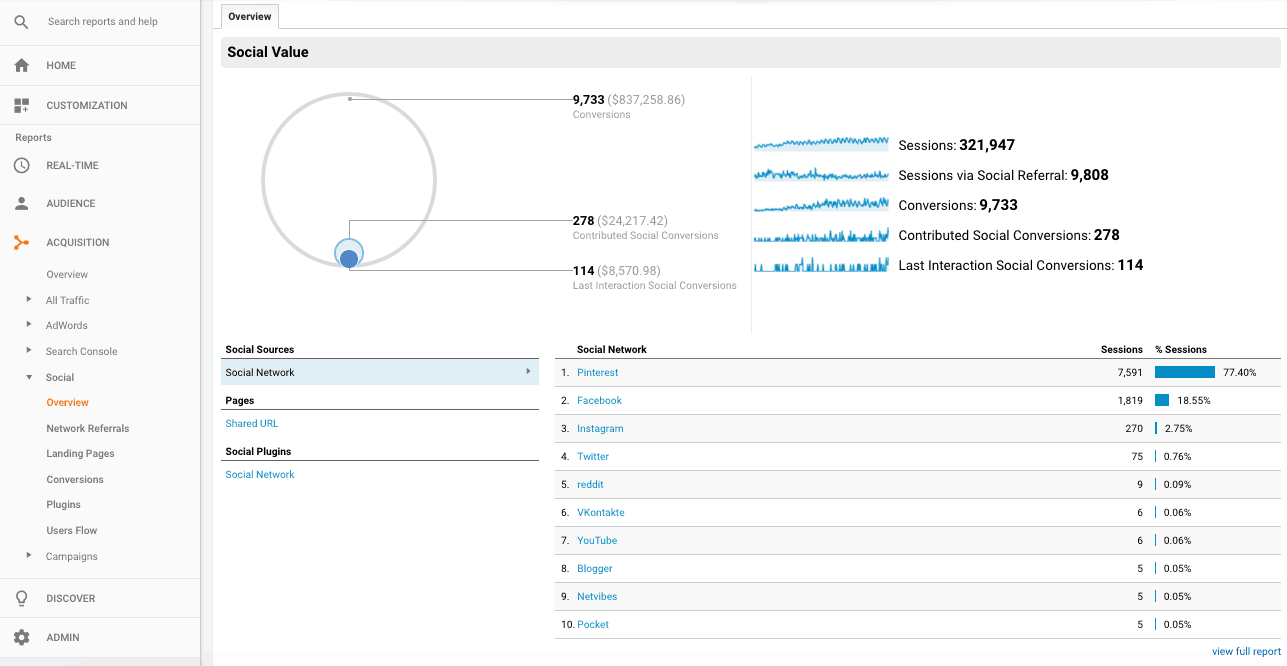 8. Benchmarking
The benchmarks report in Google Analytics is great because you can compare your traffic metrics to those in your industry.
You can even change the dropdown to different industries and segments and see how the numbers change.
Whether you operate in a niche or broad category, this tool is incredibly helpful for setting expectations and goals for improvement across different channels including social media traffic.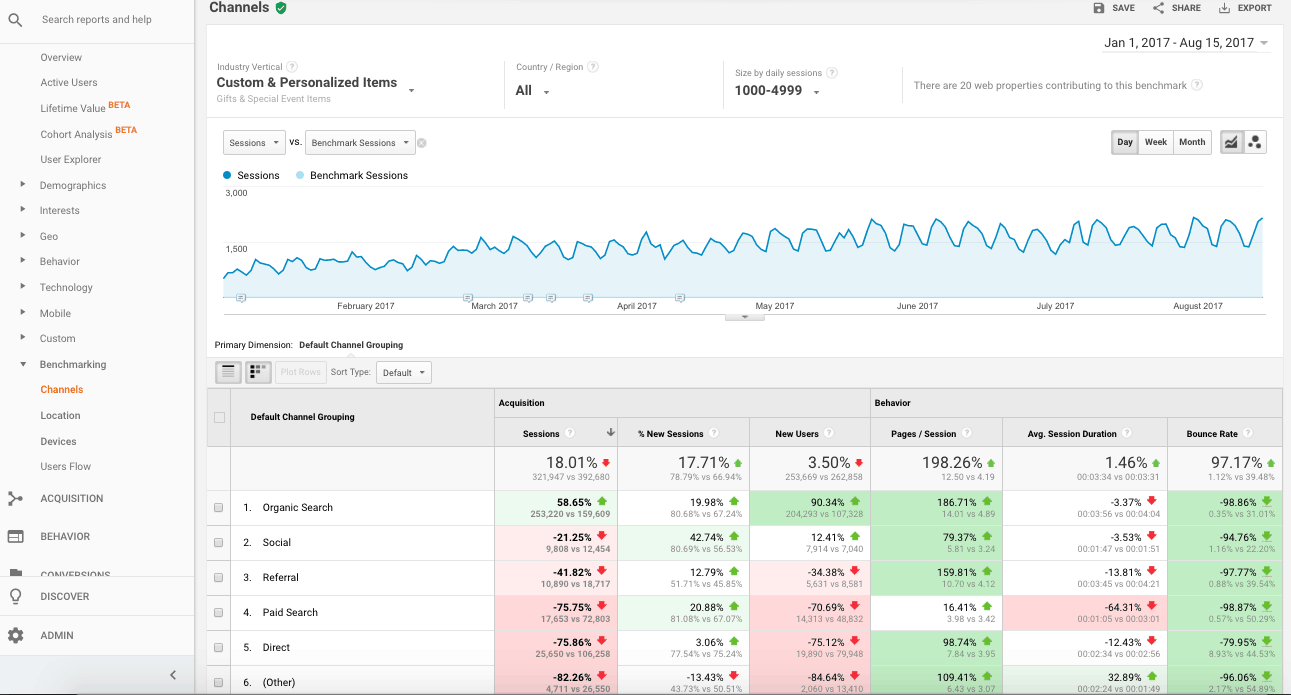 Takeaways
The key to reporting and showing our successes in social media marketing rely heavily on showing the full picture.
The true impact of social media can be known within the customer journey.
By focusing on the whole journey, and steps of consideration before a prospect becomes a lead or customer, we can get attribution right.
When we know what we're measuring and where to get the data, we can create the reporting plan that is right for our needs to keep meaningful data coming to us and integrated into our mindset rather than having it all live in a place in the big data world that seems hard to find or too overwhelming to piece together.
More Google Analytics Resources Here:
---
Image Credits
Screenshots by Corey Morris. Taken August 2017.