Marketers are receiving new reporting features in Google Analytics 4 to dig deeper into key insights. The platform is also being slightly reorganized for usability.
The goal of these new features is to help marketers fill the gaps of those who opt-out of being tracked and to help advertisers access the most data that they need more quickly while recognizing that those data points vary from business to business.
New Lefthand Navigation Menu
Google has announced that Google Analytics 4 will adopt a new lefthand navigation menu. The menu was designed to make it easier for users to quickly and intuitively navigate to different reports for their use case. Each section is designed to support a different use case and these sections will be called "Workspaces".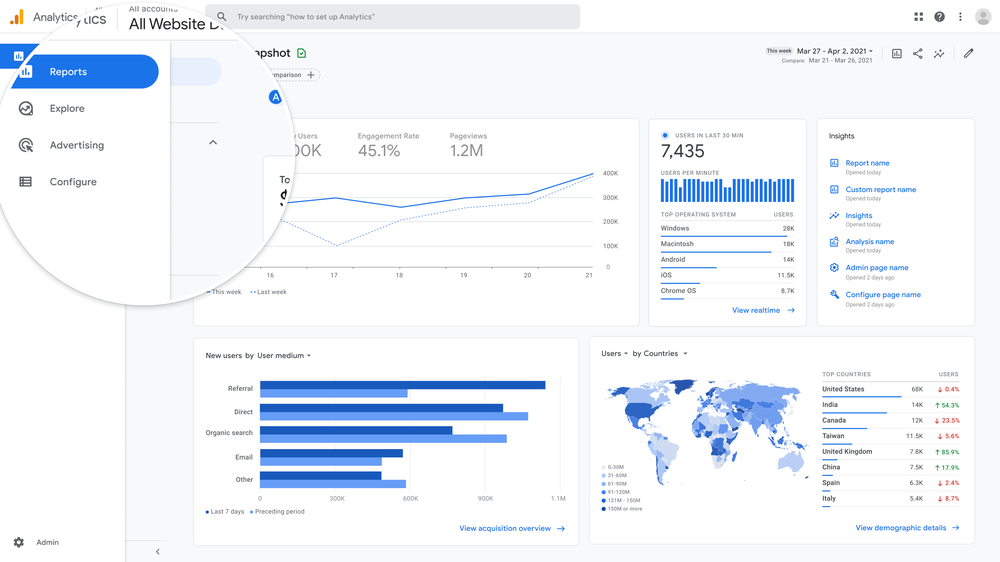 Expanded Conversion Modeling
Later this year, Google Analytics will begin extending the conversion modeling across "certain reports". Google hasn't specified which reports will utilize the modeled data or whether marketers will have the ability to opt-out.
The modeled data strives to fill reporting gaps from those visitors that have not consented to cookie tracking.
More Flexible Reporting in GA4
Google has also announced that users with admin access will be able to curate the Analytics interface. That means that folks can expand a panel on the left that would expand key dimensions and metrics, which would allow them to customize what their reports look like – not just for custom reports but for the default reports. For example, in the example provided, they shared the user acquisition report being customized with different metrics.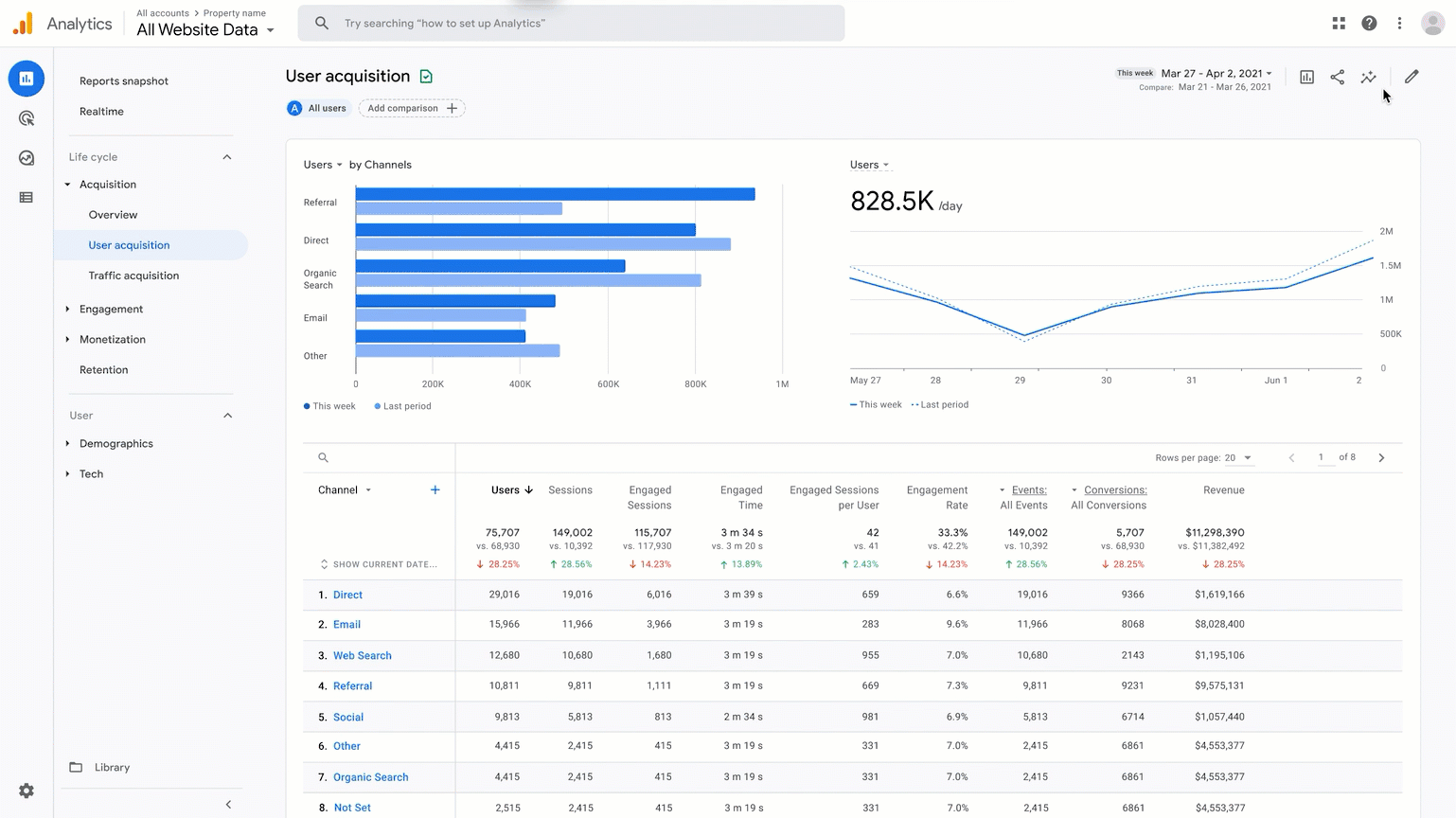 The goal of this change is to allow users to find the insights that they need even quicker.
The same settings can be used to group reports into collections and create custom overviews. These reports can be saved to the "Reports Snapshot", the homepage for the Reports Workspace.
Data-Driven Attribution Modeling
Soon, all Google Analytics 4 properties will make data-driven attribution available. There will also be two new reports: the conversion paths report and the model comparison report.
The first will be similar to the report that Universal Analytics users are familiar with, which will allow you to monitor the full consumer path, across various channels. The new report will also include conversion credit visualization to help marketers understand their value and, ultimately, ROI by channel.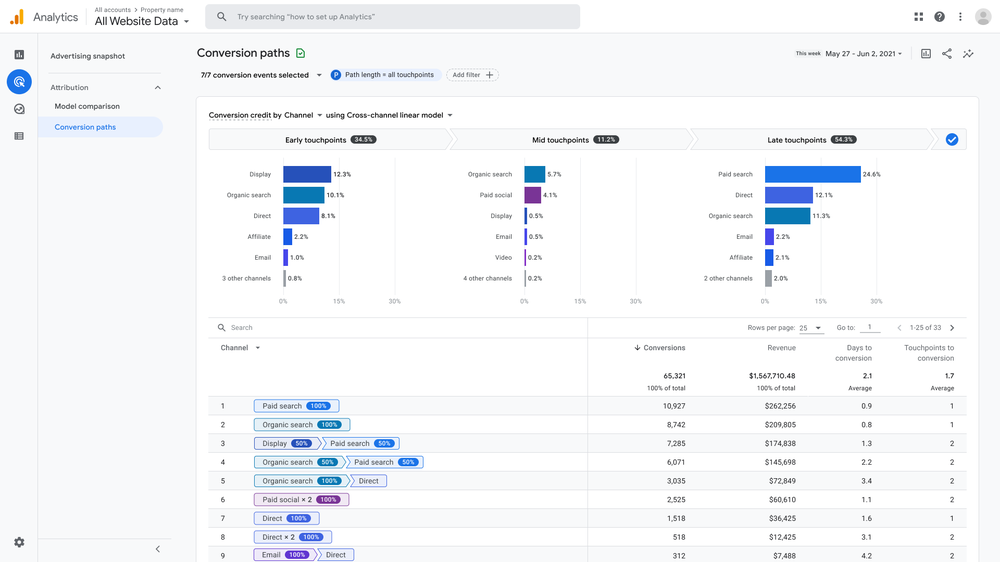 The Model Comparison report allows marketers to compare various attribution models to see the impact on various channels.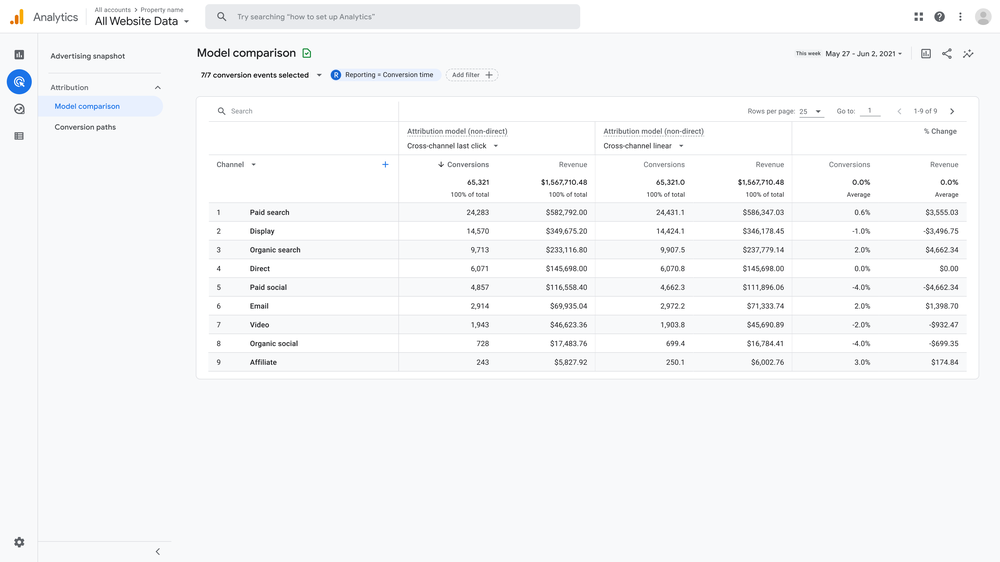 The Advertising Snapshot
At the Google Marketing Livestream, it was announced that a new Advertising Workspace would be rolling out and today, Google has provided more detail as to what that reporting suite will include.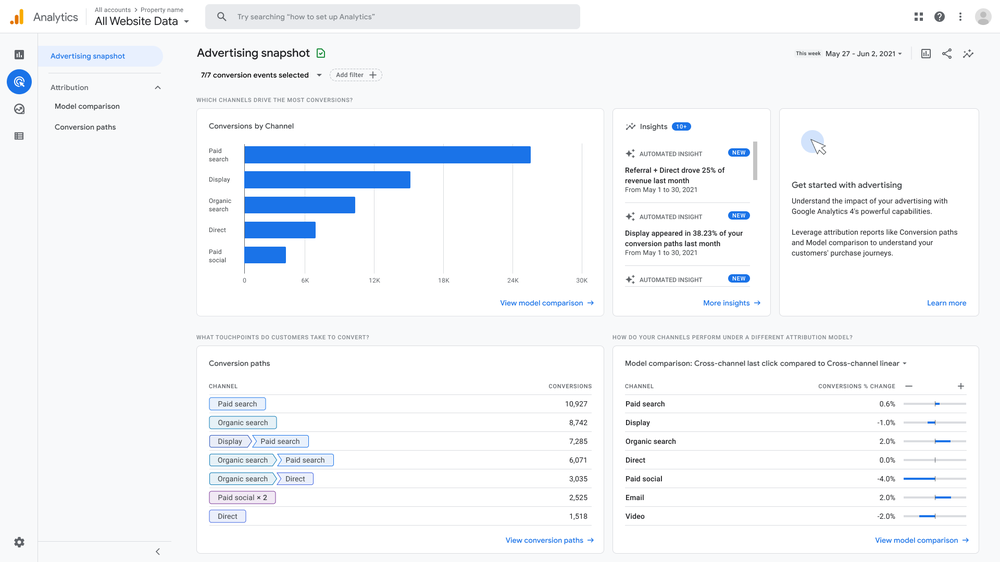 The new report includes what Google is deeming the "Advertising Snapshot", which is a dashboard that includes multi-channel conversion paths, conversion volumes by channel, and an attribution model comparison graph.
The ­report provides a breadth of information at a glance for quick reviews but doesn't include the depth of information that advertisers have become accustomed to from Universal Analytics.