As the Internet grows, it will continue to offer new ways for people to get what they want. Now, more than ever, it's important to remind visitors who engage with your site, but don't convert, the reason they visited and why your product and service remains attractive and valuable.
Retargeting (aka remarketing) campaigns offer that opportunity, and using Google Analytics segmentation, we're able to identify which visitors would be most likely to convert upon a returning. As you can see from the graph below, search terms for "retargeting" have been growing steadily since 2009.
The moral of the story: The sooner you can learn how remarketing campaigns work in Google Analytics, the better. Following the steps below can help sites with +1000 visits per day create a profitable remarketing strategy.
Prerequisite to Getting Started with Remarketing and GA
In order to create AdWords remarketing lists in Google Analytics, you'll need to update your tracking code to support display advertising. As a bonus, you'll receive age, gender, and affinity reports (which can be found in Google Analytics under Audience) for your visitors. Below is an example of the updated Universal Analytics code. The line you see in bold needs to be added to your code in order to get started.

After the code is implemented, go to the Admin in your Google Analytics account. Under property settings, enable Advertiser Features and Demographics and Interests.
Is Remarketing Right for You?
The best way to determine if remarketing is right for your business is to review the performance of new versus returning visitors. You can do so with this report: click Audience > Behavior > New vs. Returning. There are three things to look for.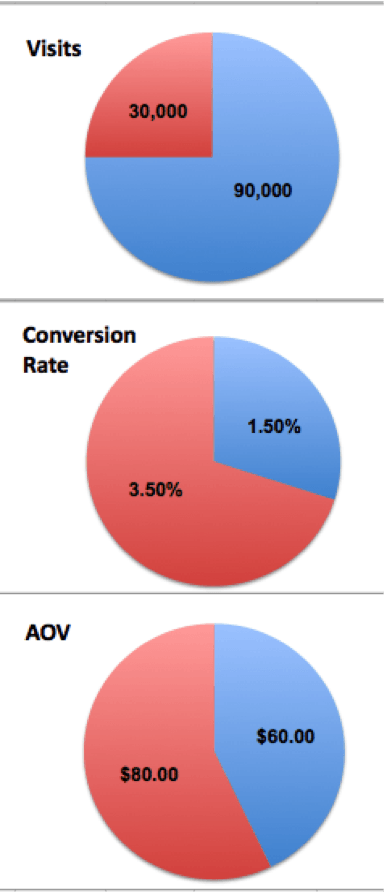 Most of your visitors need to be new visitors. It's important to know there's a reason (or multiple reasons) why some visitors return to your site, but there also needs to be room to grow that percentage. If a site already has a high percentage of returning visitors, remarketing may not be as powerful.
Conversion rate needs to be significantly higher for returning visitors. There are costs associated with bringing a visitor to a site, so if we're trying to bring them back, we want to be confident they'll be more valuable.
E-commerce only: Returning visitor AOV (average order value) is higher than new visitor AOV. If they revisit, and their consumer confidence is reflected in their orders, then you should proceed in remarketing with confidence!
BONUS: It's also a good idea to review how the two visitor types perform on different devices. Select the default device segments and apply to the New versus Returning Report to compare device performances. Depending on what you see, it could be a good idea to duplicate campaigns for different devices or exclude a device type all together. It's also a good idea to focus on location, particularly if you're in the franchise space.
How to Determine an Efficient Targeting Scope
In Google Analytics, there's a dimension called Count of Visits, which is essentially the number of times a user visits a site within a 90 day period. Each business has different sales cycles, so looking at Count of Visits by Conversion rate or Per Session Value (PSV) can offer insight into the most valuable times to remarket to a user. Below is a screenshot example: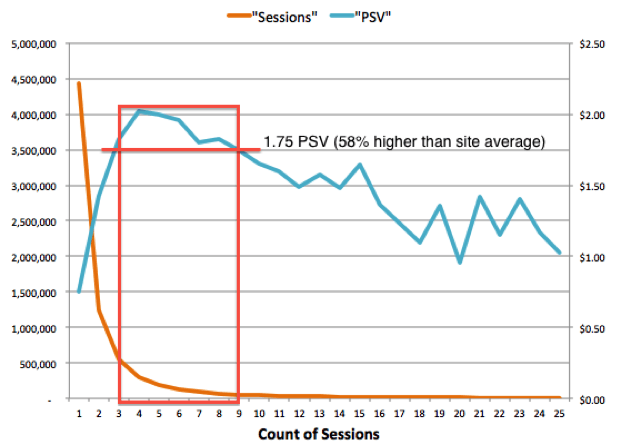 In the example to the above, we plotted Per Session Value (PSV) in blue with Count of Sessions. In red box, you can see that users who visit between 3 and 9 times have a value that's 58% higher than site average. This will be a criteria used in a remarketing list because the goal of remarketing is to bring the most valuable traffic back to the site.
While the PSV for users who visit this site once or twice, is lower, we don't want to exclude them. One technique is to use the Page depth (pageviews/visit) dimension, to qualify the traffic, in a similar way as we did above. Below is an example that shows this trend: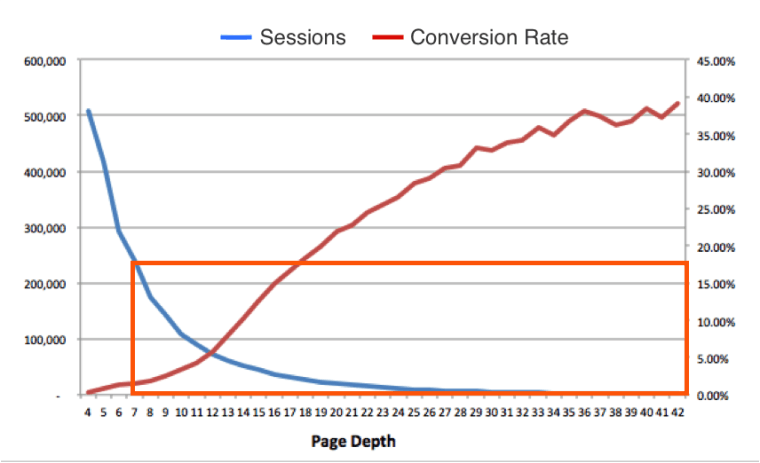 Looking at the trend of conversion rate by page depth, we see value increasing directly correlation to the amount of pages being viewed in a session. I chose to target users who viewed 7 or more pages, because they make up a large portion of traffic and showed signs of being heavily engaged in the site.
What I learned: Now we understand that users who have a Count of Sessions between 3 and 9 are valuable and users who have a Page Depth of 7 or more are also valuable we can use this as a criteria to create our remarketing lists.
Creating the Remarketing List
You can create the list in under Admin > Remarketing > Audiences. Below, I will apply what we learned to create two remarketing lists.
Count of Sessions List: Above, we found users who visit 3 to 9 times to be 58% more valuable. We also want to include users who have not purchased something, hence the reason we want them to come back to the site.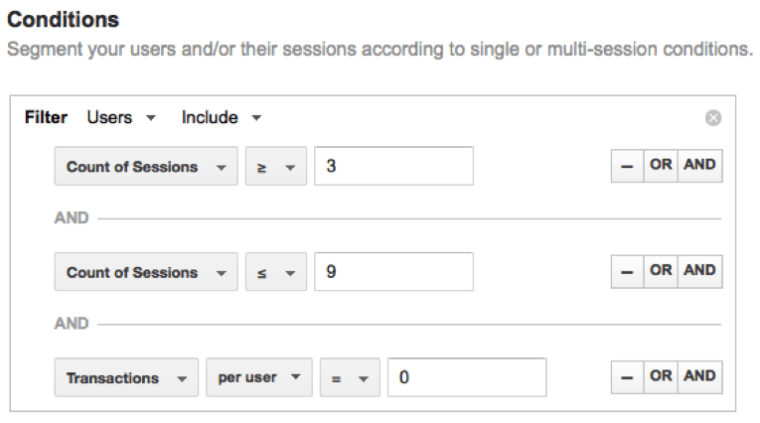 Page Depth List: Above, we learned this website gets a lot of traffic from users who visit one or two times, but those users aren't very valuable. However, we can still target some of them because we found that users who view 7 or more pages are valuable. Along with the page depth, we also want to specify that this list includes only users who visited once or twice and have not yet purchased anything.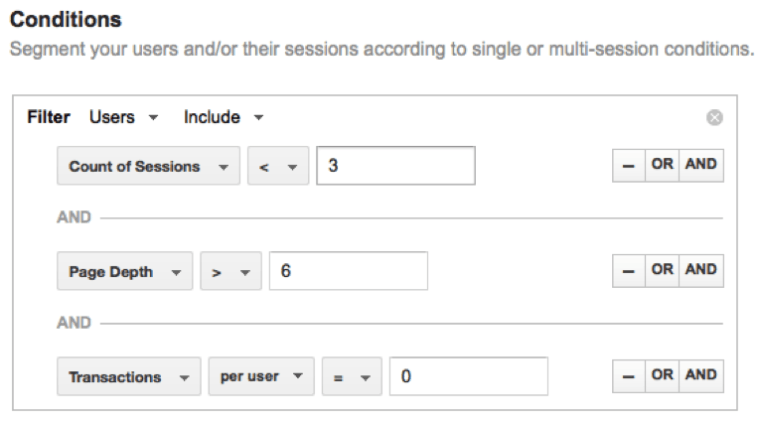 Other Considerations and the Takeaway
After reviewing the performance of this list, other refinements or adjustments can be made depending on your goals. For example, if you want to only target a higher converting audience you may want to exclude Mobile users. Review top converting states or countries and refine the audience as needed. If your ROI is too good, you may have an opportunity expand your reach by adjusting the number of Count of Visits or Page depth in the remarketing lists.
In the end, there is a lot of data accessible in your Google Analytics that can identify and segment the most highly qualified users of your website, but do not complete a desired action. Use your data to determine if retargeting is a strategy that could work for your business, then test it by creating retargeting segments through Google Analytics. You might be surprised at how quickly you can learn from your data and grow your business.
Do you have any experience with using Google Analytics for your remarketing campaigns? What are some of the criteria you use or tips you have for success? Let me know in the comment section below.
Image Credit
Featured Image: Jirsak via Shutterstock
All screenshots taken April 2015