In today's digital world, it is unthinkable for brands to disregard the power of internet marketing.
Leveraging digital marketing is essential not just for ecommerce sites but also local businesses and especially large enterprises.
That said, it is necessary to target the digital marketing channel that can bring the highest returns to your business.
If you're looking to turn your website into a sales-generating machine, concentrating on digital marketing channels such as email, organic search, paid search and social media can help you achieve that goal.
We got curious as to which particular channel brings in the highest returns for our Twitter community's websites. Here's what they had to say.
Which Digital Marketing Channel Has the Highest ROI for Your Website?
Here are the results from this #SEJSurveySays poll question.
According to SEJ's Twitter audience:
Organic search is the digital marketing channel that brings in the highest ROI according to 49 percent of the respondents.
19 percent said that paid search efforts yield the biggest returns to their website.
Social media is considered the highest ROI-generating digital marketing channel by 18 percent of our Twitter respondents.
14 percent responded that email is what produces the highest ROI for their website.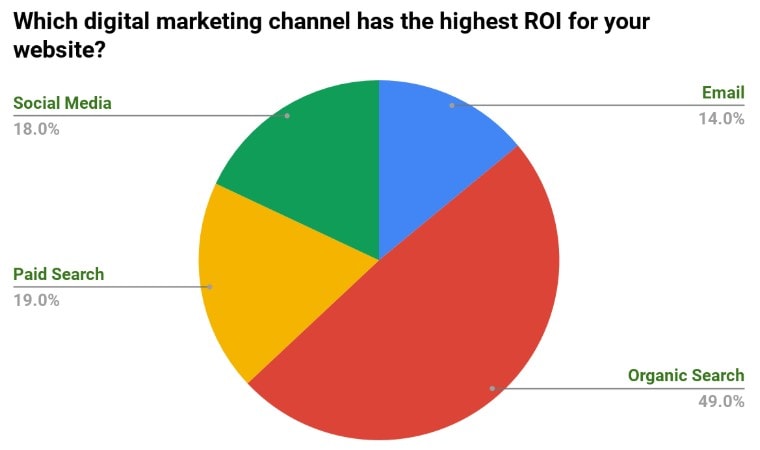 While most of the respondents in our survey found success in using organic search to produce the highest ROI for their websites, that is not to say that you should discount all other digital marketing channels.
When looking for the best marketing channel to focus on, a variety of factors should be taken into account. It's best to check out industry best practices and benchmarks, then craft and adjust your digital marketing strategy depending on your goals.
Of course, it is also important to set and track your marketing KPIs so you can evaluate the success of your digital campaigns.
More Insights on Digital Marketing Channels That Produce ROI
Still doubtful as to which online marketing channel you should focus on? Here are some helpful articles that might help you decide for yourself.
Have Your Say
Which digital marketing channel has the highest ROI for your website? Tag us on social media to let us know.
Be sure to have your say in the next survey – check out the #SEJSurveySays hashtag on Twitter for future polls and data.
---
Image Credit
Chart created by Shayne Zalameda