It is always fun to discover new and new possibilities of well-known tools. I already shared one tip on how Twitter favorites may help you better understand what your friends like and build closer relations with them.
This week I am sharing two more interesting uses of Twitter favorites:
Subscribe to Your (or Anyone's) Friends' Favorites
Would you like to keep track of what your friends are adding to favorites on Twitter? This way you can:
Follow your friends more effectively (especially if you have quite a few of them);
Monitor useful content shared on Twitter (especially if you were picky when adding to friends and thus mostly follow people interested in the same topic as you).
To aggregate all your friends' favorites into one combined RSS feed, you can use Yahoo! Pipes for that or you can find already created pipes and grab the RSS feed.
Here are a couple of them (neither of them requires authentication):
Twitter Favorites from your Friends (provide your Twitter username, generate the feed and subscribe to it using your preferred feed reader).
Twitter Favorites is another alternative that only works for 36 contacts that are shown in a user's page.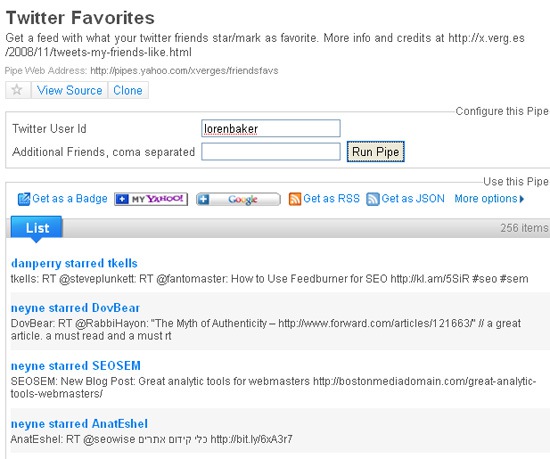 Turn Your Favorites into the RTs:
Warning: this tip may also be used for some spammy tactics, so please don't.
You can use your Twitter favorites (in combination with Twitterfeed) to create a Twitter bot that will Retweet some topical Twitter updates. This may work the following way:
Create a Twitter account related to some topic you are interested in (better for some quite specific and rare one);
Favorite all Tweets related to that topic you come across;
(Optionally but fun) Get your friends join your initiative and feed their favorites as well.
Feed your (and all the participants') favorites and use Twitterfeed to tweet them;
The bot will be retweeting your (and all the participants') favorites.
Here are two pipes that will make that task easier:
Twitter Favorites into Retweets (clone the pipe and change the source RSS to your Twitter favorites one):
Twitter Favorites RT (changes USERNAME to your Twitter username and run the pipe):