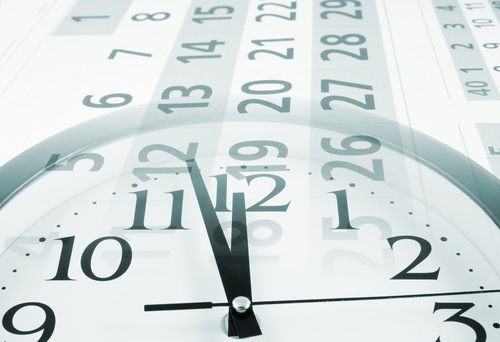 As a website owner or SEO, your time is limited. So why on earth would you waste on outdated tactics that are entirely unnecessary in today's digital marketing environment?
If you're still carrying out any of the following SEO tasks, stop. There are too many other important areas to focus your attention on than to waste time using these techniques!
Task #1: Checking Your Traffic Every Day
While the number of visitors arriving on your pages is a useful metric to measure, it's easy to find yourself sucked into the rabbit hole of obsessively monitoring the entrance and exit of every single visitor that checks out your site.
Not only does this limit the amount of time you're able to spend on the Web marketing tasks that actually have the potential to improve your site's traffic, endlessly checking your visitor counts doesn't really provide any meaningful information for your promotional campaigns.
After all, you could receive thousands upon thousands of visitors to your site, but if you aren't actively engaging these visitors, they aren't likely to result in sales or leads.
Instead, look at traffic from a trend standpoint. If you're doing things right, your visitor numbers will go up; if you're doing things wrong, visitor counts will fall. Use these general trends as a barometer that lets you know whether or not you're on the right course—and nothing more.
Task #2: Buying Backlink Packages
Nope. Just stop.
Even though recent Google algorithm updates have made it pretty clear that the search giant intends to stamp out and devalue the worthless backlink schemes that have helped plenty of unworthy sites gain top positions in the SERPs, there are still companies out there that are selling "10,000 backlinks for $10" packages.
It can be tempting to take this easy road, instead of spending hours upon hours chasing the few legitimate link building opportunities that are available for any given site. But don't let yourself be swayed! Putting all of your link building eggs in this unstable basket is only going to lead to disappointment when your backlinks are devalued and your site penalized in the search results.
Task #3: Monitor Keyword Density
In the past, plenty of SEOs went around proclaiming ideal on-page keyword densities of everything from 1 to 20 percent. As a result, gullible SEOs spent hours using automated tools to measure existing densities and rewrite content to some sort of arbitrary standard—all in an ill-fated attempt to secure top search ranking positions.
Obviously, keyword density as a ranking signal has no merit in today's SEO world. Is it a good idea to include target keywords in key places, like your title tag and heading tags? Sure! But otherwise, it's a far better idea to focus your attention on creating content that sounds natural than to worry about the number of times you've included your target keywords in your site's body text.
Task #4: Submitting Articles to Directories
Old school SEOs should be well familiar with the promotional tactic of submitting articles to directories for the purposes of building both traffic and backlinks.
Over time, though, a number of different factors have come together to completely invalidate this strategy. First, plenty of article directories—conscious of the way webmasters were abusing their services for personal gain—switched over to "nofollow" links, negating the link building benefit of article directory submissions.
Then, Google came along and knocked many of these directories' articles out of the SERPs as part of the Panda update, minimizing the amount of traffic webmasters utilizing this technique were able to receive. The result? A promotional strategy that no longer offers a real SEO benefit and that should be wiped from your SEO task list entirely.
Task #5: Checking Your Rankings Obsessively
Yes, we all know that achieving high rankings in the natural search results is a primary objective for SEO marketers. However, if you're spending all of your time monitoring your current search placements, you're wasting time that would be better spent on the techniques that will actually make a difference in your ability to rank highly!
Furthermore, it's important to keep in mind that high search rankings are only one part of a website's success. Earning a Top 10 spot in the Google results doesn't mean much on its own, especially if you aren't effectively converting the traffic that results from this placement into leads or customers!
So yes, check your rankings periodically, as movement up or down the SERPs is a good general indicator of whether your marketing techniques are positively or negatively affecting Google's perception of your website. Otherwise, leave off the obsessive rankings monitoring to focus on the techniques that really matter to your success.
Task #6: Spinning Articles
Spinning articles used to be a big deal to digital marketers, with website owners investing tons of money in tools to automate the process and writers who could draft content using the unique syntax required by spinning programs.
But if you're still allocating your business's limited funds to article spinning, it's time to stop! Spinning articles rarely produces anything other than the thin content that's likely to land your site on Google's chopping block. It's an outdated technique. Plus, it's one that's entirely unnecessary, given that a single, well-written article published as a reputable guest post will do more for your site's performance than a thousand spun articles published on devalued article directories ever will!
Task #7: Sculpting Your Site's PageRank
Finally, another outdated SEO task that should be cut out of your Web marketing "to do" list entirely is the obsessive sculpting of on-site PageRank.
Now, I'm not saying that you should pay attention to the way you're using "nofollow" tags on outgoing or sponsored links on your site (especially since failing to handle the flow of PageRank to paid ads that link out from your site correctly can result in penalties for the advertisers).
However, if you're still engaging in the practice of meticulously redirecting the flow of PageRank from your "unimportant" pages to your "important" content, you're wasting your time!
And just in case you don't want to take my word on this, check out information published by Matt Cutts as early as June 2009, indicating that this strategy wasn't a useful one for webmasters. Take the time you've been spending on this unnecessary task and redirect it to strategies that'll actually make a difference in your site's performance.
Once you've eliminated these seven tasks from your SEO activities, use the time you've freed up on the strategies that actual will produce a measurable improvement in your website's results, including everything from split testing to legitimate link building techniques and more.
By realigning your efforts in this way and avoiding the outdated tactics that can actually bring your website harm, you'll stand to see much more online success over time.
What do you think? Are you still engaging in any of these outdated SEO tasks? Or are there others you've given up on because they don't produce results for your site? Share your thoughts and experiences in the comment section below!
Image Credit: Shutterstock / Evlakhov Valeriy