Here is the third part of my SEO bookmarklets collection. If you missed the first two, be sure to check them out: Google bookmarklets and bookmarklets for on-page SEO diagnostics and domain stats analysis.
This time I am listing SEO bookmarklets allowing for a quick access to more on-page factors: page internal and external links and images.

Note: again, to use any of the following bookmarklets, simply drag it to your bookmarks toolbar (should work across multiple browsers; I've tested all of them only in FireFox).
Analyze page links: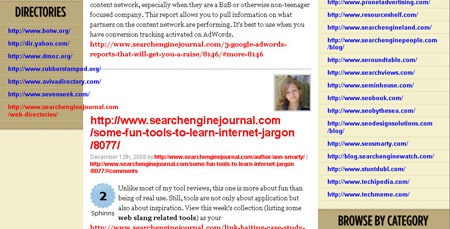 Full urls as link text – change all link text to match their full URLs;
Page links – find all page links (including liked images) containing the specified word in the URL string;
Linked pages – find all page outbound links;
Int/Ext links – visualizes page links by coloring internal links red, external links blue, and in-page links orange.
Find links to domain.com – find links to a domain.com (change for your own) on a current page;
Links number – shows how many links (int + ext) a web page contains;
Analyze page images:
Check Images – lists the URLs of broken images;
Zap Images – replaces the page images for their alternative text;
Check Alts – shows which images have no alternative text;
List Alts – in a new tab opens the list of images along with their alt texts (or "missing" or "empty");
Sources: